South Jersey Football Preview Part 1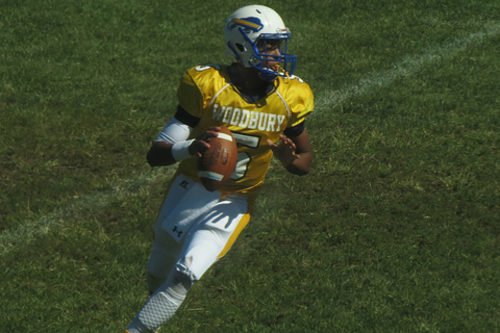 There were some great games in the first full week of the South Jersey high school football season. Each week we will be previewing the top games in two parts. Here is our look at some of the best games of the weekend.

Cedar Creek (1-0) at Delsea (0-1), Friday, 7. This matches teams who lost in sectional final games last season, Cedar Creek in Group 2 and Delsea in Group 1. Delsea opened with a 39-36 loss at Timber Creek in a game that wasn't decided until the Crusaders missed a 32-yard field goal with nine seconds left. Junior Aidan Borguet rushed for 354 yards and 3 TDs, setting a single-game Delsea record. The Crusaders live on the ground and Cedar Creek, will have to stop that. Cedar Creek opened with a workmanlike 26-7 win over an Absegami team that won seven games last year and is expected to be competitive this season.

Cherokee (1-0) at Timber Creek (2-0), Friday, 7. Cherokee senior quarterback Jack Walters ran for five touchdowns (all from one-yard out) in the Chiefs opening 42-41 overtime victory over Shawnee. The difference in this game was a blocked PAT in OT by Cherokee's Andrew Cardinali. In two games Timber Creek's Devin Leary has thrown for 525 yards and five TDs, but the Chargers have a potent running game with Jerome Gibson (165 yards, 5.3 avg., 3 TDs) and Kyle Dobbins (164 yards, 7.5 avg. and 2 TDs). Last season Timber Creek beat Cherokee, 28-21. Cherokee was the only team to come within 20 points of the Chargers.
Gloucester (2-0) at Palmyra (1-0), 7. Gloucester has yet to be tested, with wins over Gloucester and Clayton by a combined 66-8 score. Last season Gloucester beat Palmyra, 14-3, but this game should have more offense. Gloucester is usually a run-oriented team, but Lions senior Nate Kidd has made the most of his passing attempts. He is 11 or 22 for 267 yards, five touchdowns and no interceptions. Palmyra, which has an experienced team back from a 4-6 unit, edged Riverside in its opener, 19-18.
Paul VI (1-0) at Burlington Township (1-0), Friday 7. Paul VI opened with a 31-0 win over Cherry Hill East as John Donegan passed for 112 yards and a TD and Jamir Garland rushed for 113 yards and a score on just eight carries. Last season Burlington Township won, 21-14 over Paul VI. The Falcons opened with last week's 29-6 win over Notre Dame as Danny Grozozski completed 7 of 11 for 131 yards and a score
Woodbury (0-1) at Pennsville (1-0), Friday, 7 Woodbury is expected to be a contender in South Jersey Group 1, but the Thundering Herd suffered an opening 32-0 loss to defending sectional champion Paulsboro. Woodbury QB Andrew Parker suffered a thigh injury early in the game, but he continued to play, at less than full speed. Pennsville, under first-year coach Mike Healy, opened with a hard-fought 18-12 win over Woodstown. Senior Nick Bard was a workhorse with 231 yards rushing and one TD on 30 carries. Senior Bryson Townsend added 11 tackles.
Article continues below
---
advertisement


---
Author:
Marc Narducci
Archives
---
Can't Hack It
Filling a Critical Void
Flyers reshape team
Power 50
A strong showing by South Jersey products in the MLB Draft
Cryptocurrency: Seeing Through the Hype
(Almost) Business as Usual
High school football teams keep a healthy balance during summer workouts
Putting the Success in Succession
Phillies' Realmuto is heating up
South Jersey pitcher is 37th pick in MLB draft
Mainland grad fully enjoys MLB draft
Millville's Kenndy moving up the minor league ladder
Phillies not in a bad position at the All-Star break
Memorable season for Bishop Eustace baseball
More...