Camden Makes Pitch To Host New Amazon HQ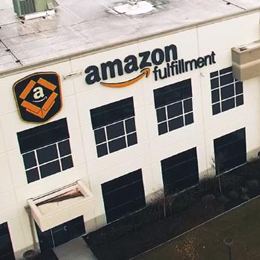 CAMDEN, N.J. (CBS) — Cities around the country, including those in Philadelphia, are putting their best foot forward as Amazon is looking to build a second headquarters, and now officials in Camden are giving it all they have.
"We're going to make a full-court press," said Camden County freeholder Lou Cappelli
He says there's a lot at stake.
On Tuesday night, the Freeholder Board voted unanimously to work with the state Economic Development Agency to craft a proposal making Camden the best site for Amazon's second North American headquarters.
The multi-billion dollar project could create as many as 50,000 permanent jobs in addition to all of the temporary construction jobs.
Amazon requirements include the following: the headquarters has to be near a metropolitan area with more than one million people; be able to attract top technical talent; be within 45 minutes of an international airport; have direct access to mass transit; and be able to expand that headquarters to as much as eight million square feet in the next decade.
"This would be a game changer for the city," Cappelli said. "Camden will be offering intangibles that other locations throughout the nation can't come to the table with, whether that be affordability, accessibility, proximity or a qualified labor pool."
As they say it's all about location, and Cappelli feels nobody can match Camden.
"We also have tremendous infrastructure assets such as the New Jersey Turnpike, Route 295, Route 95."
And he says the current construction to fix the mess at the junction of Routes 42, 76 and 295 makes it even more attractive.
"Listen, we are 20 minutes away from one of the largest airports in the nation, 30th Street Station and a five-minute PATCO train ride to Center City Philadelphia, which by the way is closer to Camden than most of Philadelphia County," Cappelli said. "For Amazon employees, we are a 50-minute ride to the beach, have amenities any work force would kill for and a quality of life that is second to none. Furthermore, we are 90 minutes away from New York City and three hours away from Washington, D.C."
Article continues below
---
advertisement


---
Author:
http://philadelphia.cbslocal.com/2017/09/19/camden-makes-pitch-to-for-amazon/ - Mike Dougherty
Archives
---
More Articles