Mom, Son Arrested For Shoplifting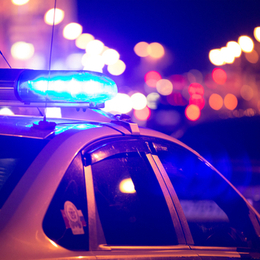 Two people have been charged with shoplifting and other offenses after police say their scheme to distract store employees at a Walmart store in Egg Harbor Township backfired.
Detective Sergeant Mike Finnerty says police got a call early Tuesday morning from employees at the Walmart on Black Horse Pike, who said a shopper told them she couldn't find her 8-year-old granddaughter.
"In our world that's a little interesting at that time of the day, it was just 12:45 a.m.," Finnerty explained. "She says she last sees the juvenile in the jewelry section, which just happens to be at the rear of the store."
Meanwhile, a man the grandmother, 58-year-old Donna Hall, said was a friend who happened to be there was busy up front.
"He took some empty bags and he was filling them with clothing and candy," Finnerty said.
The ruse might've worked, says Finnerty, but the store had been placed on lockdown to search for the girl. And when police arrived, they determined the missing child didn't exist.
The alleged friend turned out to be Donna's son, 30-year-old Nicholas Hall.
He's been charged with shoplifting, drug possession and other offenses. His mother also has been charged with shoplifting, and making a false public alarm.
Article continues below
---
advertisement


---
Author:
http://philadelphia.cbslocal.com/2017/09/27/mom-son-arrested-for-shoplifting-after-plan-to-distract-walmart-employees-backfires/ - Molly Daly
Archives
---
South Jersey Biz Digital Edition
Man Accused Of Trying To Kill Toms River Police Detective
School Bus Driver Charged In Crash That Injured 8 Students In South Jersey
Man Gets 40-Year Sentence For Killing Couple In Their Camden Home
Police Searching For Man Who Allegedly Sexually Assaulted Woman In Camden Home
Gov. Murphy Says Bill To Legalize Recreational Marijuana In NJ Short On Votes
Lindenwold Man Sentenced For Shooting Camden County Metro Officer In Leg
1 Dead, 3 Injured In Shooting At Camden After-Hours Club
Camden City Council Puts Brakes On Limiting Roadside Memorials After Hearing From Grieving Families
Increased Security At Clearview Regional Middle School After Bomb Threat Discovered In Bathroom
Homeless Veteran Johnny Bobbitt Pleads Guilty In State Court For Role In GoFundMe Scam
Driver Killed In Single-Vehicle Crash After Truck Found Overturned On Field Near High School In Woolwich Township
2 Dead In Multi-Vehicle Crash In Gloucester County During Winter Storm
Prosecutors Probe Slayings Of 2 Shot In Idling Car In Camden
Gloucester County Dealing With Recent Spike In Hepatitis A Cases
More Articles