Ready to Grow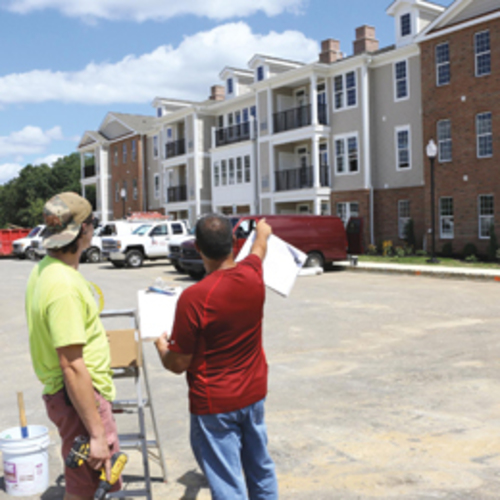 ...From the Pages of South Jersey Biz...
More than 30 years ago, Tony Langella decided to take a chance on Williamstown—part of Monroe Township, the second-largest municipality by square mile in Gloucester County—when he bought a 20-acre property and the dilapidated catering hall that sat on it.
It didn't take long for his business, Antony & Cleopatra Caterers, to become the latest success story in a thriving business scene.
"There was a lot of activity back then," Langella says. "This area was bustling in '84, '85 and '86, but I don't know what happened after that. It went the other way; there was no growth and there was nothing here."
After some lean years, however, Langella is once again proud to see the town he considers his second home prospering as a place to raise a family and run a business. Thanks to a renewed focus on businessfriendly measures led by Mayor Dan Teefy, a strong school system and a rising population, Monroe Township has bounced back and is clearly an area on the rise in South Jersey.
Langella believes it is the passion of Teefy, council members and other influential leaders like Ernie Carbone, Jared Valdez and Katherine Falcone who have made the resurgence possible.
"I think we have really turned things around a lot," says Langella, who also serves as chairman of the Monroe Township Economic Development Commission. "The mayor and council have a vision to see the town grow. We have key people in the important positions, and we're ready to grow."
The growth has already started, with more than 40 new businesses moving into town last year and plenty of others on the way in the near future.
"The last three years have been very exciting for us," Teefy says. "We're anxious for some shovels to go into the ground coming up shortly, that's for sure."
A commitment to business
Article continues below
---
advertisement


---

When Teefy and several new council members were elected in 2014, one of their first goals was to make Monroe Township more business-friendly, encouraging family-owned businesses and national chains to move into town.

"It's a priority because we are a growing community and we realize the demand is there for business," Councilman Cody Miller says. "Our residents have been asking for it. The only way to really hold the line on taxes is to be able to bring in businesses to offset those increases. That's why we've been so proactive, because at the end of the day we have the taxpayer in mind. But also, the key indicator of a thriving community is if you're seeing more businesses and they're doing well. Our goal is to provide that support to businesses as much as possible."

Monroe Township added a new position— the director of community development and zoning officer—and appointed Rosemary Flaherty to that role to provide resources for businesses looking to open in the area.

"One of the main aspects was to streamline the process for businesses to come into town and not have it be so bureaucratic," Teefy says. "That was one of the initiatives I had in my first year in office, and we're starting to see some progress now."

The location of Monroe Township— between Philadelphia and Atlantic City— has always been a draw, and other factors include the rising population and the average household income of about $90,000, according to Langella.

Other incentives include tax abatements and a PILOT (payment in lieu of taxes) program. Langella also pointed to a potential property tax reward program, which would encourage residents to shop in town.

"I know people have mixed feelings about tax abatements and PILOT programs, but we're of the mindset that in order to be a business-friendly community, you have to be able to provide incentives to support those businesses," Miller says. "A five-year tax abatement or a PILOT program allows you to offset the initial costs of a business setting up shop in the township. You're also getting revenue that you didn't necessarily have before, and that's the approach we've taken."

A new website was launched in 2016— GrowWithWilliamstown.com—to aid business owners in learning about the area, and that same year the Williamstown Chamber of Commerce was founded to support local businesses.

"We're helping the new businesses that are coming in, savoring the established businesses that are already here and building relationships," says Shannon Morgan- Leonen, chair of the chamber and assistant vice president/branch manager at Investors Bank in Williamstown.

"In order to get it across to people that it's a good place to do business, first of all you have to go out and meet them and see what their business is about. We do ribbon cuttings for them, we massage their business and make sure they have a big grand opening and people know they're coming. We also let them know what resources are available to them. Anybody can open a business, but if they don't know what resources are there for them, then it's not helpful."

Double vision
Monroe Township can also make a boast that few others in South Jersey can: It has two centers of town. Not only does it possess a desirable stretch of the Black Horse Pike, but also a Main Street area that can be a boon as well.

"It is pretty unique that we have two main corridors," Teefy says. "The main corridor has always been the Black Horse Pike, and in the past few years we've been focusing on the Main Street part, trying to get that developed. So we've created the Main Street Committee to work on that end, and we've had our Economic Development Committee working more on the Black Horse Pike."

The Grand Theatre has long been a staple of Main Street, and Morgan-Leonen says it is "beautiful inside; if you've never seen a play there, you should definitely do that." Main Street will also get a boost from the opening of two new breweries this fall, 13th Child Brewery and Cross Keys Brewing Company.

Teefy believes Monroe Township can have a similar downtown area to Pitman, where Kelly Green Brewing Company and Human Village Brewing Company have been successful within walking distance of The Broadway Theatre. Miller envisions residential units above commercial spaces, and Teefy hopes to see a new restaurant or two follow the breweries.

"The breweries are a big source of excitement," he says. "I think once we turn the lights on in those buildings this fall, we're going to see other businesses say, 'I need to get next to the breweries, they're attracting traffic.' They're going to help stimulate Main Street for us."

Meanwhile, the Black Horse Pike is set to welcome back a township institution. Geets Diner, which closed abruptly last year after 60 years in business, is expected to open soon under new ownership.

"That will be huge for us," Teefy says. "We're fortunate that investors from Franklinville came in and bought it. They know what the name means and they're keeping it as Geets."

Other developments include the Cinder Bar on Cross Keys Road and a new Super Wawa on Tuckahoe Road and Route 322.

What's next for Monroe
Teefy and Langella both laud the Monroe Township school system under the direction of Superintendent Charles Earling, which is expected to help the population reach 40,000 by 2020. The focus on a businessfriendly community will continue, and Miller is even hopeful of higher education becoming part of the landscape.

"I would love to see Rowan University start coming down Monroe Township's way," he says. "That land right there would be prime for student housing or partnerships with Rowan. They're literally eight minutes down the road from where 322 and Fries Mill Road are. That land would be prime for student housing or other partnerships with Rowan. They are running out of space [in Glassboro], and I know they've expanded into Harrison Township. I'm saying, 'Come our way, we have plenty of space for you.'"


Published (and copyrighted) in South Jersey Biz, Volume 7, Issue 9 (September, 2017). 

For more info on South Jersey Biz, click here. 
To subscribe to South Jersey Biz, click here. 
To advertise in South Jersey Biz, click here.

Author:

Matt Cosentino
Archives
---
More Articles