76ers have encouraging start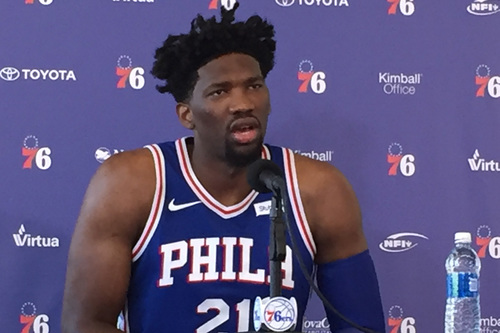 Through the first seven games of an 82-game, the 76ers have shown a lot of positives, especially by winning two games in a difficult state – Texas.
First a win in Dallas and then in Houston, the young Sixers showed what they are capable of. The Sixers began with a 1-4 record, with two bad home losses to depleted Boston and Houston squads. Boston was banged up and Houston didn't' have injured point guard Chris Paul.
The Celtics used a 33-20 fourth quarter for a 102-92 win. The next home loss was a 105-104 defeat to Houston when Eric Gordon hit a three-pointer at the buzzer to win it.
The Sixers then bounced back for the two wins in Texas.
Among the first seven games, there was only one where the Sixers weren't competitive, a 128-94 loss in Toronto. That was the only game among the first seven that Joel Embiid didn't play because it was the second of a back-to-back the Sixers are being cautious with him.
Embiid's injury history is well documented, missing the first two seasons following foot surgeries and then only playing 31 games last season due to injury and the Sixers resting him in back to backs.
The final game he played last season was Jan. 27 and almost two months later would have meniscus surgery in his left knee.
What has made Embiid's start this season more impressive is that he hasn't yet gotten in total basketball shape.
He missed most of the preseason and is still rounding into form, but has been able to put up some eye-popping numbers.
In his first six games, he was averaging 20.8 points and 10.0 rebounds in just 27.1 minutes.
The fact that he is able to play so many minutes this early is an encouraging sign.
The real revelation has been rookie point guard Ben Simmons. His recent injury history is also well known, missing last year with a broken foot.
Simmons averaged 18.4 points and 7.7 assists in 35 minutes per game in the first seven games. Despite being 6-foot-10, Simmons is able to explode by defenders, who are having trouble containing him off the dribble.
His one weakness is shooting and that may take a while to even be a competent both from the field and foul line, but he has been so adept at penetrating that many of his shots are near the basket.
The way he has started should make Simmons the frontrunner for Rookie of the Year.
Keep in mind the Sixers have faced early season adversity. JJ Redick, who has shown scoring ability at the off-guard, missed the two games in Texas with a back injury.
First round pick Markelle Fultz has been hampered by a shoulder injury that will be reexamined in about three weeks.
Still, this is an exciting, young team, that had already won three road games among the first seven, winning also at Detroit, which figures to contend for an Eastern Conference playoff spot.
The Sixers have a lot to work on, and they must stay healthy, but after four seasons of going 75-253, there is definite progress for a team that should challenge for one of the eight Eastern Conference playoff spots.
Article continues below
---
advertisement


---
Author:
Marc Narducci
Archives
---
More Articles