South Jersey Football Playoff Preview: 2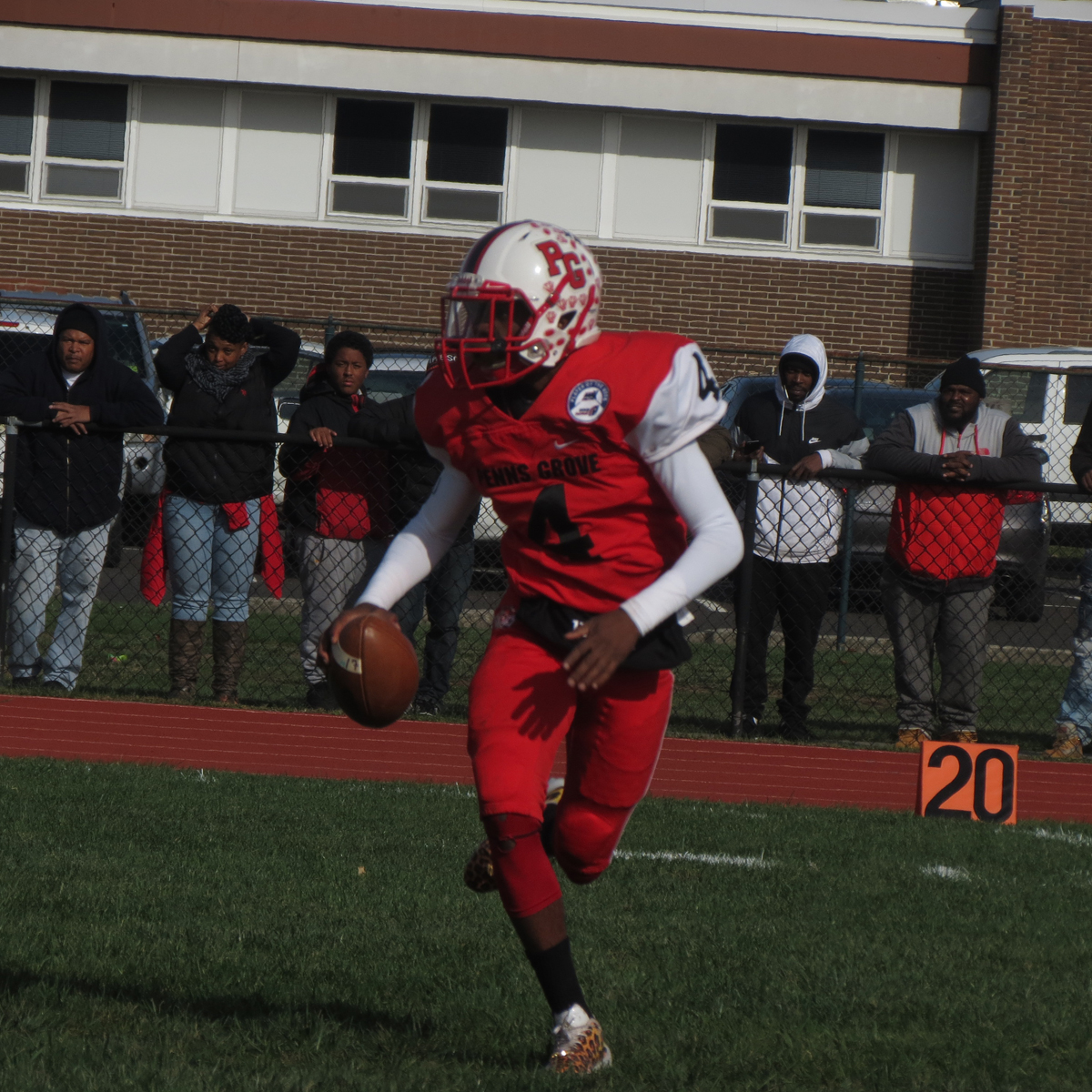 SJ Group 2
(4) Cedar Creek (8-2) at (1) West Deptford (8-1), Friday at 7. This is a rematch of last year's championship game which was won by West Deptford, 19-13. West Deptford's only loss over the last two seasons came to Cinnaminson, 21-7 on Oct. 27. Th Eagles had no trouble in last week's 51-12 opening round win over Pleasantville. Eagles running back Kenny Lim, who missed two games due to injury, has returned and is rounding back into form. He had TD runs of 43 and 6 yards against Pleasantville and has rushed for 919 yards and 10 TDs this season. Cedar Creek has some big-play performers. In the Pirates opening 19-15 Group 2 win over visiting Willingboro, Kamaal Reed scored on a 55-yard TD run and Malachi Melton had a game-winning 29-yard TD reception from Louie Barrios.

(7) Cinnaminson (7-2) at (6) Haddonfield (6-3), Saturday, 1 p.m. at Cherry Hill West. Cinnaminson stunned No. 2 Camden, 28-12 in the quarterfinal. Junior running back Rashad Raymond has rushed for 1,159 yards (7.0 avg.) and 14 TDs. Quarterback Shawn Ruffin has completed nearly 50 percent of his passes for 785 yards and 10 touchdowns. This will be a sibling rivalry for Cinnaminson coach Mario Patrizi and Haddonfield running back Nick Patrizi, who is his nephew. Last week Nick Patrizi ran for two TDs as Haddonfield beat No. 3 Sterling, 17-7. That came a week after Sterling had defeated the Bulldogs, 37-19. Haddonfield junior Jay Foley has thrown eight TD passes and has a strong arm.
Article continues below
---
advertisement


---
SJ Group 1
(4) Salem (7-2) at (1) Paulsboro (8-1), Saturday, 1. This is a rematch of last year's sectional final that Paulsboro won, 29-26. This one figures to be just as close. It will be a matchup of two of South Jersey's top running backs. Paulsboro senior Dehron Holloway has rushed for 1,551 yards (8.5 avg.) and 20 touchdowns. Senior quarterback Colin McCarthy has completed 58.6 percent of his passes for 1,035 yards and 9 TDs. The Red Raiders have won four in a row since their only loss to Haddonfield. Paulsboro opened with last week's 42-28 win over Pennsville. Salem avenged a 14-6 regular season loss to Woodbury by eliminating the Thundering Herd, 34-20 in last week's playoff opener. Zaire Jones scored three different ways for the Rams, on a 65-yard run, a fumble recovery in the end zone and a 25-yard pass from Jameel Bundy. Jones has rushed for 1,567 yards (10.0 avg.) and 24 TDs.
(3) Gateway (8-1) at (2) Penns Grove (8-1), Saturday, 1. Gateway earned its first ever playoff win with last week's 28-8 playoff win over Woodstown. The Gators only loss was a 21-14 defeat to top seeded Paulsboro on Sept. 23. This will be a game of offense vs. defense. Penns Grove is averaging 49.3 points per game. Gateway is allowing just 7.6 per contest. Penns Grove's Tyreke Brown, a 6-2, 220-pound junior, is among the most dangerous offensive players in South Jersey. He has rushed for 487 yards (11.7 avg.) and 10 TDs. Brown has 41 receptions for 1,093 yards and 14 TDs and has completed 4 of 7 passes for 146 yards and two TDs. Sophomore Kavon Lewis has completed 74.4 percent of his passes for 2,527 yards, 29 TDs and just four interceptions.
Non-Public Group 2
(3) Mater Dei (7-1) at (2) Holy Spirit (8-2), Friday, 7 This is a rematch of last year's title game that was won by Mater Dei, 26-20 on a dramatic late TD. Both teams had their offenses in gear in quarterfinal wins with Mater Dei defeating Holy Cross, 42-22 and Spirit beat Gloucester Catholic, 34-14. Spirit has won seven in a row since suffering a 42-26 loss to St. Joseph and the Spartans would likely get a rematch with the Wildcats with a win.
(5) Immaculata (6-4) at St. Joseph (10-0), Saturday, 1. St. Joseph routed St. Mary's of Rutherford, 54-6 in the quarterfinal. The Wildcats had won seven straight state titles before losing in last year's semifinal against Mater Dei. Sophomore Jada Byers has rushed for 1,108 yards (11.4 avg.) and 15 TDs and senior Qwahsin Townsel has rushed for 1,156 yards (6.5 avg.) and 26 TDs. Immaculata beat Hudson Catholic, 10-6 in the quarterfinal. Junior Brian Santana is part of a steady backfield. He has rushed for 319 yards (6.3 avg.) and 4 TDs.
Author:
Marc Narducci
Archives
---
More Articles