Beauty and Substance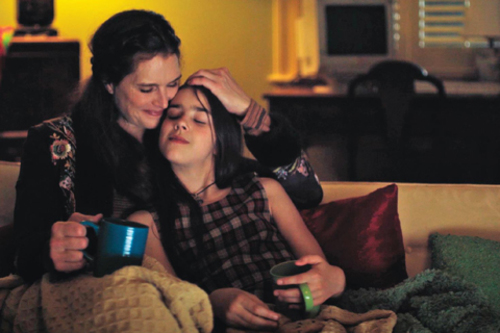 ...From the Pages of South Jersey Magazine...
Brooke Shields has a formidable legacy after nearly four decades in the spotlight. Sure, she is famous, possesses a movie-star aura and has graced the covers of worldwide fashion magazines, in addition to starring in numerous films, television shows and Broadway musicals. Yet, when it comes to the beautiful woman in a shimmery orange cocktail dress at her recent Manhattan film premiere, it is easy to see that there is so much more to her than meets the eye.
At age 52, Shields, who began her career as the Ivory Snow baby, is a confident woman, loving mother with strong maternal instincts, and possesses the unique ability to give the characters whom she portrays depth by peeling back the many layers of their psyche.
The former child star is still front and center on the big and small screen, and is committed to using her position to empower young girls and women. She showed her nurturing side during the making of her latest film, Daisy Winters, in which she plays a loving-yet-troubled mother opposite 11- year-old Sterling Jerins, an actress nearly the same age now as when Shields got her own start in movies.
Shields also found female camaraderie on the set of Law & Order: SVU, where she currently has a guest-starring role. During her work on both projects, she says she was attracted to the "family-like" atmosphere, which was ideal for getting her creative juices flowing.
"If there is a hostile environment we wither," she says, "so it really does take a village for women to thrive."
When she first began her career, fans were so enamored by her breathtaking beauty that she had to prove that she could also step into serious roles. Well, she has, and Shields and her career have not only endured, they have flourished. She is constantly reinventing herself, always discovering deep personal and parental connections with her film and television characters. She is frequently called "a positive role model," both at work and at home.
, she is doing so by drawing on her own experiences as the deeply involved, doting mother of her two daughters she calls "the lights" of her life: 14-year-old Rowan and 11-year-old Grier.
Shields is still passionate about acting, but her New York home life with producer Chris Henchy, her husband of 16 years, and their daughters is obviously her first priority, and gives her the opportunity to positively impact them.
Family life is filled with "love and stability," and she appreciates the continuity of a steady and long-lived career. She is pleased to say that Henchy "is a loving husband and a nurturing father who still makes me feel like I am walking on air. We are a great match."
When it comes to her home life, she says that "being a mom, I discover that there is so much to learn as they get older. While I know that I have to keep in mind that my daughters are not carbon copies of me, the bond we have is priceless."
Beginning her acting career at the tender age of 12 as a child prostitute in Louis Malle's controversial film Pretty Baby, Shields has lived her entire life in the spotlight. By age 16, she had already graced the cover of nearly every high fashion magazine in the world. She was named Time Magazine's Face of the '80s, and in 2004 Harper's Bazaar anointed her as one of the most glamorous women of all time alongside the likes of Nicole Kidman, Grace Kelly, Coco Chanel and Jacqueline Kennedy.
Despite being a fixture in the public eye, Shields says she wasn't always happy being there, and only over time did she grow more comfortable in her glowing, youthful skin. These days she's just as pleased to snuggle with her daughters on the couch and watch TV.
The 1987 Princeton University graduate earned a bachelor's degree in French literature, with a minor in Italian, and says she often thinks back fondly on her years as an Ivy League student. In fact, she is on the Creative Committee for Princeton's Lewis Center for the Arts and has given a commencement speech at her beloved alma mater.
During her time on campus, Shields did her best to fit in with the other students, even when her celebrity status would make that difficult. In her memoir There Was a Little Girl: The Real Story of My Mother and Me, she recounted the lengths photographers would go to in an attempt to snap her picture.
"The paparazzi tried to sneak onto campus, dressed like what they thought college students looked like, and follow me around. The students were great and they alerted the school and me if anyone saw anybody suspicious. One photographer hid in a vent to photograph me [walking] to a class; another attempted to bribe a Mathey College freshman to take a camera into the showers and snap me in the nude. They would have been in for a surprise if they tried, because I had taken to showering in a one-piece bathing suit!"
In recent years, the Princeton administration has asked her to come back to campus to teach. While her busy schedule as a working mom puts that opportunity on hold for now, she's not ruling out the possibility entirely.
"It would have to really make sense, and it would have to be organic. I could see it happening in the future, and they keep inviting me back, which is lovely," she says.
Shields' decision to attend Princeton might have been an effort, like many women, to challenge the misconceptions that she was merely all beauty and no brains. "Someone people think of as a mannequin" without substance, she says.
"I think that most women have that sort of burden, or that obstacle," she explains. "I think women have long had to fight for that. Perhaps, I took it a little too far by going to Princeton, but having the opportunity, I wouldn't have gone anywhere else. It was more about proving it to myself than anyone else. It is finding that type of inner confidence and learning to find the power in that."
She is also fiercely protective of her daughters; so that when she was offered the highly emotional and complex role of the mother in the film, Daisy Winters, she paused, not wanting to upset them. In the film, she portrays Sandy Winters, a multilayered character who is a deeply loving, yet unconventional mother of a precocious 11-year-old daughter, Daisy, played by Jerins, (HBO's Divorce, and the films Patersonand World War Z).
"I did not run and say yes to this movie very quickly," Shields recalls.
"I think I was able to see that it was something that I needed to do, even though I was a bit afraid of doing it. Just the storyline alone and focusing on a girl who was the same age as I was when I started was appealing."
Carrie Preston, best known for her roles on the shows, The Good Wifeand True Blood, sees the movie Daisy Winters as a pow erful story of "resilience, resourcefulness, and taking your own personal tragedy and turning it into power and empowerment."
In Daisy Winters, Preston plays Shields' sister, Margaret, and she greatly appreciated Shields' gracious and inclusive nature. "Brooke is lovely; she is so kind. She has that reputation, and she definitely lives up to it. She is a big-hearted, collaborative and humble person. She definitely has a strong maternal instinct."
Preston adds: "I could see that she and Sterling totally bonded. I could see her take her real-life experiences as a mother and use them with Sterling. She took great care of Sterling, as a child actor, who knows what it's like to be working on a set surrounded by adults."
Already an accomplished young actress, Jerins says that her on-screen mother was extremely supportive of her throughout the film process.
"Brooke was very motherly, and this helped so much," Jerins says. "We had such a great relationship on the set during the entire filming. I learned from her in every single scene that I filmed with her."
In the film, Shields' character of Sandy, the devoted mom, is battling cancer, while trying to maintain a happy home life as a single mother. She says the screenplay and director provided the perfect road map, and she used her instincts for the rest.
"So much was said with just a lack of a facial expression, or a silence," Shields says. "I find moments where everything is happening in my own head, but you don't necessarily need to spell it out for people."
Shields was the same age as Jerins when she made Pretty Baby and although she says her young co-star didn't really need any coaching, she fondly recalls that innocent time in her life.
"I remember other actors wanting to treat me like an adult, and I sort of wanted to commune with them as a kid. So, the other actors who I stayed the closest with were those who would draw cartoons with me and sing songs with me."
In this new phase of her career, Shields also appears to be attracted to high drama. She recently took on a guest-starring role on the highly acclaimed NBC series, Law & Order: SVU, as the grandmother of Noah, the adopted son of New York Police Lt. Olivia Benson [played by Mariska Hargitay]. Shields has long been a fan of the show.
"This show is a part of everybody's family, and because of the topics it really delves into issues that we need to face, so I truly appreciate being here," says Shields.
Her guest-starring role came as a result of Hargitay, one of the show's stars and directors, watching a guest spot of Shields on Ali Wentworth's show Nightcap, in which Shields played a comedic, disturbed, multifaceted character.
Hargitay called Shields and told her they had a dramatic storyline they wanted her to explore, saying, "There is so much more to you than we've had a chance to see."
Shields is appreciative of the supportive work environment on the set, especially from the actresses on the show, who play strong female characters and she views as excellent role models.
"I think it's showing that this field doesn't have to be competitive, it can be strong and can go head-to-head, but somebody has your back here, and you are there for each other. That's what women do. I think coming in here this is a good message from my perspective."
With all of her performing experience under her belt, including on Broadway through the years in the musicals Grease, The Addams Family, Cabaret and Chicago, Shields says that she has one heartfelt piece of advice for young girls, and women, who want to follow in her footsteps on stage or screen.
"You are really only as successful as you are healthfully ambitious. This can't be a hobby for you; it has to be your passion, and one that you feel is your only option," Shields opines.
"Some people go into this at times thinking it can be a hobby, or an extracurricular activity, but you have to have such an undying passion, that it can't be thwarted," she continues. "So, you can't take no for an answer, and you can't let the rejection halt you. The rejection happens forever, you just work past it."
Published (and copyrighted) in South Jersey Magazine, Volume 14, Issue 9 (December, 2017). 
For more info on South Jersey Magazine, click here. 
Article continues below
---
advertisement


---

To subscribe to South Jersey Magazine, click here. 
To advertise in South Jersey Magazine, click here. Author:

Debra Wallace
Archives
---
More Articles