Rock Star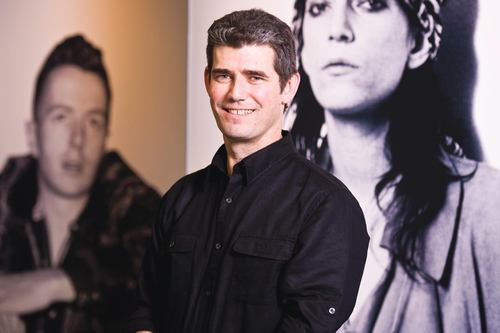 ...From the Pages of South Jersey Magazine...
"So where in Jersey are you right now?"
This is how Greg Harris enthusiastically starts a recent phone conversation, eager for news from "home."
The president and CEO of the Rock & Roll Hall of Fame makes his residence in Ohio nowadays, and before that he spent 14 years in Cooperstown, N.Y., working at the National Baseball Hall of Fame. But his roots are all over the Delaware Valley, and it is clear that this area still holds a special place in his heart.
"Wherever I am, if I see someone with a Phillies hat or something that references South Jersey, we connect right away," Harris says. "Usually within a couple of seconds, you figure out that you've been in the same places and you might even know the same people. I proudly let everyone know that I'm a product of that area and just how great it is."
Harris' local ties run deep. Born in West Trenton, he moved to Morrisville, Pa., at age 10 and came of age in Bucks County. Before his 20th birthday he had already cofounded the Philadelphia Record Exchange, an iconic record store still in existence, and he went on to graduate from Temple University.
He has also spent every summer of his life vacationing at the Jersey Shore, a tradition that continues to this day.
Harris believes his lifelong passion for history was heavily influenced from growing up here, and it has led him on an interesting career path. After serving in several roles at the Baseball Hall of Fame, including vice president of development, he moved to the Rock Hall in 2008 and became president and CEO in 2013.
Under his leadership, the Hall has been focused on innovation and improving the customer experience. Attendance and revenue at the Cleveland museum have increased by double digits.
Harris spoke to South Jersey Magazine about his accomplishments at the Rock & Roll Hall of Fame, his memories of the Delaware Valley and the music legend who left him feeling starstruck.
SOUTH JERSEY MAGAZINE: Your job seems to suit you perfectly because of your love for history. You have a history degree from Temple, you like to restore old cars and motorcycles, you collect memorabilia. Have you always been intrigued by the past?
Article continues below
---
advertisement


---

GREG HARRIS: Growing up in New Jersey and the Delaware Valley, history is all around you with the Revolutionary War and with Philadelphia as the [nation's former] capital. At the same time, you had great chrome diners and stuff from the '50s. Musically, we were just as likely to listen to AM radio as FM radio when we were kids. It seemed like you could hear Chubby Checker and Chuck Berry just as easily as you could hear Led Zeppelin. So there was always a sense that history was connected to today.

Having studied it at Temple University, I got really interested in the history of everyday people. In fact, I've never even thought about this until now, but there was a series of books I started reading in my teens called Forgotten Towns of Southern New Jersey. It's a series about … these towns in South Jersey that had pirates and travelers and fishermen. All of that really sparked my interest in the history of everyday people. New Jersey and that part of Pennsylvania are so rich with history and I connected with it immediately. I love music and I love that we can share the history of this music with everyone and inspire them [at the Rock Hall].

SJM: How did your love for music start and who are some of the artists who shaped you growing up?
GH: Like many people in that area, I got into the blues through George Thorogood. I remember hearing him on the radio and seeing him play in Trenton. Through him I got into John Lee Hooker and Hank Williams. That was one strain; the other strain was all of the great independent and punk rock bands in that area, bands like The Groceries and pretty much anyone who was on stage at City Gardens, which was an iconic spot in Trenton. It was just lots and lots of live music and listening to some of the great radio stations in the area, like the college radio stations that played great independent music. All of that sparked my love for music, and then working at the record store I got exposed to a ton of great stuff. Every customer had their favorites and we would just listen to them all.

SJM: The opening of the Philadelphia Record Exchange was a bold move at that time in your life. What are your memories of that experience?
GH: We didn't know if it would succeed, but we knew we were going to have a lot of fun. We took a big chance and built everything in the store ourselves and sold our own collections. It became a community center for anybody who was into music in the area. That was always the greatest part—you would have anybody walking in, whether they were a fan or a musician in the Philly and South Jersey area, just coming to congregate in the store. We had a lot of bands play out front, including people like [Collingswood native] Ben Vaughn, so people could have a chance to hear the artists and buy their records at the store. The store is still going, 32 years later. My original partner still has it and it's still a terrific place.

SJM: From there you went on the road with Ben Vaughn. You must have plenty of stories from that period.
GH: We went out for a national tour and I was his road manager. What that meant was that you were setting up all the radio interviews in the next town, making sure the van got there—usually because you were driving—making sure the club owners paid you after the gig and also finding a place for the band to sleep, which more often than not was on the floor in a friendly fan's house.

SJM: As a baseball lover as well, what was it like to be part of the Baseball Hall of Fame in Cooperstown?
GH: The Rock & Roll Hall of Fame is at its best when it connects yesterday to today, and the Baseball Hall of Fame does that constantly. If you watch any baseball game, they're comparing the players to players who came before them. … When Mark McGwire broke the home run record those years ago, his statement was, 'I want my bat next to Roger Maris' bat in Cooperstown.' There's that sense of legacy. So the Baseball Hall of Fame was a real treasure and an honor to work there. They were the first of these halls of fame; they opened up in 1939. They have a great way of presenting the past and connecting generations within the exhibits and within the events and programs, like the induction ceremony.

I was thrilled to be part of the inductions of a bunch of Phillie greats that you either grew up knowing or knowing about, people like Mike Schmidt, Steve Carlton, Richie Ashburn and Harry Kalas. It was exciting to see that happen. And like the Rock & Roll Hall of Fame, it's a place that every person who visits has a reservoir of memory connected to sharing great moments of their favorite team with their family members and their friends. Our equivalent at the Rock & Roll Hall of Fame is every visitor who walks through our front door has a reservoir of memory tied to this music. You hear a certain song and it reminds you of your greatest road trip, it reminds you of that great summer at the Shore when that song was played over and over again or it reminds you of when your heart was broken or you fell in love. All of that is connected to music and rock and roll, and that's the real power of our place. We don't just preserve these artifacts, but we help people connect those memories and then they connect with each other.

SJM: What are you most proud of since taking over as president and CEO?
GH: This was always a great place, but what I'm really proud of over the last few years is that we put a heightened emphasis on creating an immersive experience at the museum. When you arrive in the summertime, odds are there's going to be a live band out front. We did 60 days of music this summer. It feels like a festival; there's food trucks and a beer garden. When you come in, we have a brandnew interactive theater in the museum where you see highlights of all 32 years of induction ceremonies as edited by Jonathan Demme, and you feel like you're at the greatest rock concert you've ever been to. I'm really proud of the way that inspires visitors when they see and feel that. And then when you see Ringo Starr's drum set or you see the actual guitar that played the lead on "Rock Around the Clock," or you see Joe Strummer's guitar on exhibit, you've seen them come to life and the artifacts that tell the story.

I'm also very proud that we've shared it with more and more people. We've grown our visitation considerably in the last four years. This is our strongest year since opening 22 years ago. We've had double-digit attendance growth for three years in a row and we're charging ahead.

SJM: Have you met any of your musical heroes that left you starstruck?
GH: Since this is South Jersey Magazine, I'll say it was pretty great to meet Bruce Springsteen and to walk around his exhibit and to walk around the museum with him and hear who his rock and roll heroes were. That was very, very special. What's exciting is meeting these Hall of Fame musicians because they've spent a lifetime doing this and they truly are the best of the best at they do. Meeting Chuck Berry was [also] a real thrill. There's something special about meeting those godfathers and godmothers of rock and roll, like Mavis Staples or Wanda Jackson.

SJM: You just saw Springsteen's Broadway show as well. How was that?
GH: I thought it was fantastic. The performances were great; they were exciting and inspiring. It was fun to see him play without even a microphone in front of him to this theater full of people. Then the stories between the songs really connected deeply with my own feelings in life and also with explaining how the songs came about and what they mean. It was really a magical evening.

SJM: Are you pleased that all music, including rap and hip-hop, is accepted and embraced at the Hall?
GH: Absolutely. Rock and roll is a big tent, and many types of music fit under that tent. It's about attitude and grit, and it's not just for skinny guys with long hair and guitars. There's a quote from Ice Cube during his induction speech when N.W.A. went into the Hall of Fame that you should look up. It talks about rock and roll being about attitude. It's a really good quote and he says it better than I could.

SJM: You grew up going to Sea Isle City in the summer and still visit every year. Why is the Shore a special place to you?
GH: Those who live there and experience it know just how special it is. I love the continuity and tradition of going to the same places and seeing similar people, and I love how laid-back it is. You can wear the same shorts and flip-flops day after day, and it's a place where everybody is friendly and open. To be on the same streets that we were on as kids with our own kids and experiencing the same things is really incredibly special. The memories are fantastic. It's incredible to share the Boardwalk and the great Jersey pizza and the rides with our kids. At the same time, it really is laidback and a chance for people to slow down and connect with friends and family on great beaches. You can do as little or as much as you want.

SJM: I heard you hang out with The Geator, Jerry Blavat, sometimes down the Shore.
GH: Oh yeah, The Geator will [always] be at La Costa on Sunday and if anybody wants to talk rock and roll, stop by 72nd Street. Philadelphia [has great music history], with Larry Magid and The Electric Factory, 'MMR, The Geator, [American] Bandstand, all the way up to one of the greatest radio stations in the world, XPN. The accessibility to great music is everywhere you turn in Philly and South Jersey.

Published (and copyrighted) in South Jersey Magazine, Volume 14, Issue 9 (December, 2017). 


For more info on South Jersey Magazine, click here. 
To subscribe to South Jersey Magazine, click here. 
To advertise in South Jersey Magazine, click here.

Author:

Matt Cosentino
Archives
---
More Articles