The Big Fix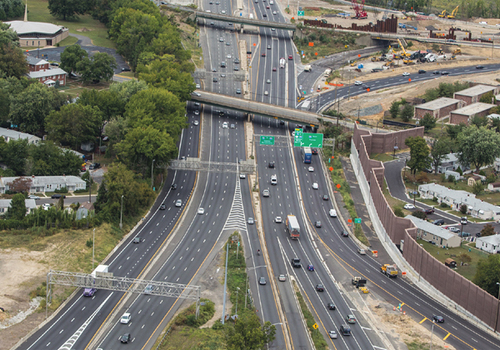 ...From the Pages of South Jersey Magazine...
Photograph Courtesy of NJDOT
When one of Michael Davy's drivers has a Friday pickup that involves driving on the Camden County portion of Route 295, there is a chance they will encounter a common South Jersey conundrum.
"The only aggravation is coming north on 295, how you can't get onto Route 42," says Davy, owner of MJD Trucking. "We go down, have to loop around and come back. Get on 295, get off at 168, and come back around to get onto 42 South.
"But, they're changing that," Davy says. "That will be a big plus."
The area where the heavily traveled Route 295 intertwines with the equally heavily traveled routes 42 and 76 in Bellmawr has long vexed local drivers, who for years were forced to navigate a dangerous convergence of three major highways. The interchange is one of the busiest and most congested in the state, according to the New Jersey Department of Transportation, accommodating approximately 225,000 motorists each day who must negotiate a major interstate highway with sharp curves, sudden reduced speeds and the odd lack of continuous connection as it runs alongside routes 42 and 76. The idea that the area is a trouble spot is not a new one: Background studies on potential direct connection routes were first conducted back in 1985 and 1987, according to NJDOT.
"I have to say, from personal experience, it is a pretty awkward intersection," says Benedetto Piccoli, PhD., director of the Rutgers University–Camden Center for Computational and Integrative Biology, who uses mathematical models to study vehicular traffic flow. "Essentially, people had to exit 295 and drive on a part of 76, to then re-enter 295, which they were just traveling. That is really peculiar. This has caused a much higher rate of accidents."
A complete rebuild of the interchange—aptly named "Direct Connection"—is already resulting in major changes to the flow of traffic in the area as new lane patterns, temporary on-ramps and barriers alter drive patterns on what can sometimes feel like a monthly basis. When finished, 295 traffic will travel directly over the interchange below, without the need for lane changes or exit ramps.
The $900-million project, which began in the winter of 2013, is divided into four phases, with an expected completion date of 2024.
"It's the second largest project in New Jersey that we've ever done, and the biggest in South Jersey," says Steve Schapiro, director of communications for NJDOT. Only the $1 billion, 10- phase Pulaski Skyway project in North Jersey is bigger, Schapiro says.
A decade of changes
Article continues below
---
advertisement


---

Four years into the region's biggest infrastructure project, delays have been minimal and phases have moved mostly according to plan, Schapiro says. The project's original proposed completion date of 2021 was shifted to 2024 due to delays acquiring the right-of-way for the replacement of the Browning Road bridge.

Phase one was completed in November 2016. Major improvements included reconstruction of existing bridges at the 295 crossing over Essex Avenue, Bell Road over 295 and Creek Road over Route 42. A temporary ramp was constructed to eliminate the "weave" between Route 42 North and 295 North traffic for the duration of construction, and a new ramp from 295 North over Route 42 was built.

"We know that is a game changer," Schapiro says. "We know it's much safer, and we know the movements are easier because of it. I think most people realize that this is a congested area, and always has been. When the project is done it will be much better, but we're still a few years out from that."

Phase two began in June 2014 and is expected to finish in 2019. In July, the new bridge and ramp from 76 East to 295 North opened, and demolition of the old structure is underway. Other work during this phase includes the realignment of 295 South leading to what is known as Al-Joe's curve and the ramp to 76 West to Philadelphia, as well as building noise walls along 295 North and South.

Piles to support the new ramp from 295 South to 76 East/Route 42 South are 80 percent complete, Schapiro says, and the remaining work on this ramp will continue in phase four. The final pieces of phase two include construction of a piece of the new 295 bridge that will go over the ramp from 76 East to 295 North and the remaining retaining walls adjacent to it. This work will continue into 2019.

Phase three began in April 2017 and is expected to finish in December 2021. The focus of this contract is completing the new 295 mainline direct connection over 76/Route 42. Construction has already started on a temporary Browning Road bridge to allow for the construction of a new Browning Road bridge, and the contractor also has been excavating for future retaining walls along Route 42 North and South, according to NJDOT.

Phase four will include the completion of the ramp from I-295 South to I-76 West and the remainder of the ramp from 295 South to 76 East/Route 42 South. The final phase is scheduled to begin in spring 2020 and finish in 2024.

When all four phases are completed, there will be 12 new or reconstructed bridges, 22 new retaining walls and 12 new noise walls built. The "direct connection" line that will cross over and above routes 42/76 will be a six-lane main line, Schapiro says.

Traffic impact
Piccoli says the reconfigured design will reduce traffic waves, leading to other benefits for drivers.

"When this project is completed, what will happen is all the cars that pass through there are likely to experience a better fuel consumption rate for the time in which they cross that intersection, and a lower accident risk," Piccoli says.

In the meantime, drivers who travel the interchange daily are confronting new road patterns, reconfigured lanes and extra traffic during high-volume periods as motorists adjust. Still, experts contend that considering the size, scope and pace of the project, the traffic impact, while inconvenient at times, is bearable.

"We certainly can appreciate that there have been some changes from the normal flows with which commuters had become used to and comfortable with," says Bill Ragozine, executive director of Cross County Connection TMA. "Because things are moving along at a good pace, those changes sometimes are evolving into new flow patterns," Ragozine says. "However, as an organization that monitors traffic incidents and congestion, we are astonished at how minor the overall effects of the construction have been on the flow of traffic in that area."

Of course, no one is going to say that the traffic flow through the interchange couldn't benefit from improvements, Ragozine says—but that is what a project of this size is designed to do.

"With all the construction, with the shifting of lanes, with the movement of construction equipment and materials, with all the distractions of this construction, you would expect record delays and folks abandoning those roadways until the work is completed," Ragozine says. "But none of that has happened and, apart from the usual delays, we are not receiving much in the way of major traffic issues."

Piccoli, who says he frequently drives the route, contends the completion of the long-overdue project will be worth any delays.

"All of this construction is very expensive and puts drivers under stress because, while they are working on this project, there is an impact," says Piccoli. "But, be patient, because the advantages are there."

Published (and copyrighted) in South Jersey Magazine, Volume 14, Issue 9 (December, 2017). 


For more info on South Jersey Magazine, click here. 
To subscribe to South Jersey Magazine, click here. 
To advertise in South Jersey Magazine, click here.

Author:

Regina Schaffer
Archives
---
More Articles