A Perfect Blend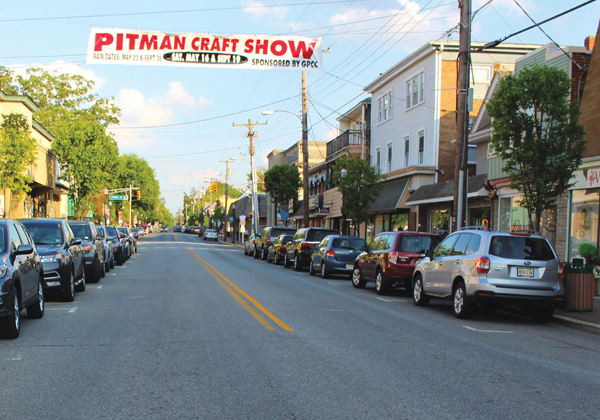 ...From the Pages of South Jersey Biz...
Images courtesy of Joan Stoltzfus
Imagine a place where children can still safely walk to school, where the local ice cream parlor has lines out the door and where fire truck parades celebrating the town's championship sports teams are held several times a year.
It may be hard to picture in today's fastpaced, high-tech world, but Pitman continues to be a town that embraces old-fashioned values. That is why many people are deciding to call the borough home, and why the uptown area on Broadway is a major attraction for residents and visitors alike.
"The uptown area is very important to me because I have very fond memories from growing up in Bridgeton, being in middle school and being able to walk to all of the shops," says Vanessa James, an attorney and the incoming president of the Greater Pitman Chamber of Commerce. "At one time you could do all of your Christmas shopping in downtown Bridgeton. I have an 11-year-old and a 9-year-old, and I want them to have what I had growing up. I honestly don't know of any other place like that besides Pitman.
"There is also a strong family-friendly atmosphere, which was very appealing to us when we moved here 11 years ago. I see a lot of other young families moving in as well, which can only mean good things for the town."
Over the last decade, Pitman has seemed to strike the perfect balance between retaining its small-town charm while also taking progressive steps forward. It all started with the return of a Gloucester County landmark.
Uptown revival
Article continues below
---
advertisement


---

The Broadway Theatre first opened in Pitman in 1926 as a movie and vaudeville theater, and went on to host such legendary acts as Bob Hope and Bing Crosby. But in the early 2000s the theater closed its doors for about three years, and the surrounding area suffered as a result.

Peter Slack purchased The Broadway at a sheriff's sale in early 2006, and the theater reopened later that year. Ever since then, Pitman's center of town has seen a resurgence, with the theater again acting as the anchor.

"It was so hard to visualize this when the theater went dark," says Russ Johnson, Pitman's mayor since 2012. "But once that marquee got relit, everything started to steamroll from that point. It's great to see that our vision is happening 10 years later."

Today, people can see a show, do some shopping, go to dinner at a fine dining establishment and grab an ice cream cone, all within a short walk.

"You can make Pitman its own destination," James says. "You don't have to go to the mall or Philadelphia to have a nice night out; you can do it right in your own backyard. I feel like it's a draw, not just for the people of Pitman but the people from the surrounding areas, who can come and enjoy a weekend or an evening in Pitman. Uptown is packed most nights."

"I've lived here for about 11 years," says Shari Hulitt, a business owner and the vice chair of the Economic Development Committee. "When I moved here, the sidewalks rolled up at 4 p.m. and it was like a ghost town in the evenings. Now it's great to see traffic and the restaurants open. It's been a nice little revival and a fantastic place to live."

Adding to uptown's allure has been the recent opening of two breweries just a few doors down from each other. Kelly Green Brewing Company came first in May 2016, while Human Village Brewing Company arrived about six months later.

Pitman had been a dry town for more than a century—and some residents were vocally against the breweries at first—but reaction since their opening has been nothing but positive.

"When the breweries came about a year ago it really added a lot of life," says John Fitzpatrick, chairman of the Economic Development Committee. "We have more action now. The breweries and the restaurants really complement each other. You can bring beer into the restaurants or you can bring food into the breweries.

"The theater crowd tends to be a bit older, but there are a lot of people in their 20s and 30s coming to the breweries. So it's a nice mix."

Johnson says there have been no issues with the breweries, and Slack has now joined the trend by opening Stage Right Wine Bar to accompany his theater. In light of these successful ventures, Pitman residents voted to approve the addition of a liquor license in November 2016, and it will be opened up for bid in 2018. A similar vote was overwhelmingly rejected in 2007.

"We're hoping to add a restaurant where people can go and buy a cocktail," Johnson says. "Maybe somebody will buy a building that is vacant right now and draw even more people uptown. I don't want to rule out our current restaurants either; Sweet Lula's has been vocal about getting a liquor license and they might be interested as well. It's a new experience for us and we'll see what happens."

Another development expected in 2018 is the addition of a "pocket park" on a seldom-used side street behind The Broadway called Theater Avenue.

"We've been working on that for about four years," Fitzpatrick says. "We're going to close the street off, and there will be tables and chairs, pavers, plants and lights. It will be a nice place for people to come and sit if they have food or coffee, and we'll have live entertainment there on the weekends."

Special events
Although the uptown area draws a lot of traffic on normal nights, the members of the EDC and Pitman Chamber of Commerce are constantly looking for ways to bring more visitors into town. It seems the calendar is always filled with fun, family-friendly events, ranging from the Pitman Craft Show to the Tour de Pitman bike race.

"I believe Pitman has the most events on an annual basis in Gloucester County," Johnson says. "It's a tribute to the folks who volunteer their time to put these events on. We're definitely drawing people from all over the place and we're getting people on the streets, which helps our businesses."

Other offerings include Small Business Saturday, the Pitman Food Truck Fest and the Pitman Potter Festival, which made its debut in October. That event—which celebrates everything Harry Potter—was cofounded by James and Councilwoman Amy Rudley and was such a rousing success that it will be held every year.

"I'm a big Harry Potter fan and I did a lot of research on Harry Potter festivals around the country," James says. "I thought it could be a real draw and good exposure for Pitman and all of our local businesses. … Not only are we helping the businesses that particular weekend, but our hope is that people who got a burrito at Dia De Los Burritos or tried some ice cream at Alaura Kitchen and Candy are going to come back after that."

Christmas is also a special time in Pitman, beginning with a parade in late October and including appearances by Santa Claus three times a week in Ballard Park. That is also the site of a Christmas village, and there is a trolley tour to see lights in town and merchants' window displays. A local family in Pitman Grove, the Hagertys, also welcomes in thousands of visitors a year to see its elaborate holiday display featuring lights and animatronic characters.

"I think the secret to our success—and it's something we've been working hard for—is that we have a business community that gets on board with these new things," Hulitt says. "So when we bring in something like the Potter Fest, the businesses get on board and participate, and that makes it what it is. We also have a council that is seemingly progressive and is supporting these ideas, and we have a strong group of dedicated volunteers. Pitman runs on volunteer power."

What's next for Pitman?
Despite the recent improvements, Pitman still has room to grow. In the uptown area alone, there are three vacant buildings, including the former locations of Bob's Hobbies & Crafts and Vanity Health Club.

"All of those buildings are pretty big," Fitzpatrick says. "Our goal is to try and attract investors and get them to buy and fix up the buildings and bring in some tenants."

Another important area that could be a prime location for business is Woodbury- Glassboro Road. TD Bank just closed its location there on Dec. 1, and there is a possibility that the Wawa on that stretch could be closing as well with a new Super Wawa coming soon down the road in Mantua.

"I'm a little biased because my business is on Woodbury-Glassboro Road, but I think that area needs to be another focus," Johnson says. "It's the highest trafficked road in the county and I think businesses can do very well there. There are a lot of professionaltype businesses on this road, but I think we can attract more."

Also on Woodbury-Glassboro Road is the former Sony CD manufacturing plant that closed in 2011. Johnson says the current owner is leasing part of the 76-acre property to a trucking company while he attempts to sell, but the mayor adds that the town is looking to turn it into a redevelopment zone to attract more businesses, which Fitzpatrick supports.

"I think there's a lot of possibilities there," he says. "It can be some kind of warehousing space, like Amazon. It could also be retail or a hotel, because the new dinosaur park (Edelman Fossil Park) is right down the street from there in Mantua and they're going to build a new visitors' center with walking trails. Rowan keeps on growing, and with the hospital moving from Woodbury to Mullica Hill, we're kind of right in the middle of all the action."

Hulitt believes that Pitman's location, as well as the neighborly way of its residents, makes it the perfect place to live or run a business, which is why she decided to do both there.

"If you look at a map of Gloucester County, Pitman is right in the center," she says. "We consider it the heart of Gloucester County, so why would I go anywhere else to open my business? It's a prime location for everything that is going on in the county."

Published (and copyrighted) in South Jersey Biz, Volume 7, Issue 12 (December, 2017).


For more info on South Jersey Biz, click here.
To subscribe to South Jersey Biz, click here.
To advertise in South Jersey Biz, click here.

Author:

Matt Cosentino
Archives
---
More Articles