NJ Boy Hailed As Hero For Saving Mother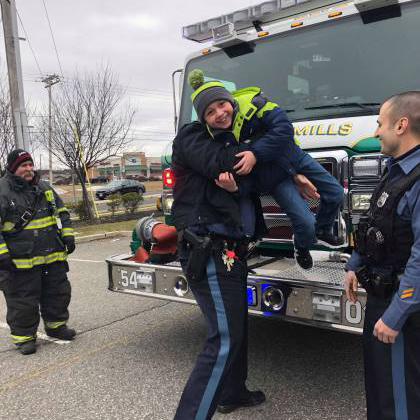 An 8-year-old boy is being hailed as a hero after he jumped into action when his mom started having medical problems.
"Mommy it's okay stay with me I'm here your baby is here, and called 911 and told them," young Jace reportedly said, comforting his mother, who started having medical issues while driving in the car on Monday in Jackson. Jace's mother, Nicole, share the emotional experience on Facebook.
"Everybody knows the extreme medical issues I've been struggling with and today my son, who always has been but now will forever be my hero, asked for McDonald's and as I was driving there, I felt a heart wrench in my stomach and knew an [aura] was coming, which is the feeling I get before I have a seizure," said Nicole in the post. "I immediately pulled over unable to breathe, blurred vision and numbness in my neck."
Nicole says Jace then jumped into the front seat and called 911 as she lost consciousness.
"Please come help my mommy isn't breathing," Jace reportedly told emergency responders.
"[He] told them the exact location where we were, what color and type of car we were in, and felt for a pulse and told them I had none," said Nicole.
And within seconds Jackson police and emergency responders were there to render aid.
Nicole says she can't thank her son and the first responders enough.
"The first responders were yelling and screaming, "YOUR SON SAVED YOUR LIFE AND IS YOUR HERO.' I am so speechless and cannot stop crying on how amazing my 8-year-old is and how amazing Jackson's first responders were," Nicole writes.
"This young man was able to tell the telecommunicator where he was, what type of vehicle he was in, and what exactly was going on with his mom. Because of his calmness with providing the necessary information, units were able to arrive to assist his mother in under 5 minutes. There are a lot of people including this agency who are very proud of him," said the Ocean County Sheriff's Office in a statement to Jersey Shore Online.
Good work Jace!
Article continues below
---
advertisement


---
Author:
http://philadelphia.cbslocal.com/2018/01/15/boy-saves-mom-jackson-nj/
Archives
---
South Jersey Magazine Digital Edition
South Jersey Man Survives 'Friends' Lighting Him On Fire In Sleep
Man 'Executed' Woman He Met On Marketplace App To Buy Cellphone
Two Families Displaced, Four Townhouses Damaged In Sicklerville Fire
New Jersey Man Gets Life Without Parole In Murders Of Woman, Baby
NJ Mother Who Smothered 3-Month-Old Baby After Heavy Drinking Gets Prison Time
12 Arrested In Trafficking Untraceable 'Ghost Gun' Assault Rifles, Drugs, New Jersey Attorney General Says
3 Confirmed Measles Cases In Lakewood
Nearly $2 Billion Wagered On Sports In New Jersey In Nine Months
Woman Charged With Animal Cruelty After Emaciated Dog Found Eating Carcass Of Another Dog
Search Continues For Killer After 21-Year-Old Woman Fatally Shot Inside Car In Willingboro
Homeless Veteran Johnny Bobbitt, Katelyn McClure Plead Guilty For Roles In $400,000 GoFundMe Scam
Fire Damages Pizza Restaurant In Gibbstown
Serious Injuries Suffered In Multiple-Vehicle Crash On South Black Horse Pike In Gloucester County
Arena Football League Officially Coming To Atlantic City
More Articles