Eagles Fans Pack Super Bowl Parade Route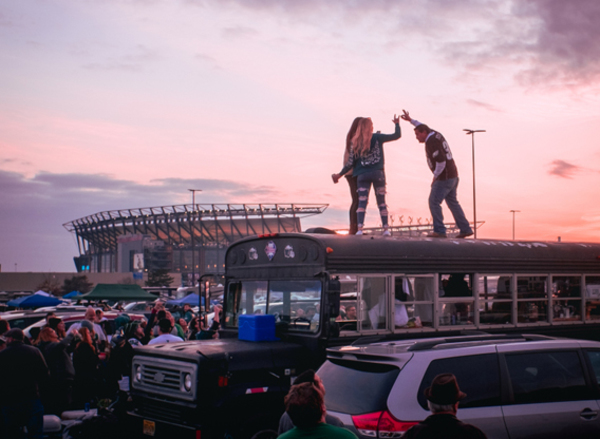 PHILADELPHIA (AP/CBS) – The championship parade Philadelphia has dreamed about and agonized over is finally here.
Tens of thousands of early birds flocked to the parade route Thursday morning to celebrate the Eagles' first NFL title in nearly 60 years. People began lining the five-mile route before dawn in frigid wind chills in the low 20s.
Organizers are prepared for as many as 2 million people, but the actual number may be much lower. No official estimate was released for the parade after the Phillies won the World Series in 2008, but experts have said that crowd likely didn't exceed 750,000.
Trains coming in from the suburbs were jammed and riders had to wait for multiple trains just to cram inside. Parking lots at suburban New Jersey rail stations were filled and closed hours before the 11 a.m. start of the parade.
For buddies John Thompson, Don Smith and Craig Moyer, coming to the parade was a "bucket list event."
"We were wondering if we would ever see the Eagles win a Super Bowl in our lifetimes, and we may not ever see another one," said Thompson, 56, of suburban Downingtown, as the trio exited a deli called "Pastrami and Things" in downtown Philadelphia. "That's why we're here today."
Smith said he came in from Harrisburg, hitting the road at 3 a.m. and meeting his pals at 5 a.m.
Moyer, also of Downingtown, said he came to the parade to honor his late mother, a life-long Eagles fan.
"My mother was from the coal regions, she passed at 91 years old," the 66-year-old said. "She was an Eagles fan who used to tell me about the old championship games. So this is for her. We're down here for her."
The parade caps a glorious week for jubilant fans celebrating an NFL title that had eluded them for nearly 60 years. Led by backup quarterback Nick Foles and second-year coach Doug Pederson, the Eagles beat the New England Patriots 41-33 on Sunday night.
Democratic Mayor Jim Kenney asked fans to celebrate with passion and pride after Sunday's wild postgame celebration was marred by "knuckleheads" who resorted to violence and vandalism.
"Now remember — act responsibly, don't ruin this for the fans who have waited decades for what will be a historic day as the Eagles finally parade up Broad Street," he said. "We are, after all, the city of brotherly love and sisterly affection."
A gas station convenience store that was looted and vandalized after Sunday's game was cleaned up and loaded with snacks — and about 20 police officers were in position to make sure it stayed that way.
Many fans are taking mass transit. New Jersey Transit on Wednesday suspended ticket sales on its Atlantic City Line into Philadelphia. All 50,000 special parade day tickets for the SEPTA regional railroad lines sold out.
The city's two subways are free all day.
Schools and government offices are closed in the city. The Erco company gave more than 100 employees in New Jersey and Delaware a paid day off so they can celebrate.
Article continues below
---
advertisement


---
Author:
http://philadelphia.cbslocal.com/2018/02/08/eagles-fans-pack-super-bowl-2018-parade-route/
Archives
---
More Articles