Leading By Example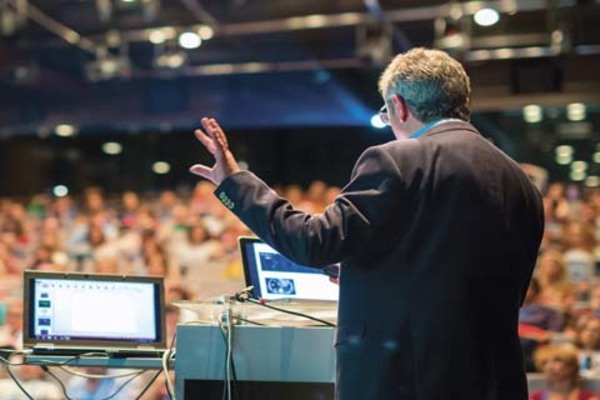 Virgin Group founder Richard Branson once said, "You can't run a business without taking risks." These individuals have indeed taken risks by following their dreams or starting their own companies, and in the process have become highly effective leaders in each of their respected fields. It was no easy task getting to this point, each step filled with an immense amount of sacrifice, grit and determination, along with tremendous growth. They share with you the business philosophies they go by each day, the values they instill in their colleagues and why they are so successful.

Terry Rossi
Co-founder and Chief Information Officer, PICS Itech
Rossi has spent most of his life as an entrepreneur and has more than 20 years' experience in IT and business. He considers PICS Itech—the company he co-founded in 1995—to be his biggest accomplishment. A software and IT services firm based in Mount Holly, PICS Itech has ranked among the best IT managed services companies for five consecutive years. It employs people throughout the United States and extends its influence across the globe, helping more than 500 companies worldwide to better use technology in their organizations. Rossi's hobbies include boating with his family: his wife Lisa and daughters Lauren and Sydney.
"To me, being a successful businessperson means that I continue to grow as a leader and move our company along. It means keeping the health of the company in the forefront, because without that I am not able to help my employees or clients."
Article continues below

---
advertisement


---

Josh Smargiassi
Principal, Boomerang
After graduating from Kings College in 2002 with a degree in marketing and business administration, Smargiassi worked in the wholesale mortgage industry until 2008, when the mortgage crisis allowed him to move into a more fulfilling venture. He joined Boomerang and now oversees daily operations for the company, which specializes in providing high-quality, pre-owned office furniture—such as desk systems, seating and storage—to its customers at an affordable price. Smargiassi was born and raised in Marlton and continues to call the town home, along with his high school sweetheart and their three children: Owen, Landon and Lily.
"My business philosophy is to be fair, always. No matter whether [we're] dealing with an employee or a customer, our mantra has always been to 'be fair.' Our founder instilled this thought process into me, and it has carried forward throughout the years. I often find myself asking the question, 'Would I feel good about this situation if I was in the other person's shoes?' This mentality has allowed the company to expand and maintain relationships both internally and externally."

Brian Tannenhaus
President, BD Engineering
Tannenhaus, a graduate of NJIT and a licensed engineer since 2005, oversees a company that provides economical and practical engineering solutions to complex projects in a wide range of fields. Born and raised in New Jersey, he lives in Howell with his wife and two kids and is active in the community as a board of trustees' member for the Southern New Jersey Development Council, an advisory board member for Investors Savings Bank, and a member and past chairman of the Howell Green Team. He also serves as "chauffeur" for his daughter, a competitive swimmer, and his son, who wants to be a soccer star.
"One thing I wish I was told before starting my business is how to hold people accountable. Part of our company strategic plan is to be a firm constantly learning, constantly improving. Utilizing lean construction principles has been a big part of that strategic plan, and one of the core principles of lean construction is to hold all team members accountable. Just like [with a team sport], it isn't just one individual who gets the team to the championship. It takes many people to meet a client's deadline and if one team member is not keeping up, the whole team suffers. So holding that person accountable for not meeting their deadline or quality of work has to be one of the most difficult things to do as a business owner."

Peter Bacote
Principal, The Sentarus Group
With over 20 years in the financial services industry, Bacote has worked in all capacities from data entry to CEO. He has a strong accounting and sales background and the ability to gain and maintain clients in the financial industry. A self-starter who enjoys helping others gain knowledge about finances, Bacote regularly appears at many speaking engagements educating individuals about a myriad of financial topics.
"My business philosophy is listening to our customers' needs, first. We help a wide array of individuals and businesses and try not to put them into a box.
We realize that each client needs to have a customized solution or game plan. We know that when you do something that you are passionate about, you want to work with someone who cares about more than just the bottom line. We want to make sure it's done correctly and how our clients have planned it."

Darren Crane
Founder and President, DLC Technology Solutions
Crane has more than 20 years' experience in the information technology field, including a stint as the general manager of provider health care services for a nationwide firm in the early 2000s. Weary from the travel in that role, he founded DLC in 2005 to bring best-in-class IT solutions and support to growing businesses of all types and sizes in New Jersey, Pennsylvania and Delaware, with an emphasis on the health care industry. Crane holds several Cisco certifications, is an Apple-certified technical coordinator and is a member of the Healthcare Information and Management Systems Society. He is also an in-demand speaker on such topics as internet security.
"Being truly successful means that you have provided true and unique value to your customers. With your help, you have allowed them to achieve their goals and helped to enrich their lives."

Chelsea Carter
Partner, Morgenstern Waxman Ellershaw
Becoming partner at Morgenstern Waxman Ellershaw was an idea Carter floated around early in her career when she started at the firm in 2004. She took definitive measures to make it happen a few years ago, and became the first female partner in 2017. It's that drive and determination that set Carter apart from the rest, and she carries that outside the office as well, serving on the board of trustees of Oaks Integrated Care, the Military Assistance Project and the National Association of Women Business Owners South Jersey. She is also a member of the American Institute of Certified Public Accountants and the Pennsylvania Institute of Public Accountants.
"There are people who are innately talented and there are people who work hard. To me, being a successful businessperson means putting in the work; it means making client relationships a priority and genuinely caring about the product/service delivered to them."

Joseph Lang
President, Nation One Mortgage Corporation
The span of Lang's career has been spent in the mortgage industry where he started as a loan officer just out of college. Working his way up the ranks, Lang became a top producer and was promoted to sales manager before moving to a wholesale lender with responsibility for hundreds of loan officers. But it was his realization of how personal the experience of buying a home is that inspired him to branch out on his own. He founded Nation One on the principle of recognizing the importance of buying a first home or refinancing in order to afford a special occasion, and the smaller setting helps achieve that personal touch, making it about more than just numbers. Lang credits his success to the support of his wife Abbe, who keeps him on track, and their three sons.
"There's a great deal of responsibility when you're a successful businessperson. Many people rely on you. When you oversee an entire organization, you must make sharp decisions that positively impact all involved. In my eyes, being a successful businessperson only comes when you help people in your organization achieve their own success."


George Hutchinson III
Founder and owner, Hutchinson Business Solutions (HBS)
Hutchinson spent more than 25 years as partner, comptroller and CFO of Hutchinson Contracting, where he developed relationships and fostered the growth of what was a local $1 million plumbing and HVAC contractor into a nationwide $30 million company. The 1998 merger with Conectiv Services gave Hutchinson the opportunity to use his skills with a wider audience. HBS has facilitated acquisitions and implemented regional financial programs to enhance profitability all under the skilled hands of Hutchinson and his advanced knowledge of corporate services.
"People like to deal with people they know, with whom they feel comfortable. Building a relationship and trust is paramount and will define what success you will achieve."

George Cholaj
President and CEO, MCR Services Inc.
Cholaj immigrated to the U.S. as a child and was educated and raised in Northeast Philadelphia. He began his career in construction as a skilled carpenter. Combining his construction skills and business acumen, he went on to build businesses of his own. For the past 30 years, Cholaj has successfully owned and operated his own general contracting business and along the way has launched, owned and operated property management businesses. He has integrated what he learned as a property owner and manager into his general contractor business to deliver his clients what he knows they want and expect as property owners.
"One thing I wish I was told before starting my business is how truly difficult juggling family, business, time—and life in general—is going to be."

Charles Muracco
Founder and CEO, CLM Advisors LLC
Recognizing the growing need for business consulting services, Muracco began his company in 2013. With a specialty for instilling sound fiscal management principles, policies and habits in closely held businesses, he works with businesses in their endeavors to make it to the next level. Muracco's day-to-day passion is to instill the consultant's way of thinking into each member of the office and his clients. Over the years, he has sculpted CLM Advisors into what it has become today.
"Being a successful businessperson in my eyes means having the business community truly see our approach at CLM, how our approach matters for businesses and watching the businesses that we partner with see success from our approach. Their success is our success."

Joseph Giacobbe
Agency Owner, Farmers Insurance
Giacobbe's career has roots in the mortgage and lending industry, where he demonstrated his proficiency for outperforming sales benchmarks and recruiting new talent. As the agency owner of Farmers Insurance in Swedesboro, Giacobbe spearheads business development, social media marketing and community involvement. His office has achieved recognition in the Farmers' Toppers Club—awarded to the top 5 percent of agents in the country—and it's one of the top three producing offices in the state. Giacobbe has made a mark in the community as well, where he volunteers his time for youth sports programs, charitable foundations and local business associations.
"Entrepreneurship is the most life-changing relationship I have experienced. I had to learn how to confront my fears and insecurities, overcome my excuses and realize I had no room for failure. Also, I had to start paying attention to the small things; every detail makes a huge difference when you're running your own business."

Frank Lauletta Sr.
Founder and Principal, AFC Doctors Urgent Care
Born and raised in South Philadelphia, Lauletta majored in financial management in college. He started his career in banking and quickly realized his interest was in real estate development, in which the banking experience served him well. Lauletta feels that when he develops a project, he's leaving his mark on the world; a legacy for his children and grandchildren. With his latest career entry into the urgent care market, Lauletta says he's not the type of person who can retire and that changing career direction is a good thing.
"Whatever the goal you are pursuing, give it your all and follow it through to successful completion. Remember the chess analogy—always think three to four moves ahead."

James C. Ewing, CFP®,CRPS®,CRPC®
Managing Director and Partner, Ewing/Cona Wealth Management at HighTower
Just over a year ago, Ewing and his team partnered with HighTower Advisors to open an independent financial advisory practice committed to the fiduciary standard of care. Ewing has deep experience in deploying sophisticated strategies to help professionals, multigenerational families, executives and the owners of small and medium-sized businesses with their complex financial needs. He is committed to developing enduring relationships with clients to better understand their needs and to be able to serve each as a true fiduciary.
"Being a successful businessperson is not something that can be measured in numbers. I measure success by the positive impact we are able to make in the lives of the people that we serve and in the communities where we live and work."

Kristina Kohl, MBA, PMP
Managing Principal, Becoming Sustainable and HRComputes
Kohl leads the Becoming Sustainable practice for HRComputes, a human capital consulting practice, developing strategy to guide business leaders in delivering triple bottom line—people, planet and profit results. She brings over 25 years of executive business management experience in the corporate and not-for-profit fields. Kohl is the author of Becoming a Sustainable Organization, a book published by CRC Press. She is also a professor in the Bard MBA in Sustainability program at Bard College, is active in her community and serves on the board of the Moorestown Education Foundation. Kohl holds an MBA from the Wharton School, University of Pennsylvania.
"Your people are your most important asset. They are a unique source of competitive advantage. Invest in your people and your organization will thrive."

Leor Hemo
Founder and Managing Principal, Vantage Real Estate Services
With over 17 years of commercial real estate experience, Hemo has served as managing partner in real estate holding companies and held executive leadership positions in commercial real estate firms. His wide industry knowledge includes real estate investments, development, financing, acquisitions, leasing, sales and property management. Hemo was also a tank commander in the Israeli Defense Forces, where he sharpened his leadership abilities during active combat.
"If I'm empowering my team to be all that they can be in this business while at the same time serving our clients with integrity, honesty and deep industry knowledge, plus giving back to our community through charity and volunteer work, I consider that a success."

Scott Sileo
Owner, The Sileo Agency
Sileo is a 26-year veteran of the insurance industry. He established The Sileo Agency in Williamstown in 2005 and holds his CLU and ChFC designations from The American College. He serves on various boards and committees, including the Williamstown and Gloucester County chambers, Rowan College at Gloucester County and Mainstage Center for the Arts. Sileo has also been a featured speaker to both industry and consumer audiences. He lives in Williamstown with his wife and two daughters.
"A successful businessperson has developed processes that ensure that the business continues to grow and prosper, hires and develops people that can achieve their fullest potential, and always conducts him or herself with the utmost degree of integrity."

Matt Rahn
President, The Rahn Companies
Rahn formed his concrete construction company in 2013. After starting his career in construction as a teenager, he quickly advanced from laborer to project manager and soon, his field experience, construction management education and ambition fueled his early success as a new business owner. Rahn also included complete exterior site services to his business and took the reins of an established landscaping company. Rahn Contracting and Rahn Landscaping are two divisions of the Rahn Companies and now retain over 50 employees, offering residential and commercial client services.
"One thing I wish I was told before starting my business is the importance of surrounding yourself with like-minded colleagues and mentors. The path of forming a business is riddled with ups, downs, twists and turns. A reliable support system will offer invaluable expertise, positive reinforcement and help a new business owner create accountability for his goals."
Published (and copyrighted) in South Jersey Biz, Volume 8, Issue 4 (April 2018).
For more info on South Jersey Biz, click here.
To subscribe to South Jersey Biz, click here.
To advertise in South Jersey Biz, click here.
Author:
Matt Cosentino, Julie Shannon, Josephine Cusumano, Liz Hunter and Kaytlyn Mroz
Archives
---
More Articles