Relying on Instinct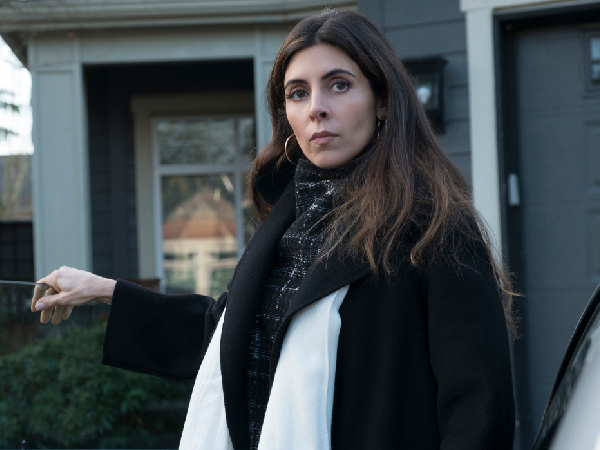 After putting her career on hold to start a family, Jamie-Lynn Sigler returns to the spotlight with a renewed energy and plenty of wisdom.

Jamie-Lynn Sigler is as all-American as motherhood, baseball and apple pie.
The Sopranos star who we watched grow up as Tony's inquisitive teenage daughter Meadow and who went on to leading roles, stepped away from her TV career a few years ago to become a full-time mom and baseball wife.
Now, the 38-year-old actress is back—stronger than ever and happily juggling work and family, as the mother of two young sons; Jack, 2, and Beau, 6.
Her impressive TV résumé includes Entourage and Ugly Betty, and her recent projects include playing a mob wife in Mob Town, a mom in the family movie Adventure Force 5; and her latest, the original Lifetime movie, The Neighbor in the Window, based on a true story of new friendships going very sour debuts this month.
While she loves being an actress and being able to grow and learn as she takes on the new personalities and characteristics, she is clear: family comes first.
As a devoted mom, she knows how difficult raising children can be and is eager to urge other parents to lighten up and not be so hard on themselves.
"We are trying our best and we often feel like we are making the wrong decision. So, when I have those thoughts, I immediately try to think of two positive thoughts of myself as a parent to kind of negate that," she explains.
"The truth is that I'm not perfect, but I know how much I love my children," Sigler says. "At the end of the day, they know how much they are loved, and that's the most important aspect of their childhood."
When it comes to life lessons, her father, who coincidentally runs an amateur baseball league, was a master teacher. His advice was based on simple common sense, yet it was quite profound.
"My dad taught me to always limit your 'should have, could have, and would have.' He's always told me that anytime there's been a question to go ahead and do it, and don't second guess myself. Always trust my gut."
That gut held in good stead for married life. After wedding professional baseball player Cutter Dykstra (son of former Major League Baseball outfielder Lenny Dykstra), Sigler eagerly changed gears and for three years headed with her husband to Orlando for spring training with the Washington Nationals.
After taking some time off from acting, Sigler is happy to be a working mom again but admits that it can often take a bit of a toll. She remembers less hectic days—before motherhood—when she could learn her lines, relax and take a nice, long hot bath.
"But, I really wouldn't have it any other way. When I'm not working, I am 100 percent there for my kids and when I am working, I am 100 percent there and grateful for it. I hate the word balance, but to have the ability to work and then go home is lovely; I am enjoying it," she says.
While she has appeared in numerous TV shows and movies, Sigler is undeniably forever attached to the role of Meadow Soprano, and she readily appreciates the continued affection from the crime drama's legions of fans. She still keeps in close touch with several of her co-stars, including Edie Falco and Drea de Matteo; and her TV brother Robert Iler is one of her best friends; in fact, they record a podcast each week called Pajama Pants.
The cast members had a joyous 20th-anniversary reunion last year where she had the opportunity to talk to James Gandolfini's son, Michael, who is following in his dad's footsteps in David Chase's prequel movie, The Many Saints of Newark, slated for a September release. "I was so thrilled and excited for Michael and I can't think of a better way to honor the whole story and Tony Soprano."
So, why did this crime drama and the two families of Mob boss Tony Soprano strike such a chord in viewers back then?
"It was very cinematic and it was also appointment television, where so many of us got together on Sunday nights to have dinner with family and friends and share the experience. So, that makes it more of a show; it's a memory of their life when they watched it," Sigler says.
Article continues below
---
advertisement


---

The filming of The Sopranos took the cast all around the state of New Jersey; and along those journeys many fond memories were made along the way.

"It was fun when we went to the South Jersey Shore for The Sopranos because it felt different from the Northern Jersey locations on the show. I also went to Atlantic City for public appearances with the guys," she recalls. "I am pretty sure the last time I saw Mr. Gandolfini, (who died of a heart attack in June 2013 at age 51), was when we were all together in Atlantic City."

When asked if she ever re-watches the old episodes of the show, she offers that her husband hasn't seen them yet. "It's something we talk about eventually doing together."
With her career back in full swing, Sigler is excited about Lifetime's The Neighbor in the Window, which premieres on Feb. 8.
The "ripped from the headlines" movie, inspired by the book False Victim, tells the truth-is-stranger-than fiction story of an upbeat wife and mother who relocates to Washington State for her husband's job and discovers that Lisa (Jenn Lyon), her charming neighbor, cleverly sets herself up to become Karen's victim, through massive lies and deceit, to the point that Karen's happy family life begins to unravel.
After Sigler read the script she says she was attracted to what everyone enjoys about Lifetime movies. "Karen is an ordinary woman with these dramatic, extraordinary things that happen to her," she says, "and this was a true story."
"So, it was an interesting journey to take with her. Karen is this sweet, trusting, loving human and to see her find her strength and stand up for herself and her family was empowering. I felt like this was going to be a good role for me to tackle."
The Lifetime movie "was a fun ride. I like the interesting characters, and up until the end, you don't know exactly what is going to happen. It will make you think twice about your actual neighbors."
So, how do Sigler and her family get along with her actual L.A. neighbors? "The neighbors on one side are amazing, wonderful and super friendly and the neighbors on the other side we don't know at all," she says. "We are new to our community, so it's been fun getting to know everyone. It reminds me of the Long Island town where I grew up. There are lots of kids on our street, which is great for my children."
Sigler's upcoming projects include the movies I'm on Fire and The Virgin of Highland Park, and she is currently exploring various TV pilots and other opportunities.
After 20 years in the business, Sigler still loves going to the set to make magic. "It's why so many of us still do it after all these years. You're always growing. You're always learning," she offers.
"Every project has some sort of lesson. Every role has some sort of revelation that you have about it," she adds. "I don't think that artists are ever satisfied, so it sometimes can be frustrating, but it's also what fuels me."
To read the digital edition of South Jersey Magazine, click
here
.

Published (and copyrighted) in South Jersey Magazine, Volume 16, Issue 11 (February 2020).

For more info on South Jersey Magazine, click
here
.

To subscribe to South Jersey Magazine, click
here
.

To advertise in South Jersey Magazine, click
here
.
Author:
Debra Wallace
Archives
---
Who's Who in Health Care
Former Shawnee star Doolittle Calls It A Career
Camden County College welcomes Baseball Hall of Fame
South Jersey Football Games of the Week
Out & About
QB Ronnie Borden is Back in the Game
Should fans be worried for the Phillies bullpen?
South Jersey Football Games of the Week
A look at South Jersey's Top H.S. Girls' Soccer Teams
Out & About
Eagles will be fine after close call in opener
High School Football Games of the Week
Is it Super Bowl or bust for the Eagles?
What's New in South Jersey?
From New Jersey to Nashville
More...