Paying it Forward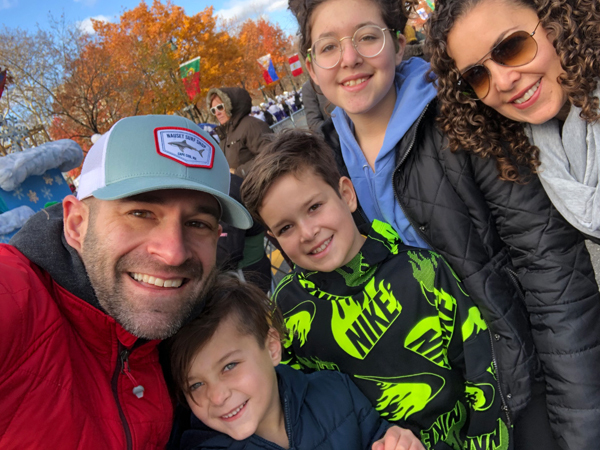 Cancer survivor Rabbi Ben David gives back to others through the power of running.
After beating cancer, some take it easy and relish life. For Rabbi Ben David of Adath Emanu-El in Mount Laurel, he relished life alright, but did anything but sit back and take it in. The Cherry Hill resident started to run again—a passion of his— and has raised money and spread awareness for the American Cancer Society, Leukemia & Lymphoma Society and other organizations, all in the name of helping other people.
That's David's mission, and has been since a young age. He grew up in Cherry Hill with two younger brothers and is the son of a rabbi.
"I got to see up close that a rabbi gets to make a difference in people's lives and that rabbis have the opportunity to be with people on days that are both incredibly challenging and days of great joy,"
the 43-year-old says. "Even though I saw early on it was a hard life, I also saw it would be a very rewarding life. I knew from the time I was a teenager that this was something that spoke to me. I just knew there were so many parts of this life that spoke to me and I still feel that way."
He is a community leader in a number of ways, instilling compassion, kindness and love of Judaism to his congregation at Adath Emanu-El, and outside of his synagogue he is bringing people together to spread awareness of cancer and achieve social justice—all through running.
He has run 19 marathons, and next fall he is running his fifth New York City Marathon with the help of fellow rabbis and leaders of different faiths. His goal is to get 50 clergy members from around the country to run with him to coincide with the 50th anniversary of the New York race. This time around, the cause he and his group are running together to support is gun violence prevention.
Organizing a group of clergy members is nothing new to David, as he and fellow rabbi Scott Weiner established Running Rabbis in 2005, which brings together clergy to enact positive change
in the world. "We've raised valuable funds for autism research, feeding the hungry, cancer research and more," David says.
For his actions, David was the recipient of the People's Choice Award at the Katz Jewish Community Center's annual Sports Award Dinner this past December with his wife Lisa and children Noa, Elijah and Samuel by his side.
We spoke to David about his lifechanging cancer diagnosis, his need for change and dedication to caring and providing for others.

Article continues below

---
advertisement


---
Being diagnosed with cancer…..
I was diagnosed with non-Hodgkin's lymphoma in January 2016, the day after my 39th birthday. I was put on a pretty extreme treatment plan at UPenn and went through multiple rounds of chemotherapy and radiation. It was a very difficult time for my family and I. It was a time of uncertainty, my kids were anxious, and at the same time there was another side to the coin. I felt so much love from the community, friends and family. People I went to high school and elementary school with reached out through Facebook with such kindness and support, it was just incredible.
I was given a clean bill of health the following summer and felt very fortunate. If it had to be, it should be someone in my situation where I was in good health, I was young, I had access to great doctors, access to Penn Medicine and all sorts of people who are ready to guide and advise me. I was well aware of the fact that not everyone has access to such astute and thoughtful people.
How he developed a passion for running….
I started running in middle school. My youngest brother is a terrific runner and has been a good running partner and an inspiration. My dad was a runner as well. From early on I liked the very raw and straightforward aspect of running. It's you versus you. It's you versus nature and the elements. It's not about gear or money—you get back what you put in. I just took a liking to it, found
out I was good at it and ran through high school and college.
How one marathon turned into 19…..
After a little hiatus from running, one of my friends said to me, why don't we try running a marathon? We ran the New Jersey Marathon in 2003 and it was painful and brutal. I said never again, and I've now run 19 marathons, including the Boston Marathon twice, the New York City Marathon four times, [Rock 'n' Roll] Las Vegas Marathon and [Rock 'n' Roll] San Diego Marathon. I just love it. I love that it's my own personal time; there's something very raw about it.
How running has changed his life….
The older I get, the more complicated life becomes, [yet] somehow I love running more and feel I really need it, and I feel good at the fact I've been able to use running for good— as a vehicle to raise
money for important causes like cancer research, especially the Leukemia & Lymphoma Society, research on autism or providing scholarships for kids to go to camp.
Why he chose to run for gun violence prevention….
There is an epidemic of gun violence in our society. We're the only nation in the world with more
guns than people and there's such preventable violence in our country playing out just about every day—from suicide and incidents like domestic violence, to mass shootings at our schools. We can do better. A vast majority of Americans support universal background checks and closing various loopholes that exist in the realm of legislation. It feels like we should all be doing more.
I have a network of fellow rabbis who also run in the name of social justice and we bring together a big group of us in this shared cause from across the country. The hope at the moment is to bring together 50 clergy members to run at the NYC Marathon in the fall, which would be the 50th NYC Marathon. It would be amazing.
On being recognized at the JCC's Sports Award Dinner….
It was really nice to be recognized by the community and it was a wonderful night to share with Joel Embiid, Elton Brand and Al Horford. It felt gratifying and humbling to stand up in front of hundreds of people and share my story and accept this award. I was honored. I am proud to be a part of the tight-knit Jewish community of South Jersey, and especially in today's day and age we feel a need to wear our Judaism with great pride and distinction. There are those even in this country who don't look very favorable onto our community; some who are anti-Semitic. To combat that with a love of Judaism and Judaism of compassion, kindness and justice— I'm trying to instill [that] in my community and my kids all the time.

To read the digital edition of South Jersey Magazine, click

here

.

Published (and copyrighted) in South Jersey Magazine, Volume 16, Issue 12 (March 2020).

For more info on South Jersey Magazine, click

here

.
To subscribe to South Jersey Magazine, click

here

.
To advertise in South Jersey Magazine, click

here

.
Author:
Julie Shannon
Archives
---
Spotlight: HaddonFEED
Flower Power
More Articles