A Change to the Menu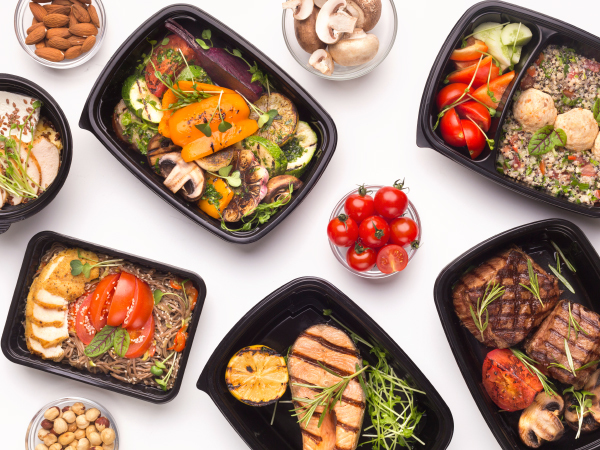 Fine dining restaurants adapt to a new world of takeout and delivery.
When Gov. Phil Murphy signed an executive order in mid-March announcing that all non-essential businesses would close due to the coronavirus pandemic, it sent shockwaves throughout the dining industry. Those closures caused a major rift in the lives of many restaurant owners and had ripple effects on their employees. To stay afloat, many restaurants began offering takeout service—in some cases for the first time ever—and were left to determine how to best deliver the taste of fine dining in a packaged container.
Eateries across South Jersey have been utilizing food delivery apps and offering curbside pickup and no-contact purchases as they try to adhere to the new operational guidelines. Monsoon Indian Cuisine in Mount Laurel was one place that needed to make the necessary adjustments to continue to be able to serve their customers. Owner Ray Thind says that includes having his employees wear masks, gloves, face coverings and hats. And to further limit exposure, customers are not allowed in the restaurant whatsoever and instead are instructed to call and place an order after which they will be given a time window for pickup.
Having a good system in place is one thing, but Thind says there are still many other challenges he is forced to contend with, including trying to accommodate a large number of orders that come in all at once. "It's a little bit frustrating for the customers because what happens is that a whole day's worth of business you're doing between 5 and 7 p.m.," he says. "Everybody seems to come at the same time and I cannot make that many orders [at once]. Sometimes they have to wait a little bit but patrons have been very, very good. They've been very patient and they understand."
Haddonfield's Bruce Mercog is a devoted foodie who loves everything about the fine dining experience, from the food to the ambiance, and regularly eats at the region's top restaurants. Despite the restrictions currently in place, he's remained loyal to his favorite spots and has continued to patronize them during the crisis. And while he'd much rather be sitting in a white tablecloth restaurant at a candlelit table across from his wife, he's experienced few hiccups thus far.
"Most of the transactions are done online prior to getting the food, as far as putting it on my debit card," Mercog says. "Some restaurants are still accepting cash though but it is done with gloves and behind plexiglass shields.
"I have been satisfied with the service of the restaurants even if they only offer limited menus because I'm only going to order what I want. I also think that it helps with the freshness; limiting the menu is probably better."
Lisa Alvarez and her family reside in Cherry Hill and have been ordering from multiple restaurants in the area to not only help keep them in business but to also enjoy one of life's pleasures they've missed the most.
"We love to go out to eat. We typically will go out to eat on Fridays and Saturdays, so recently we've been trying to order from the places that we like, because we obviously want them to still be in business when this is all said and done," she says.
"It's difficult because some of the stuff we were ordering was flash fried and so it was a little bit soggy once you got it home. I think it probably depends on what you order and unfortunately the one time we ordered we didn't necessarily take that into consideration," says Alvarez. "The quality of everything was really good though, in terms of what I expected it to be if we had been on site."
After spending so much time in her own kitchen, Megan Hollingworth was ready for a change. "After three months, you get really bored of cooking your own food," the Haddonfield resident says. "And it's nice to have options, and here in town we've got lots of good spots."
Hollingworth was thrilled to get out and visit her favorite Mexican restaurant nearby and found the experience rather painless. "It was very clean and they offer curbside pickup, which makes it a really easy thing to do. We've had really great experiences there."
Dominique DiCriscio, of Cherry Hill, has had similar positive experiences and has always felt that safety and cleanliness were a high priority at each of the several restaurants she's visited in and out of town. She's also noticed how restaurants and chefs have been coming up with creative offerings to attract diners.
"I've seen restaurants that are offering [rotating] menus, they release it on Facebook and say this is what we're up to this week. It's not typically a large menu, but it's always different and offers some variety for sure," she says.
Since many fine dining establishments are not in the delivery business, they've been forced to partner with third party vendors like DoorDash and Grubhub. That has caused some angst for restaurant owners who cite the high fees associated with using such services, but also some frustration with how the food is handled once it leaves the kitchen. A five-star meal delivered to your house is certainly convenient, but can also cause major differences in the appearance and overall taste of certain dishes.
"I have mixed feelings about [food ordering apps]," Alvarez says. "While it is convenient for the consumer, I definitely think there are disadvantages from the business that you're ordering from. And, for example, a Grubhub order I did was incomplete, so I paid for food that we didn't get. … My preference, to be honest, is to order directly from the restaurant.
"All in all though, I think as the situation has evolved, a lot of these restaurants have started to find their footing and have established a process that seems to work for both their fulfillment aspect as well as the customers who are coming to pick it up," says Alvarez.
While appreciative of being able to still support her favorite eateries, DiCriscio says nothing can replace the overall experience of sitting at a table with family and friends sharing conversation over a great meal.
"The food is not the same as eating there," she says, "but I still like to feel that I'm supporting some of these smaller restaurants during times when they're really struggling."
Thind acknowledges this is a trying time for the industry and is eager to get back to welcoming diners in a more traditional manner once again. And now that outdoor seating will be allowed, things will hopefully progress further to the phase of the recovery when he can once again open his doors to guests and operate at a limited capacity.
"Obviously the business is not supposed to be like this. With the cost of rent and all the other costs remaining the same it's hard to get by but we are pushing through," he says.


Click here to subscribe to the free digital editions of South Jersey Magazine.

To read the digital edition of South Jersey Magazine, click here.

Published and copyrighted in South Jersey Magazine, Volume 17, Issue 3 (June 2020).

For more info on South Jersey Magazine, click here.
To subscribe to South Jersey Magazine, click here.
To advertise in South Jersey Magazine, click here.
Author:
Sydney Kerelo
Archives
---
Who's Who in Health Care
Former Shawnee star Doolittle Calls It A Career
Camden County College welcomes Baseball Hall of Fame
South Jersey Football Games of the Week
Out & About
QB Ronnie Borden is Back in the Game
Should fans be worried for the Phillies bullpen?
South Jersey Football Games of the Week
A look at South Jersey's Top H.S. Girls' Soccer Teams
Out & About
Eagles will be fine after close call in opener
High School Football Games of the Week
Is it Super Bowl or bust for the Eagles?
What's New in South Jersey?
From New Jersey to Nashville
More...