Prioritizing Oral Health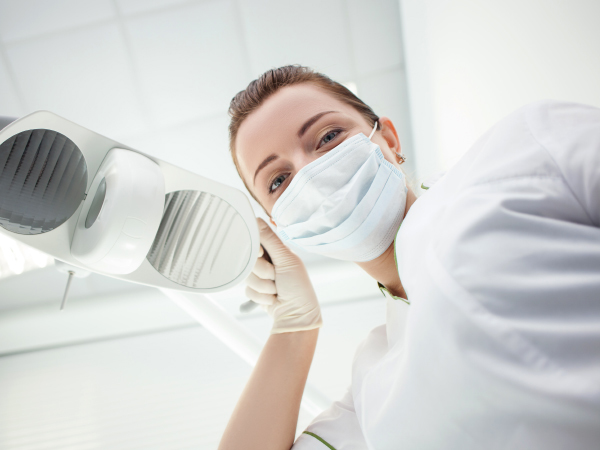 With new safety precautions firmly in place, area professionals continue to stress the importance of proper dental care.

Vacations, graduations, simple get-togethers with friends and family—these are the activities most people would include on a list of activities they have missed the most during the COVID-19 pandemic. A trip to the dentist probably does not make the cut.
However, when Gov. Phil Murphy signed an executive order in mid-May allowing for dental elective surgeries and invasive procedures to resume later that month, health professionals across South Jersey welcomed the opportunity to reopen their offices and start treating patients on a regular basis for the first time since the crisis began.
And much to their surprise, at least part of the public was equally excited.
"I'm rather shocked at the number of patients calling and wanting to come in," says Dr. Harry Gilbert of Springdale Family Dental in Cherry Hill. "Usually people are not in a rush to go the dentist. It's not like they're disregarding [their safety], but they feel like they have to get things done or it will get worse. Some patients are dying to come in."
As the state slowly tries to spark its economy and bring back normal activities, it is clear that nothing will be the same as it was before the pandemic struck, especially in a field like dentistry. But local residents can rest assured knowing their doctors are going the extra mile so their patients and employees can be as safe as possible.
Dentistry during the quarantine
Although visits for teeth cleanings or new Invisalign trays came to a halt, dentistry and orthodontics never fully went away during stay-at-home orders. Many local practices were available to handle emergencies at the urging of the American Dental Association (ADA) and New Jersey Dental Association (NJDA). The idea was to keep people from seeking treatment at emergency rooms and urgent care facilities, which were dealing with coronavirus patients and other more pressing matters.
As a periodontist, Dr. Gail Childers of Periodontal Health Professionals in Marlton and Turnersville regularly addresses serious issues such as dental implants and gum disease. In one case during the shutdown, he coordinated with Jefferson Hospital to treat a patient for an infectious disease in the mouth before the patient underwent a bone marrow transplant.
"I also had one woman who had five abscess teeth in her mouth. She knew she had a problem but she got to the point where she was uncomfortable and felt physically drained," he says. "We also saw people who had fractured teeth, swollen glands. … Stress is a big thing; it affects the overall health of your mouth."
Local professionals adopted teledentistry during the quarantine, to varying levels of success. Gilbert says it helped to prescribe pain medication for the patient, but the problem obviously could not be fixed until he or she was seen in person. Virtual exams were also beneficial in determining whether patients had a true emergency that had to be treated right away.
Dr. Ron Saffar of My Orthodontist has embraced the use of technology at his practice, which has locations in Cherry Hill and Deptford. Through a virtual platform on their website called SmileSnap, patients can submit six photos of their teeth and then have a consultation with one of the doctors. Saffar believes it will be the new standard moving forward for Invisalign patients, who will no longer require an office visit every few weeks to get new aligners.
"Before COVID, we had heard of teledentistry but it was like a foreign concept to me," Saffar says. "I could see it in medicine, but how do you do dentistry remotely? But it has been very effective overall and works very well with Invisalign. … Virtual platform is the wave of the future and we're definitely going to be incorporating it as a way of business."
Dr. Tom Kadar of Kadar Orthodontics in Washington Township has also utilized SmileSnap, along with three other virtual platforms: Orthodontic Screening Kit, Dental Monitoring and HIPPA-compliant Zoom meetings. He recognizes the comfort level that virtual visits bring for patients, who are often anxious about going to see a doctor.
"When someone is sitting in their private home, they're very relaxed and … it's a more trusting environment," he says. "It's a really cool way to meet people. Of course, I still have to see them and do a physical exam, but it gives us an idea of what's on their mind and how I can help them.
"There's no question those things are here to stay. If fits into patients' schedules better. If you can make things more efficient or accommodating, people will appreciate it."
New protocols in place
With local practices now welcoming back more patients, they are following the guidelines set forth by organizations like the ADA, NJDA, Centers for Disease Control and Prevention, and Occupational Safety and Health Administration. Some of the common measures include a pre-appointment questionnaire related to COVID-19 exposure; the elimination of waiting rooms, with patients remaining in their cars until it's time to be seen; electronic paperwork; temperature checks; mandatory face coverings for patients before and after treatment; hand washing; PPE and other protective equipment for staff; and increased sanitation of exam rooms.
Kadar hired a national consultant, Jackie Dorst, to put his practice's infectious control system in place and go over every possible scenario. He credits his staff and patients with helping the process go smoothly.
"If you don't adapt, you won't be able to survive, so we're adapting," he says. "[Our office] is still a very safe place to be. Everything is sterilized, everything is wiped down. I think it's way safer than walking through a grocery store where everybody is touching everything.
"My team is really amazing and they have bailed us out tremendously. They're putting in extra hours and being flexible, knowing that we're dealing with an unprecedented tragedy. The patients have been awesome too. They understand that we're doing everything we can. We're all dealing with it and we're going to come out better for it."
Childers cites studies published in China, Italy and Germany on post-mortem coronavirus patients that show the port of entry for the virus is in the salivary glands, rather than the lungs as first believed. "Consequently, when a patient comes into my office I have them rinse with a solution that decreases the viral load in the mouth, so even if they were exposed … they can shed the virus," he says. Childers also has his staff members change into different shoes when they arrive for work, and he brings a change of clothes every day while keeping his scrubs in the office for the week. "Everything I've done is for the safety of my patients, the safety of my staff and for my safety as well."
Gilbert also has concerns for his employees and is operating with a limited staff for the first few weeks of reopening. Because of the dangers of dental aerosols, hygienists are utilizing more hand scaling while reducing the use of ultrasonic hand cleaners.
Since there are no aerosols in orthodontics, Saffar is comfortable reopening with all of the precautions his office has put into effect. He believes it is the right time to get back to work.
"The biggest issue with orthodontics and the closures is that patients with braces or aligners were going two or three months without going to the office," he says. "Treatment is ongoing and it takes two years to finish up or a year to finish up, so closing the offices and not providing service to the patient, in my opinion, is almost unethical."
The next steps
Gilbert believes the new guidelines will be in place for some time, probably until a vaccine for COVID-19 is available. He thinks some patients who take good care of their teeth might wait another month or two until deciding to come back for a regular visit, but others don't have that luxury.
"If they have decay, it can progress and they'll end up needing root canals and/or extractions," he says. "If they go a year without getting their teeth cleaned, that can lead to periodontal disease, which can lead to loss of teeth and can also lead to heart disease."
But with so many people out of work due to the pandemic, Gilbert understands that means a loss of dental insurance. "People have to put food on the table and take care of other things like mortgages and car payments. At that point, dentistry ends up being something that can wait for them."
Although that is not the case for Eddie Boaté of East Greenwich, who is still working, he may hold off a little longer for his next visit to the dentist anyway. He was scheduled for a regular cleaning about a month ago and is waiting to set a new date.
"I'm not super concerned about it, because I'm sure they're going to be careful," he says. "But dentists are hovering around your face and digging into your mouth. I get a cleaning every six months, so if it ends up being nine months or a year, it's not the end of the world. I'm still brushing my teeth and flossing. I think everything needs to open back up, but that's not my top priority. I'll probably get my hair cut before I get to the dentist."
Wendy Nayeli of Voorhees has similar thoughts about the nature of a dental visit. She is also questioning when to schedule the next appointment for her son, a sophomore-to-be at Eastern Regional High School.
"It's a little uncomfortable because they're literally working right on top of you," she says. "If I had a toothache or something, I would go. But if I can hold off a little longer to get my cleaning, I will.
"I was told that you can't even go in with your kids. [My son] usually gets his regular cleaning in July but I haven't scheduled it yet. We used to go once a month for his braces, but he got them off in December so I'm glad he's done with that."
On the employer side, there is concern that some practices will not be able to survive, with the rising expenses for safety protocols combining with fewer patients. "It takes a lot to invest in the safety and you really have to evaluate where you are in your profession and if you're going to be able to make it," Childers says.
Needless to say, the quicker things return to normal, the better it will be for dentists and patients. "Dentistry is going to have a very slow comeback," Gilbert says. "It's going to be gradual, like the soft opening of a restaurant. We'll see how things go week by week and adjust what we're doing."
Article continues below
---
advertisement


---
Click here to subscribe to the free digital editions of South Jersey Magazine.

To read the digital edition of South Jersey Magazine, click here.

Published and copyrighted in South Jersey Magazine, Volume 17, Issue 3 (June 2020).

For more info on South Jersey Magazine, click here.
To subscribe to South Jersey Magazine, click here.
To advertise in South Jersey Magazine, click here.
Author:
Matt Cosentino
Archives
---
A Looming Healthcare Crisis
Getting Your Life Back
Aging Graciously
A Show of Support
Fighting the Good Fight
Building a Community All Year Long
Under the Winter Weather
Innovations in Health Care
A Growing Presence
A Rewarding Journey
Relief is on the Way
Changing the Narrative
What's New in Neurology
Top Physicians 2022
No Pain, All Gain
More Articles