Protecting the Vulnerable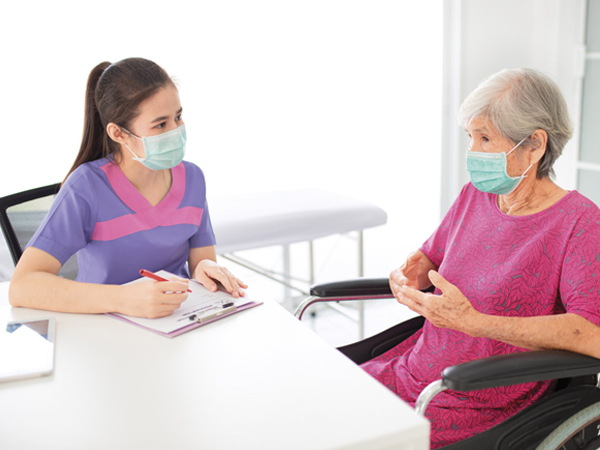 Senior living communities take action against COVID-19.

In the earliest days of the headlines associated with COVID-19, much of the news centered around just how devastating this infectious disease was for the elderly population, especially those with pre-existing conditions. And while the coronavirus has certainly proven to be a threat to people of all ages, a large portion—more than 40 percent—of the reported deaths statewide have been those living in long-term care facilities.
The overwhelming number of deaths linked to this population has fueled speculation about the state's role and if it was handled properly. For instance, New Jersey mandated that long-term care facilities not deny residents after being hospitalized for COVID-19. The state's health department sent out a letter that in part read,

"No patient/resident shall be denied re-admission or admission to the post-acute care setting solely based on a confirmed or suspected diagnosis of COVID-19."

It even went as far as to say that the facilities could not test these individuals prior to them entering the building. A similar tactic was taken in New York, the hardest-hit state in the country.
The high number of cases aside, there were also stories and rumors of gross negligence in some instances. Some workers complained of a lack of proper safety measures and personal protective equipment (PPE), and in one instance an anonymous tip led police to discover 17 bodies stacked up in a makeshift morgue at a facility in Sussex County.
All of this led New Jersey Attorney General Gurbir Grewal to open an investigation into possible misconduct at those facilities. That came on the heels of Gov. Phil Murphy contracting consulting firm Manatt Health in early May to review the state's 575 long-term care facilities in an effort to help reduce the impact of future outbreaks. By early June, the firm had outlined several recommendations to improve safety and protection for residents and staff.
Additionally, Judith Persichilli, the state health commissioner, also signed an executive order requiring all long-term care facilities to implement widespread testing for all residents and staff to help mitigate the spread of the virus.
"

The coronavirus pandemic has laid bare just how vulnerable the residents of our long-term care facilities are. It has also laid bare that many of these facilities were devastatingly unprepared, without the necessary resources, and too slow to respond in the event of a crisis. In Camden County, more than 72 percent of all coronavirus-related deaths have occurred in our long-term care facilities,"

Camden County Freeholder Director Louis Cappelli said in an early June press release.
Manatt Health's recommendations that were outlined by the governor "provide us with a roadmap to develop effective reform and oversight of these facilities," Cappelli added.
"This report provides an opportunity to learn and improve; continuous quality improvement is at the heart of good care, especially for our most frail and vulnerable populations. We appreciate the report's comprehensive view of the long-term care challenges both in New Jersey and nationwide and agree that 'you cannot invent a system that works when a crisis hits; the system must already be in place,'" says Cathy Bennett, president and CEO of the New Jersey Hospital Association. "We applaud Gov. Murphy and Commissioner Persichilli for their focus and commitment to collaboration and communication as the work begins to reimagine our long-term care system. We are committed to working together on the road ahead to enact positive change for long-term care residents and staff."
Symphony of Cherry Hill has implemented several measures to protect both residents and staff. In addition to putting a heavy emphasis on cleaning protocols and following local and Centers for Disease Control guidelines, they have been closely monitoring essential staff as they enter and exit the community. Furthermore, residents have their vital signs checked three times a day, according to Jim Ryan, executive director.
And, to help ease any concerns that new families may have about sending their loved one into a senior living community during the pandemic, Ryan says they have taken further precautions.
"We have processes in place to ensure resident and community safety," Ryan says. "We have initiated a pre-move in testing protocol, as well as specific precautions in the community which must be followed prior to and during the move in process."
Similarly, United Methodist Communities, with locations in Collingswood and Pitman, reacted quickly as the disease began to spread throughout the state by forming a special response team. Made up of organizational leadership from across the system, the dedicated unit worked to devise a plan that included daily screening of residents, transparent communication with families, elevated hygienic protocols, increased availability of PPE and many other added safety elements. And in some cases, a few of the system's associates moved into the communities for an extended period so they would always be available to care for residents.
"We have been proactive and nimble in our response to COVID-19. We were quick to put measures in place to limit entry into our communities, which helped to limit the spread, and have adjusted measures depending on the situation. For example, when one of our communities had COVID-positive residents in one area we installed negative air pressure machines which helped contain the virus," says Robbie Voloshin, corporate director of marketing.
One of the most difficult things to contend with during this crisis has been keeping families away from their loved ones. Visitors are prohibited and so "window visits" have become the norm. Parades of cars are now lined up outside to honk their horns to celebrate birthdays and other milestones. Meals are no longer shared in the dining area, but instead delivered door to door. And, one of the biggest selling points of these communities—the high level of social interaction—has been severely dwindled.
At Artis, all of the residents suffer from memory loss, so the staff has prioritized keeping them actively engaged to try and maintain a sense of normalcy as best they can. Amy DePreker, vice president of sales and marketing, says while it's been challenging, they have found several ways to connect with residents. Whether that was a virtual tea party on Mother's Day or other unique ideas like a "message in a bottle" initiative. The latter saw residents decorate bottles with messages that families retrieved outside and then replaced with return messages for their loved ones.
"Part of the philosophy at Artis is to respect and maintain relationships and we have really adapted our ways these past couple of months to ensure our residents and families still feel and benefit from our philosophy," DePreker says. "We have a great group of very resilient residents who have really adapted well, all things considered. And I believe that our ability to maintain as close to a normal routine as we can for them has helped tremendously."
At United Methodist, Voloshin says residents have become captivated with the modern-day technology at their fingertips as they connect virtually with family and friends.
"We are using a technology called Eversound, which is a wireless listening system. Residents can be in their apartments with a headset on and listen to a Bible study being facilitated by the chaplain or participate in a socially distanced exercise class," she says. "And Zoom and FaceTime have been game-changers. … Some are so enamored with the technology, they want their own iPads."
As the curve continues to flatten, with new measures being put into place and a better level of oversight, there are reasons to see through all the doom and gloom. And in time, as things gradually return to normal, the hope is these seniors will not only get to further enjoy their surroundings, but that the lessons learned along the way will only further enhance their experience.
Article continues below
---
advertisement


---
Click here to subscribe to the free digital editions of South Jersey Magazine.

To read the digital edition of South Jersey Magazine, click here.

Published and copyrighted in South Jersey Magazine, Volume 17, Issue 3 (June 2020).

For more info on South Jersey Magazine, click here.
To subscribe to South Jersey Magazine, click here.
To advertise in South Jersey Magazine, click here.
Author:
Peter Proko
Archives
---
A Looming Healthcare Crisis
Getting Your Life Back
Aging Graciously
A Show of Support
Fighting the Good Fight
Building a Community All Year Long
Under the Winter Weather
Innovations in Health Care
A Growing Presence
A Rewarding Journey
Relief is on the Way
Changing the Narrative
What's New in Neurology
Top Physicians 2022
No Pain, All Gain
More Articles