The Shore Report:The Doors are Open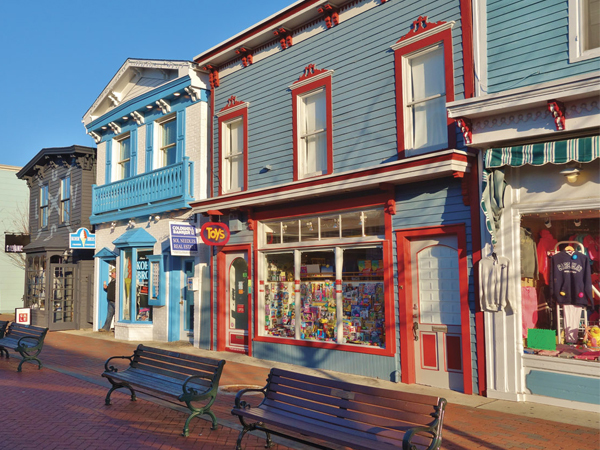 As the summer season goes into full swing—albeit with noticeable changes—realtors and homeowners are optimistic it will be an enjoyable one.
As businesses down the Shore go through the challenges of adapting to life during the COVID-19 pandemic, the real estate market is also dealing with new restrictions for both visitors and homeowners alike, and some of the plans are altering vacations.
"This is unique to say the least, an unprecedented time in regards to rentals," says Chris Bezaire, president, Cape May Association of Realtors. "We're trying to figure out how to handle a situation we never really encountered before."
In the Spring, vacationers were understandably concerned about their summer plans at the Shore. But as public health trends have been moving in a positive direction and more things have started to open up the last few weeks, that concern is turning into real optimism.
"When the pandemic first started, we got a lot of cancellations out of concern for what's going on

—

all kinds of what ifs," says Allan Dechert, realtor with Ferguson Dechert Real Estate, which serves Avalon, Sea Isle City and Stone Harbor. "But as we've moved through it, received better reports of the numbers in New Jersey and have flattened the curve, cancellations are going down. We're getting an amazing number of inquiries at the Shore. People have so much pent-up desire to get out after being quarantined for two-and-a-half months and they are a little leery of getting on an airplane, so they are thinking about coming to the Jersey Shore.
"I was surprised by how many inquiries we received. The numbers have been way up."
Even more so than this time last year, Dechert says, and not just for the summer, as there's also been a large number of people inquiring about rentals well into the fall when they hope even more restrictions will be lifted. Besides July 4th and August

—

what Dechert calls "prime time"

—

there is inventory, more so in the fall.
Bezaire says the Cape May Association of Realtors left it up to the municipalities and counties to determine the best dates to start allowing seasonal rentals, and the Cape May Board of Freeholders drafted resolution allowing any rentals more than 30 days to start June 12 while short-term rentals [less than 30 days] began in late May. Some towns in Cape May County started a day or two after to "make sure [they] wouldn't get one big hit with vacationers to avoid congestion."
Paul Bourke rents his Sea Isle City house from Memorial Day through the beginning of August. When the pandemic started, he emailed his real estate agents asking to forward the Centers for Disease Control (CDC) guidelines to his renters.
"The CDC came out with short-term rental guidelines, such as removing pillows and comforters and having the renters provide all bedding, and having a cleaning company conduct a deep cleaning every week, things like that," the Mount Laurel resident says. "The cleaning company I'm using does COVID-level cleaning

—

cleaning the light switches, door knobs, wiping down the handle of the dishwasher

—

all the high-touch points."
Bourke took it a step further by giving his occupants a 100 percent refund if they cancel due to being sick or experiencing symptoms of COVID-19 with no questions asked, and would even look to see if there is availability for the same week next year for them to rent.
"My neighbors are year-round residents and are older than I am. I don't want to mess around with COVID and them," Bourke says. "The last thing you want to do is have someone that's sick and get everyone sick in the neighborhood."
Bourke says the only renters who have backed out of their vacation this summer were those who were supposed to go down the week of Memorial Day, and it was not COVID related.
When it comes to the check-in process, Ferguson Dechert Real Estate is making quite a few changes.
"Usually there is a three-hour window between checkout and check-in, and we've expanded that window two more hours, so now check-in is at 3 p.m.," Dechert says. "Cleaners need more time to clean and sanitize before the next guests arrive. Also, instead of having people go inside to pick up their house keys, we are going to have a setup outside the front of our office so we can hand the keys directly to them and practice social distancing, while still making it a pleasant experience."
While rental property owners will adhere to CDC guidelines, Bezaire says he doesn't see the extra precautions being taken having a lasting effect.
"I don't see the extended check-ins lasting once everything is taken care of," he says. "I don't see pillows or bedspreads being taken away forever. Vacationers have to pack a lot of stuff; it makes it more difficult to add one more big item."
"I hope everybody practices the guidelines and social distancing, and wears facemasks," Dechert says. "Just seeing all the interest we have now, I'm optimistic it's going to be a good summer. It is a late start, but hopefully a lot of people will be down here and take advantage of it."
However, not everyone is chomping at the bit to get down the Shore. Justine McGinley and her family have vacationed there just about every summer

—

preferably in Sea Isle City

—

but this year, Disney World was her family's big vacation at the end of June. When they realized going to the theme park wasn't possible anymore because of COVID-19, they started thinking about plan B. The family came to the conclusion they wanted something completely different from the Jersey Shore

—

an area that was private and secluded.
"We chose the Outer Banks in North Carolina," the Erial resident says. "Even though it's a longer drive, the beaches aren't generally as crowded and they don't have boardwalks or common places where people can hang out. We're also able to have a house with a pool for the kids."
Crowded beaches, the draw of the Boardwalk and large groups of people is what the McGinley family was looking to avoid.
"It's more spread out; there are not as many people in a concentrated place. When we were thinking about it, that's what our mindset was

—

to find somewhere we can have a nice family vacation without feeling uncomfortable and without having to be around large groups of people," McGinley says. "We felt this could still be the case down the Shore. I think people are still planning to head down, but our family decided that's where we don't want to be."
Kathryn Quigley, on the other hand, isn't letting anything stop her from being in Stone Harbor, even if it means wearing a facemask and not being able to eat meals inside her favorite restaurants. Adhering to restrictions is something she, her mother and two sons will gladly do.
"I want to be able to be near the water and hear the birds," the Deptford resident says. "I know there are social distancing measures in place and we'll have to be 6 feet apart in line at Springer's (Ice Cream). I know our condo is going to be cleaned and I have no problem wearing a facemask up and down 96th Street. My family and I will social distance on the beach. Just get me to Stone Harbor."
Article continues below
---
advertisement


---
Click here to subscribe to the free digital editions of South Jersey Magazine.

To read the digital edition of South Jersey Magazine, click here.

Published and copyrighted in South Jersey Magazine, Volume 17, Issue 3 (June 2020).

For more info on South Jersey Magazine, click here.
To subscribe to South Jersey Magazine, click here.
To advertise in South Jersey Magazine, click here.
Author:
Julie Shannon
Archives
---
Who's Who in Health Care
Former Shawnee star Doolittle Calls It A Career
Camden County College welcomes Baseball Hall of Fame
South Jersey Football Games of the Week
Out & About
QB Ronnie Borden is Back in the Game
Should fans be worried for the Phillies bullpen?
South Jersey Football Games of the Week
A look at South Jersey's Top H.S. Girls' Soccer Teams
Out & About
Eagles will be fine after close call in opener
High School Football Games of the Week
Is it Super Bowl or bust for the Eagles?
What's New in South Jersey?
From New Jersey to Nashville
More...