Family First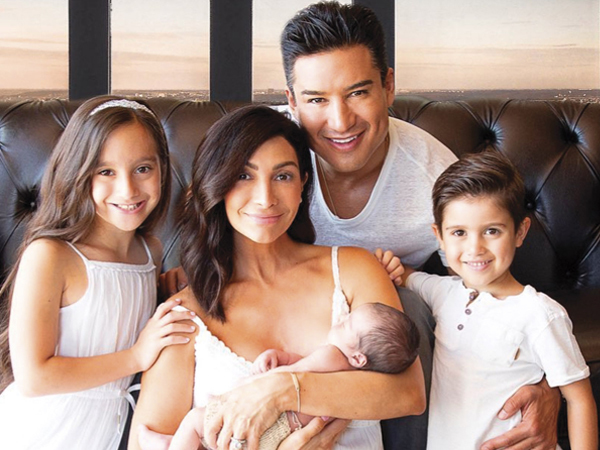 Despite a demanding career that requires him to wear many hats, Mario Lopez knows how important it is to make the most out of his time with loved ones.
A year before the COVID-19 pandemic began to take over our daily existence, Mario Lopez was enjoying dinner and drinks with some friends when he was recognized and asked to do a favor. Such is life for a celebrity in the public eye, but this request wasn't for a selfie or an autograph. Instead, he was asked if he would help participate in a gender reveal for a couple that was celebrating their wedding reception across the restaurant.
Lopez documented the event on his social media as he made his way to the private dining area where the couple and their guests were shocked to see who would be delivering the news. Adding to the dramatics, Lopez was carrying a large pink poster board, but when he spun it around it was revealed that the couple was actually having a boy. He high-fived the bride as the crowd erupted in cheers.
Perhaps he could parlay this newfound skill into another career venture, but right now Lopez is busy enough. He and his wife, Courtney, are the parents to three children: Gina (9), Dominic (6) and Santino, their infant son they welcomed into the world last July.
And when he's not home being a doting father or spending quality time with his wife, he's having no trouble filling up his schedule. Aside from his daily hosting duties on NBC's Access Hollywood and his nationally syndicated radio show, ON with Mario Lopez, he's done everything from star on Broadway, host several Miss America pageants and write a series of best-selling fitness books along with a children's book about his daughter. Add to that, he found time to be involved with The Expanding Universe of Ashley Garcia, a new Netflix show he co-created alongside former Friends producer Seth Kurland.
But, it was Lopez's role as A.C. Slater on the coming-of-age sitcom Saved by the Bell in the early '90s that first catapulted him into stardom. Now, decades later, he's getting ready to reprise the role in a reboot that will bring back nearly the entire original cast for a present day look at Southern California adolescence. Not only will Lopez star in the updated version—slated to air on NBC's new streaming service, Peacock—he's also helping produce the show. While fans of the original are clamoring to see their favorite characters on screen again, they'll have to wait a bit longer as the pandemic has shut down all production.
"Right now, everything has been put on hold. We have a couple of episodes left to finish," says Lopez. "I can't talk about too many details; they want it to be a surprise. But, I think people are really going to like it."
We spoke to Lopez about his ever-expanding career and why he always finds time in his hectic schedule for quality family time.
We are dealing with crazy times right now, so how are you and your family getting by?
You gotta do what you gotta do. You know, I was more scared for the kids being home and not in school than I was for the virus. So far, so good, we are hanging in there. I'm still working a lot; doing a lot from home, but also going in and doing the TV show, my radio show, helping the kids with school and keeping them active, and trying to keep myself active.
Your older kids now realize that their dad is on television. Do they get a kick out of that and have they given you any indication that they want to follow in your footsteps?
They do, but they don't really trip on it too much, they are so young. We'll see; I'm not going to encourage or discourage them one way or the other.
I feel very blessed to be doing everything that I am doing. I want to continue to do more, continue to stay busy and create more opportunities. Who knows? Maybe we'll get the whole family in on the act.
With all your accomplishments, what's been the most rewarding aspect of your career thus far?
Whenever I'm staying busy. The most rewarding time is right now; to be so busy both personally and professionally, I'm very grateful.
Having been involved in the industry for so long, I'm sure you get approached all the time for advice; but what has been some of the best advice you've received along the way?
As I've gotten older, it has been to continue to build more spiritual muscle, stay focused and do the right thing and hope that good things happen to me.
How do you enjoy doing your radio gig and having your wife be part of it?
I like it; we like working together. It's a very intimate format and people seem very relaxed. I try not to limit myself to one particular platform.
With such a hectic schedule, how do make sure you carve out some well-deserved family time?
It's a busy day, but I'm fortunate enough to have breakfast with the family and be home for dinner most of the time. The toughest thing is finding the time to work out; I do boxing, jiu-jitsu. But I sleep well because my day is action packed.
What do you love most about being a father?
No matter what kind of day I'm having or how stressful it has been, I come home and they start yelling "Daddy;" it makes it all the better.
Now that you have children of varying ages, do you enjoy watching them experience life in different stages?
Oh yeah, it's the best. I want it to slow down.
How do you like to relax and unwind from everything?
We like to take little trips, maybe down to Mexico, or a quick wine trip. It's important to check out and get away, but those opportunities are few and far between. I enjoy working and I enjoy being at home too.
Growing up, you did all sorts of activities from karate and wrestling to dance classes. Now that you are raising children of your own, do you feel it is important for kids to have all sorts of life experiences?
I think having a diverse play schedule keeps it fresh. It keeps the muscles guessing and you open your mind to new things. It complements one another and then at a certain age, you may want to focus on something particular. I'm trying to expose my kids to many different things.
You have worked extensively with the Boys and Girls Club of America along with several other charitable causes. What is it about giving back that means so much to you?
Well, I grew up in a Boys Club. Both of my parents worked; my dad for the city, my mom for the phone company. I was a blue-collar kid with the potential to get into trouble. So, it's great to give back to my church and the Boys and Girls Club.
Besides the upcoming Saved by the Bell reboot, what other things in your career at most excited about?
My Netflix show, The Expanding Universe of Ashley Garcia. The first eight episodes [have already] dropped and the other eight will drop [this summer]. Check that out, it's fun, family programming.

Article continues below

---
advertisement


---
Click here
to subscribe to the free digital editions of South Jersey Magazine.
To read the digital edition of South Jersey Magazine, click here.

Published and copyrighted in South Jersey Magazine, Volume 17, Issue 4 (July 2020).

For more info on South Jersey Magazine,

click here
.

To subscribe to South Jersey Magazine,

click here.


To advertise in South Jersey Magazine,

click here.
Author:
Peter Proko
Archives
---
Who's Who in Health Care
Former Shawnee star Doolittle Calls It A Career
Camden County College welcomes Baseball Hall of Fame
South Jersey Football Games of the Week
Out & About
QB Ronnie Borden is Back in the Game
Should fans be worried for the Phillies bullpen?
South Jersey Football Games of the Week
A look at South Jersey's Top H.S. Girls' Soccer Teams
Out & About
Eagles will be fine after close call in opener
High School Football Games of the Week
Is it Super Bowl or bust for the Eagles?
What's New in South Jersey?
From New Jersey to Nashville
More...