The Al Fresco Experience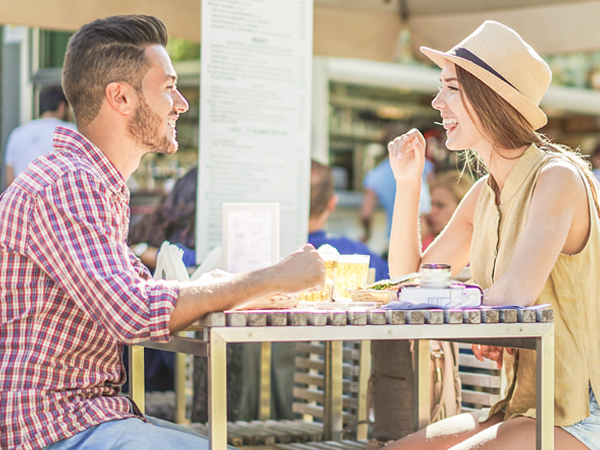 Outdoor dining has made a welcome return in New Jersey, attracting patrons seeking a good meal with a side of socialization, and boosting the bottom line for restaurants and bars. But is it enough?
After months of takeout-only operations, restaurants in the Garden State were given the green light for outdoor dining beginning June 15. Of course, they had to adhere to special guidelines and respect social distancing, but the announcement represented a chance for furloughed staff to come back on board and bring a much-needed boost to revenue.
"I think it's a good start to get some relief into the hands of small business owners throughout the county," says Camden County Freeholder Director Louis Cappelli. "We know restaurant owners are hurting and struggling through this pandemic—more so than any other segment of businesses. We fully understand the constraints and the limitations of this public health crisis and how it has been absolutely debilitating for the proprietors of most, if not all, of these restaurants."
South Jersey's patrons haven't hesitated to show up, obeying the rules in place for an hour or two of normalcy. Jamie-Lynn Simon, of Cherry Hill, says her first foray out to eat in months with her husband felt so good. "Date nights are something we would do once a month pre-quarantine and they just don't have the same appeal when you're cooking at home or ordering in," she says. "This felt like such a treat. It makes you step back and realize we took it for granted. … We know how much these restaurants have prepared for this and we feel super comfortable going out."
Proprietors have invested a considerable amount in preparing for outdoor dining, not just in properly spacing tables and erecting tents for relief from the elements, but also printing single-use menus, purchasing individually wrapped condiments and flatware, lids for cups, plus essential PPE for their staff and cleaning products for sanitization.
Ariane Bonnes, director of operations for Dooney's Pub in Voorhees and Delran, says customers have been happy to see the protocols in place. "We have an extensive protocol sheet that the staff must sign, with Centers for Disease Control and Prevention and state guidelines," she says. "There's a lot we're doing behind the scenes, but it's also important for our customers to see it and feel safe. … We had a recent online review that showed a picture of a manager sanitizing a table, and that's the type of positive stuff we want everyone to see."
Like many restaurants in the area, Dooney's did not have much in the way of an existing outdoor area. This situation meant local governments also had to step up to provide some emergency allowances to let businesses use adjacent sidewalks or a parking lot for serving guests. Evesham Mayor Jaclyn Veasy and Township Manager Robert Corrales say they pushed a resolution through to ease the regulations on outdoor dining so businesses could do so without interference. "They were thankful for the smooth process and passing the resolution, especially after being closed to dining on the premises for so long. We're doing everything we can, especially for food establishments, to ease restrictions," Corrales says.
Bonnes says the Delran location had a small patio with 10 tables, but with distancing measures, it had to be reduced to five. They applied for an extension on their liquor license to service on the sidewalk, but even this only adds up to nine tables. It was similar in Voorhees with tables set up on the sidewalk, and Bonnes says they have been approved to use a field next to the building.
Even still, customers are getting turned away because of the limited seating. "It's been a challenge to decide how many employees to bring back and how many hours to give them because it's so limited and a lot depends on the weather," Bonnes says. "We don't normally take reservations but we now have half the tables reserved for reservations and the other half for walk-ins, and we cap each table at 90 minutes so we can try to predict how long people will be waiting for a table."
The thought of people congregating while waiting for a table might also be a turn-off for some, and businesses have kept that in mind. Kim Oldaker, an Atco resident, went out to Giuamarello's in Haddon Township with some coworkers and although they were not taking reservations, she was glad to see a large waiting area with tables and sections where groups could stand. "I didn't feel concerned about people lingering," she says. "Everyone understood no one was supposed to be congregating."
Capacity issues could have been solved with the potential of indoor dining opening as announced for July 2. But just three days ahead of the holiday weekend, Gov. Phil Murphy reversed course and delayed it indefinitely after other states saw spikes in coronavirus cases.
The impact is catastrophic, says Cappelli, although necessary. "This was not a choice anyone wanted to make. This was an action borne out of necessity, dictated by science and data, that says we are putting ourselves at greater risk of transmission if we reopen indoor dining like other states that are clearly struggling with high rates of infection. We cannot afford to go backwards from the progress we have made at this point."
The short notice was perhaps the most devastating. Oldaker, who also works as a vendor in the restaurant industry, saw firsthand the steps businesses were taking for indoor dining: rehiring staff, installing plexiglass dividers and other products. "Now they've lost more money on top of how they've already been affected," she says.
Bonnes says it was a struggle to get the place staffed and ready for the July 4 weekend in anticipation of indoor dining. "Just when we worked out all of the logistics, they pulled the plug," she says. "We were sad. It was just hard to take."
Nevertheless, there is belief that the community will continue to support these at-risk businesses in the way they feel most comfortable. Mount Laurel's Bruni Ruggeri is 62 and has a compromised immune system. For now she is sticking to takeout. "I see and appreciate all the extra measures most restaurants are making to bring their customers back in but you're encouraged to eat and drink and leave quickly. That doesn't sound like an enjoyable dinner out," she says. "You can order a very nice meal and enjoy it in the comfort of your home."
Mayor Veasy says, "People acknowledge that this is a hard time for restaurants and people have been participating in takeout a lot throughout the shutdown." The appreciation goes both ways too, she points out. "Restaurants have done a lot for our community, donating meals to those facing hardships and to first responders. Many restaurants in Evesham donated coupons for free meals or a pizza to graduating seniors at Cherokee. It's a good symbiotic relationship and we're taking care of each other," she says.
Restaurants aren't out of the woods yet. "I keep hearing about restaurants going under— some really great ones here and in Philadelphia," says Bonnes. "I have been humbled by the support we have from regulars and also new customers. … I encourage people to go out and continue to support local restaurants. The pandemic has been hard for everyone but this industry is one of the most impacted for sure."

Article continues below

---
advertisement


---
Click here
to subscribe to the free digital editions of South Jersey Magazine.
To read the digital edition of South Jersey Magazine, click here.

Published and copyrighted in South Jersey Magazine, Volume 17, Issue 4 (July 2020).

For more info on South Jersey Magazine,

click here
.

To subscribe to South Jersey Magazine,

click here.


To advertise in South Jersey Magazine,

click here.
Author:
Liz Hunter
Archives
---
Who's Who in Health Care
Former Shawnee star Doolittle Calls It A Career
Camden County College welcomes Baseball Hall of Fame
South Jersey Football Games of the Week
Out & About
QB Ronnie Borden is Back in the Game
Should fans be worried for the Phillies bullpen?
South Jersey Football Games of the Week
A look at South Jersey's Top H.S. Girls' Soccer Teams
Out & About
Eagles will be fine after close call in opener
High School Football Games of the Week
Is it Super Bowl or bust for the Eagles?
What's New in South Jersey?
From New Jersey to Nashville
More...