Appreciating the Journey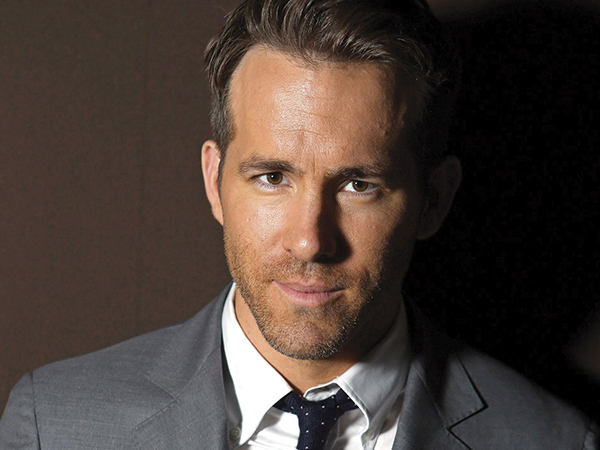 For 25 years, Ryan Reynolds has been following his Hollywood dream. He was just 18 when he loaded up his truck—actually it was a beat-up Jeep—and secretly drove from Vancouver to Los Angeles to take a shot at becoming an actor. He was so afraid that his parents—particularly his father, a former boxer and policeman—would find out that he would call his folks from a payphone while pretending to be staying with his brother in Vancouver.
Article continues below
---
advertisement


---
But Ryan's Hollywood gamble paid off, even if by his own standards, it needed Marvel's flawed hero Deadpool to transport the actor out of a career lull that almost finished him off.
The Canadian heartthrob had to work hard to shake up his
image after a string of movies that relied far too heavily on the handsome leading-man aura, that saw him go through the motions in

far too many rom-coms (The Change-Up, The Proposal, and Definitely, Maybe). Then there was his lamentable turn in the disastrous Green Lantern, in 2011.
On the road to recovery a few years on, the likes of Mississippi Grind, The Captive and Safe House
showed that Reynolds could deliver hard-edged performances if given the
opportunity. But Deadpool truly tipped the scale—and when Deadpool 2 made more than $750 million at the box office in 2018, he cemented his reputation as one of Hollywood's hottest leading men.
Reynolds and his wife and fellow actor, Blake Lively live in Bedford, New York together with their three daughters, James, 5, Inez, 4, and Betty, who was born in October 2019. He admits his children have been the ones to have inspired him to return to voiceover work in the sequel to The Croods, released in 2013 at what was a fallow period of his career. The Croods: A New Age has encountered all the same delays and hold-ups as most other movies this year, but Reynolds feels it will be worth the wait … as will Deadpool 3, which while still in development has tongues wagging.
So, The Croods are back in what is rapidly becoming a new age for us all. As a father, has parenthood changed the way you think about life in

general? Does it influence your movie choices?
It definitely has. After the success of the first Croods there was immediately talk of doing it again, so I guess in that respect it's not much of a surprise for people to see it happening, but since that first movie I've discovered fatherhood and it's true to say your interpretation of everything in the world changes. You're much more aware of your responsibility to the world
around you. You're thinking less about yourself and more about your
family and what makes them happy. Your happiness is connected to the
enjoyment you have being part of their lives.
In terms of movie choices, the joy you imagine a child will take from your movie actually becomes real, because you can see it there in front of you, and of course that is special.
And with something like this it doesn't require a bunch of people in a film studio together?
Sure, it's a very different way of making movies. Obviously, the real work is with the guys in animation. By the time it comes to putting the voices over the top we are way down the line, but it's interesting seeing all this come together in little sound booths.
When you see the final thing it's a beautiful piece of art. Your own part in the process was so individual and secluded it's like it didn't happen.
You sound very happy these days.
I'm very happy to be where I am now. I didn't have that good a
time in my 20s, but when I hit 29 I had an early midlife crisis and
then I started to make up for lost time and began having more fun.
But my life now is very good.
So that was a big turning point in your life?
Sure. I kind of
disconnected from how I was thinking and learned to live in the
present. In my 20s I was trying to grow up in a hurry because I
thought I had lived a too quiet and boring life when I was younger.
But in the process of having fun and being kind of wild for a while, I
kind of lost something about who I was. I've always kind of bounced around.
So I needed to take a few steps back and disconnect from that and
learn to appreciate everything the way I did when I was younger kid
and become a more open and interesting person.
You grew up in a very beautiful part of the world in Vancouver. Is that a reason why you're very outspoken when it comes to preserving the

environment?
I want my daughters to grow up in a world where they won't
have to struggle to breathe clean air, where they won't have to deal
with a warmer climate and all the terrible implications that has for
our planet.
Those kinds of concerns terrify me. I want them to enjoy a world
similar to the one in which I lived. I spent a lot of time growing up
in nature and getting to experience the natural beauty we have in
British Columbia and the rivers, lakes, mountains and forests. That
time of my life gave me an incredible sense of freedom and I want to
be able to do whatever I can to help make sure that my children will
grow up in that kind of a world.
Why has Deadpool meant so much to you?
I love everything about it, about him. I never would have
stuck with it for so long if I didn't believe so much in his power and
abilities and that common bond between us. He's the best role I've
ever played.
Ultimately, Deadpool is funny—he's acerbic and sarcastic, he's a hero but is flawed. He knows he's in a
comic book film which is a first for this genre. It's sexual, it's
quite violent and quite a few swear words which you don't get too
often [laughs].
Why did it take so long to make the first movie?
We wrote a script
six or seven years before it finally got accepted—it was the best incarnation of the character that
could ever have been created and the studio, they liked it but it was
like they were locked in complete inaction. They were fiercely
protective of the character so nothing happened. I don't know, I'm
still not sure why it took so long.
I remember when I was going up for Green Lantern, I remember
saying to them, "Look, if I get this, you know, this is it, I probably
won't be able to be involved in Deadpool." I thought I'd never get
another opportunity; this is the last chance. And still, that did
nothing.
And then we shot this test footage to see if we could
get momentum going again. That was only meant for in-house, it was
only meant to be seen by the eyes that needed to see it, for the
executives at Fox. And they loved it, but nothing happened.
Then it leaked, and overnight, it just blew up. And that's the reason
the film got made. The reaction from Comic Con, Twitter and Facebook,
that is the only reason it got made. Within a month of all that, the
studio finally said to us, "Go ahead, make your movie," and that was
that. Finally, the good fight we'd been fighting for so long was all
worth it.
You've made some really interesting film choices in the last decade. What factors into your decision-

making process?
I don't have a specific way of doing things and boy, I wish
I was cleverer about it because there have been a lot of ups and
downs [laughs].
Regarding one of those "downs," were you disappointed by the response to Green Lantern?
You can gauge these things. I was very proud of the film, I
still am. Would I do anything differently? Absolutely not. I feel
that had it gone a different way, it might have offered opportunities
from another direction or potentially, I could have been sort of
typecast as that character, I don't know. I'm really glad I did it, I
got to learn so much about the process of creating a project of that
scale, and preparing for something like that.
Like with Green Lantern, you must have prepared really hard for Deadpool to get
into shape?
For me, it's functional
because I don't want to hurt myself falling on cement so I have to do
it. It's not a case of, and I often read, "I just feel so much better
for it, I feel great in this shape," and you know, that's crap. It's
painful being in that shape, it's physically painful. I always laugh when I hear some actors say, "I put on 40 pounds of
muscle for this role." That is not possible, your body cannot carry
that much muscle. If you put on maybe seven, eight pounds, you're
huge. That's a lot. That's all you need.
You're a funny guy; was humor a big part of your childhood?
I'm the youngest of four boys so I was never going to win
with my fists, I had to win with something else. And for me, I
discovered very early on that [something] was mouthing off. It worked for me,
and it helped me out in high school, it got me out of fights.
Was high school a particularly rough time?
No, not like you're thinking. It was high school; it was no
rougher than most kids have it. I survived, and that's often the best
outcome from it.
What's the toughest challenge for any actor?
I think it's the reality that it's really hard to escape your identity when you're working in film. When you're up on the big screen, you're really larger than life and even if you change your hair or grow a beard or wear glasses, your identity remains a part of you, at least in terms of how the audience perceives you. There's still this general image of you and you want to be able to expand that awareness that the public has and make audiences feel comfortable seeing you outside of those roles that established your persona.
The on-the-set experience. I love working with the crew. I love that kind of roadside attraction. When I was shooting The Captive, I'd go to the local movie theaters; I'd hang out with the people. You can't beat that.
You and Blake have been pretty successful in keeping your daughters out of the
spotlight, is it something you have to work hard at?
It's simple a case of two worlds, one is work, the other is
home and I never want the two of them to mix because who wants their
work mixing with their home. Most of us like that divide and I am no
different.
I've been in Hollywood for 25 years. When I say in
it, I mean working in it and I've seen so many make the mistake of
allowing their lives, their home lives to become intertwined and
consumed almost and, you know, life is hard enough without that kind of
spotlight.
And people don't necessarily care, we're not of that caliber of, you know,
"buzz."
How would you feel if your daughters followed mom and dad into the business?
I'm not sure to be honest, but it's their decisions. I
don't know if I would be actively encouraging them to
become showbiz kids because showbiz kids are monsters, I think we
all know that [laughs].
Finally, how is your torment of Hugh Jackman going. Are you still on that one?
I will never relent in my torment of Hugh Jackman. And you want to know why?
Because I love him. Yes, it's to disguise my unrequited adoration. And
also gives me an excuse to do a terrible Australian accent.


Click here to subscribe to the free digital editions of South Jersey Magazine.

To read the digital edition of South Jersey Magazine, click here.

Published and copyrighted in South Jersey Magazine, Volume 17, Issue 8 (November 2020).

For more info on South Jersey Magazine, click here.
To subscribe to South Jersey Magazine, click here.
To advertise in South Jersey Magazine, click here.
Author:
Evan Jameson
Archives
---
Who's Who in Health Care
Former Shawnee star Doolittle Calls It A Career
Camden County College welcomes Baseball Hall of Fame
South Jersey Football Games of the Week
Out & About
QB Ronnie Borden is Back in the Game
Should fans be worried for the Phillies bullpen?
South Jersey Football Games of the Week
A look at South Jersey's Top H.S. Girls' Soccer Teams
Out & About
Eagles will be fine after close call in opener
High School Football Games of the Week
Is it Super Bowl or bust for the Eagles?
What's New in South Jersey?
From New Jersey to Nashville
More...