Positive Energy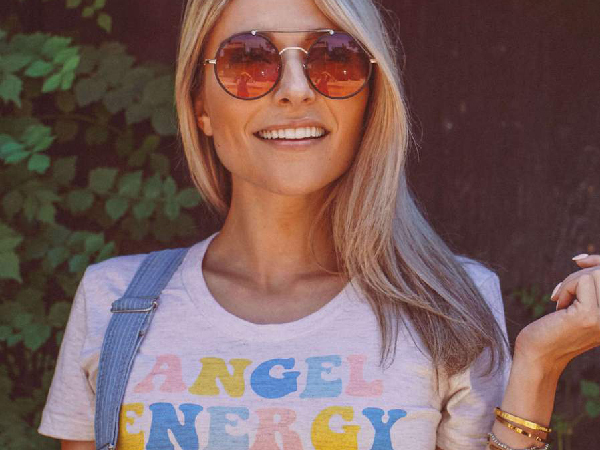 Years after going through an unspeakable tragedy, one Medford native is using her experience to uplift others.
At 28 years old, Sarah Ripoli says she has lived a normal life, though many would find her words remarkable given the harrowing ordeal she experienced as a child. It was a tragic moment that changed the course of her life forever and helped shape her into the young woman she's become today.
"I've lived such a great life, I never wanted people to feel bad. I wanted to be the same, to fit in and be a regular kid. All throughout high school, I wanted to be the same as everybody else, but I felt like I wasn't the same," says Ripoli. "I was different and I was embarrassed of that, too. It was always in the back of my mind every time I'd meet someone. I'd be scared someone would ask questions about my parents.
"I'm happy people got to know me before my story. I am just a regular person. I didn't want to be known as the girl whose mom died."
It was back on April 8, 1999 when Ripoli's mother Brenda was shot and killed by her husband Frank while their young daughter was just a few rooms away inside the family's Medford home.
"I was there with my pop-pop, my dad's dad. I heard my mom scream, 'Frank, no!' and then a gunshot. I knew something was wrong," Ripoli explains. "My dad came downstairs, woke up my pop-pop, brought him upstairs and immediately said let's get Sarah out of here. I remember asking 'Where's Mommy?' My dad, who was sitting at the top of the stairs, said, 'She's resting right now and that pop-pop would tell me what happened in the car.
"After we left, he shot her again—he shot her twice. I was so young at the time, I was only 6."
This brutal murder made headlines at the local television stations and newspapers, but Ripoli didn't make it known to those around her. Both sets of grandparents knew what happened of course—her mom's parents ended up winning custody—and Ripoli moved a few towns over to Mount Laurel to get a fresh start.
"My grandparents gave me such an amazing life. After they won custody over me, the rest of my life was normal despite the tragedy I went through. I never even talked about my story to anyone for the majority of my lifetime. In college at Monmouth University, in my sorority, they had no idea," she says.
Ripoli was thankful and was determined to make sure her life would not solely be defined on the tragedy from her childhood, but the secret she had been carrying for so many years was slowly becoming a huge weight on her shoulders. So, a few years ago she decided to open up to some of her closest friends.
"It was the best feeling in the world," she recalls. "I eased myself into it. One by one I started telling my close circle of friends. Every time I told [someone], it took a little bit of the weight off my shoulders and it got a little bit easier to say. It was such as relief to not have to hide it anymore. I was embarrassed even though there wasn't a reason to be embarrassed.
"Now that it's out there, I live life so differently. Nothing makes me nervous. I'm free."
Now living in Hoboken, Ripoli is raising awareness about domestic violence with the help of her very own clothing label Angel Energy. After launching last August with a line of t-shirts, the brand has grown significantly and now operates as full boutique selling sweaters, dresses, jackets, coats, jewelry and more. Each month, 25% of the sales are directed toward a different domestic violence charity.
"Before I started the fashion line and before I began to tell my story in summer of 2018, I started a fashion blog. I was unhappy in life, I just had so much bottled up," she says. "But I've always loved being creative, so when I started this blog, it was just a hobby and I was blogging about all the outfits I was wearing. Then when I finally told my story, I thought to myself, how do I do the two things I'm passionate about? How do I combine a love for fashion with domestic violence awareness? I got the idea and I left my job before Angel Energy was set in stone."
The name Angel Energy came to Ripoli naturally, with a little help from her mom. "My mom used to wear Angel perfume and Angel Energy just stuck with me. Your guardian angels fuel you to do good and motivate you."
In addition to donating some of the proceeds to domestic violence charities, Ripoli has collaborated with Miss New Jersey USA 2020, Gina Mellish, who was a victim of domestic violence. They created an exclusive designed sweatshirt and proceeds went to the One Love Foundation, which is Mellish's platform as Miss Jersey USA. One Love Foundation was started by the family of the University of Virginia student Yeardley Reynolds Love, who was 22 when she was killed by her ex-boyfriend in 2010.
"One in three women experience domestic violence," Ripoli says. "There's so many people you would never even think would go through it."
The pandemic hasn't stopped Ripoli from doing other fundraisers as well. Last year she partnered with a fitness instructor who Ripoli says also has a passion for domestic violence awareness, and raised $1,000 through virtual fitness classes which went to various organizations.
"Another thing we've done is, there was a sad story that happened last summer where a girl who went to Monmouth, her family friend was murdered by her boyfriend and left her three girls behind," Ripoli says. "We did a fundraiser with a DJ who lives in Hoboken and went to Monmouth with us. It was a virtual fundraiser on Instagram Live and raised $1,500."
Since starting Angel Energy, Ripoli has met many other people who have dealt with domestic violence and who, like Ripoli, were afraid to tell their story or didn't feel like they had an outlet. Part of her goal is to let people know they are not alone, to help them feel as comfortable as possible and let them know her website is an open forum.
"It feels so good talking about it now because there are so many people that can relate. I always get messages from other people who were children of domestic violence or someone that has experienced it firsthand. It starts conversations with people from all over," she says. "I hope Angel Energy inspires other people to not be scared to tell their stories and let them know they aren't alone, and anyone can share their story anonymously, whatever you feel comfortable with. Storytelling is so powerful.
"It definitely feels good to not only spread awareness, but to have people feel comfortable to talk to me about something. When you share your story, it makes people feel connected in a sense. It's sad hearing these stories and it can be overwhelming, but it's good for other people to get it out. I feel happy when someone reaches out to me. They needed to get it off their chest and I can be that person for them."
It's easy to say Ripoli has created a movement that is only growing by the day and impacting hundreds, if not thousands of lives. She says she's had some help along the way, guiding her and putting her on this path to making good out of a tragedy.
"I think my mom is obviously proud, but I feel like we've been working together on this. I feel her with me, guiding me and sending me signs," Ripoli says. "It makes me feel like this wasn't for no reason and something good could come out of it."
For more information on Angel Energy, visit
ShopAngelEnergy.com
.
Article continues below
---
advertisement


---
Click here to subscribe to the free digital editions of South Jersey Magazine.

To read the digital edition of South Jersey Magazine, click here.
Published and copyrighted in South Jersey Magazine, Volume 17, Issue 12 (March 2021).

For more info on South Jersey Magazine, click here.
To subscribe to South Jersey Magazine, click here.
To advertise in South Jersey Magazine, click here.
Author:
Julie Shannon
Archives
---
Who's Who in Health Care
Former Shawnee star Doolittle Calls It A Career
Camden County College welcomes Baseball Hall of Fame
South Jersey Football Games of the Week
Out & About
QB Ronnie Borden is Back in the Game
Should fans be worried for the Phillies bullpen?
South Jersey Football Games of the Week
A look at South Jersey's Top H.S. Girls' Soccer Teams
Out & About
Eagles will be fine after close call in opener
High School Football Games of the Week
Is it Super Bowl or bust for the Eagles?
What's New in South Jersey?
From New Jersey to Nashville
More...