An amazing season for Joel Embiid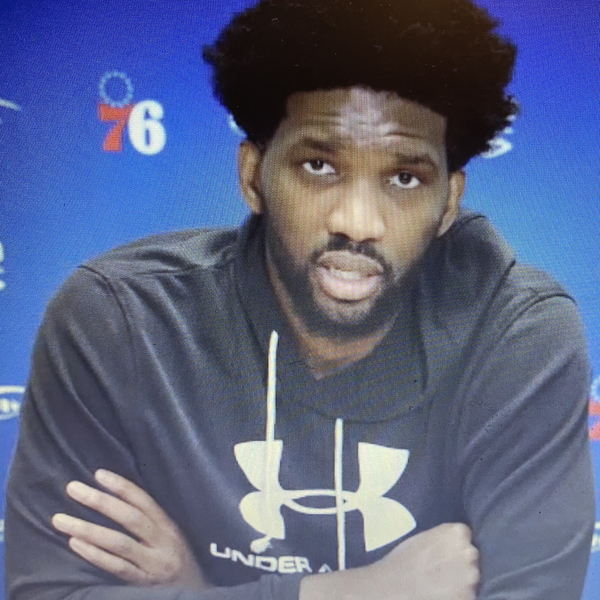 Even though he has missed 18 games this season, 76ers four-time all-star center Joel Embiid recently said he feels that he should be the NBA's MVP.
He may have a point, although his chief competition will come from yet another center, Denver's Nikola Jokic.
Both players have been dominant this season.
At the beginning of the week, Embiid was averaging 30 points and 11 rebounds, three assists and 1.4 blocked shots per game.
Jokic was averaging 26.1 points, 11.0 rebounds and 8.8 assists. In addition, he had not missed a game this season and that right now appears to give him the edge over Embiid.
Yet Embiid is the leading player for the best team in the Eastern Conference.
The Sixers began the week as the No. 1 seed in the Eastern Conference.
Denver began the week as the No. 4 team in the Western Conference. In addition, the Nuggets just lost their second best player, guard Jamal Murray, who suffered a season-ending ACL injury.
Coach Doc Rivers has done a great job in running the offense through Embiid. And Embiid has been a much better decision maker while playing for Rivers.
Teams double and sometimes triple-team Embiid and yet he has become adept at recognizing the double-team and passing out of it.
It's interesting that both Embiid and Jokic both average 3.1 turnovers per game, which isn't outlandish considering how much both handle the ball.
The one area that Jokic has over Embiid is that he is a much better passer, especially from the high post.
Embiid has the edge as the better defensive player.
He has been able to elevate the play of his teammates, who benefit from having open shots since defense are always collapsing on Embiid.
What also has helped Embiid is his accuracy at the free throw line. He began the week shooting 85.5 percent from the foul line and was leading the NBA with 11.8 free throw attempts per game.
As somebody who naturally draws a lot of contact, Embiid is making teams pay for their constant fouling of him.
Whether he wins the MVP or not, Embiid is the biggest reason why the Sixers have true championship aspirations.
He is a major mismatch against any of the top teams in the Eastern Conference. None of them have anybody remotely capable of guarding him.
He is the focal point of opposing teams' defensive strategy. Embiid is capable of carrying the team. Whether or not he wins the MVP, the bigger prize of an NBA title is certainly within his grasp if he brings his regular season dominance into the postseason.
Article continues below
---
advertisement


---
Author:
Marc Narducci
Archives
---
Just Getting Started
South Jersey Coronavirus (COVID-19) Developments (January 14)
Big Season for Timber Creek grad Devin Leary of N.C. State
Camden-Lenape highlights the best of South Jersey boys' basketball
Just Getting Started
Growkowski, Jalen Hurts the two big keys in Eagles-Bucs playoff
Women to Watch 2022
Bringing out the Best
Top Children's Physicians 2022
Girls Basketball Tournament recap
Top Attorneys 2021
Stealing the Show
South Jersey Coronavirus (COVID-19) Developments (January 4)
Boys basketball tournament recap
Back on Top
More...