Carpenter Cup to resume next week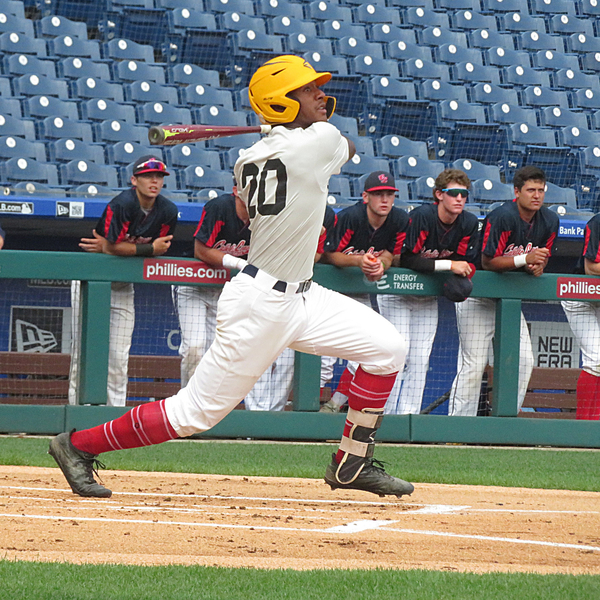 The Carpenter Cup baseball tournament, one of the best for any high school sport, will return after being canceled last year due to the pandemic.
This 16-team, single-elimination tournament consists of the top baseball all-star squads from the tri-state area.
There are three teams from South Jersey, the Olympic-Colonial, consisting of schools from the Olympic and Colonial Conferences, minus the Burlington County Schools. There is Burlington County, which has all the Burlco schools, including Lenape, Seneca, Cherokee and Shawnee of the Olympic Conference. One non-Burlington County school from the seven-county South Jersey area that also competes for Burlington County in the Carpenter Cup is Pennsauken, which is a member of the Burlington County Scholastic League.
The final South Jersey Carpenter Cup team is the Tri-Cape, consisting of schools from the Tri-County and Cape Atlantic League.
All have been highly successful throughout the history of the tournament. Since the tournament's inception in 1986, The Olympic-Colonial has won the most titles at six. That included the 1989 title when the Olympic-Colonial went by a different name, South Jersey Central.
Burlington County has won four championships. Only two franchises have won more titles than Burlington County, the Olympic-Colonial and Jersey-Shore, which has captured five. Jersey-Shore consists of players from Ocean and Monmouth counties.
Tri-Cape has not won a title but traditionally has one of the more competitive teams, one that once included baseball superstar Mike Trout, who played in the Carpenter Cup following his junior season at Millville.
Burlington County is the defending champion, having beaten Lehigh Valley, 4-2 in the 2019 championship.
Rancocas Valley pitcher Bryce Mangene was later named the MVP of the 2019 Carpenter Cup. He earned three saves and had a 1.68 ERA. Mangene closed out the championship game with 1 ? hitless innings.
The year before, Burlington County had reached the final before losing to the Olympic-Colonial, 7-2.
That Olympic-Colonial team was led by Bishop Eustace infielder Sky Duff, who was named the tournament's 2018 MVP.
The biggest incentive for players in this tournament is that the semifinal and championship games are played at Citizens Bank Park. So if a team wins two games, it will then advance to play in the Phillies stadium.
Before the semifinals, the games are played at FDR Park, located across the street from Citizens Bank Park. That is also a nice complex, but nothing for the youngsters beats playing in a Major League Baseball stadium.
Here is this year's schedule:
Monday, June 14 8:30 a.m. Skills Day. This is where the top non-seniors showcase their skills, and is attended by college coaches and professional scouts. In fact, coaches and scouts attend the games throughout the tournament, which is great exposure for participants.
UYA Showcase Field, FDR Park
Game 1: Delaware South vs. Inter-AC/Independents, 12:30 p.m.
Game 2: Delaware County vs. Delaware North, 4
Tuesday, June 15 UYA Showcase Field, FDR Park
Game 3: Bucks-Montomery vs. Chester County, 9 a.m.
Game 4: Tri-Cape vs. SEPA, 12:30 p.m.
Game 5: Philadelphia Catholic at Lehigh Valley, 4 p.m.
Wednesday, June 16 UYA Showcase Field, FDR Park
Game 6: Olympic-Colonial vs. Jersey Shore, 9 a.m.
Game 7: Burlington County vs. Mercer County, 12:30 p.m.
Game 8: Philadelphia Public vs. Berks County, 4 p.m.
Thursday, June 17: Rain date
Friday, June 18 UYA Showcase Field, FDR Park
Game 9: Winner Game 1 vs. Winner Game 2, 9 a.m.
Game 11: Winner Game 6 vs. Winner Game 5, 12:30 p.m.
Friday, June 18 UYA Ashburn Field, FDR Park
Game 10: Winner Game 4 vs. Winner Game 3, 10:30 a.m.
Game 12: Winner Game 7 vs. Winner Game 8, 2 p.m
Saturday, June 19: Rain date
Monday, June 21 Citizens Bank Park
Game 13: Winner Game 10 vs. Winner Game 9, 9:30 a.m.
Game 14: Winner Game 12 vs. Winner Game 11, 1 p.m.
Tuesday, June 22 Citizens Bank Park
Game 15: Winner Game 14 vs. Winner Game 13, 10 a.m.
Article continues below
---
advertisement


---
Author:
Marc Narducci
Archives
---
Who's Who in Health Care
Out & About
QB Ronnie Borden is Back in the Game
Should fans be worried for the Phillies bullpen?
South Jersey Football Games of the Week
A look at South Jersey's Top H.S. Girls' Soccer Teams
Out & About
Eagles will be fine after close call in opener
High School Football Games of the Week
Is it Super Bowl or bust for the Eagles?
What's New in South Jersey?
From New Jersey to Nashville
Frustrating times for Millville's Mike Trout
High School Football Games of the Week
Hammonton's Kenny Smith off to a quick start
More...