5 Retirement Myths & Realities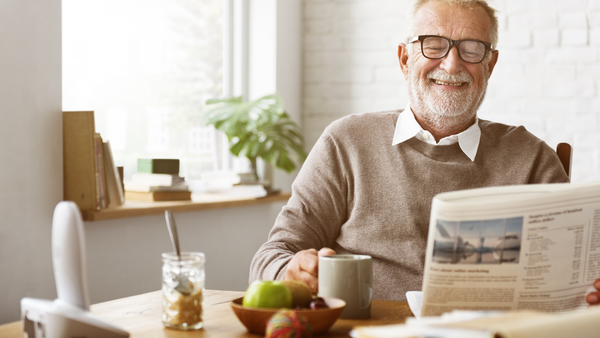 When you're thinking about your retirement, you can't always envision what will happen in that stage of your life. For some, it will be a time to travel and spend time with family members. For others, it will be a time to start a new business or begin a charitable endeavor. Regardless of what approach you intend to take, here are five things about retirement that might surprise you.
MYTH 1:
I will keep working beyond age 65. I may never retire!
REALITY
The average retirement age in America is not 65, but 61. Retiring that early affects your benefits – you can't claim Social Security until age 63, and you will likely be ineligible for Medicare.
For many, it's not a choice. 58% of recent retirees stopped working unexpectedly, and the median age this happens is 62. This may happen due to reasons beyond their control: health problems, disability, downsizing, or having to care for a family member.
MYTH 2:
Social Security will cover the bulk of my expenses.
REALITY
Here's a sample scenario: your average income throughout your career was $65,000. Your social security benefit will be about $2,662 per month. Using a common theory that you'll need to replace 80% of your income in retirement, you would need $4,333 monthly. You see the shortfall? Recent retirees are living it – in the Transamerica retirement study, 78% wished they would have saved more and on a consistent basis.
MYTH 3:
I have a nest egg, I'm sure I've saved enough.
REALITY
For those within 10 years of retirement, the median retirement savings was just over $107,000, according to a 2019 report from the Government Accountability Office (GAO). That's only about $300 a month.
Additionally, there's a growing trend of Americans who are dipping into their retirement funds early. A TD Ameritrade survey showed that 44% of Americans ages 40 to 79 have taken money out of a retirement plan. While 46% of people 40 to 49 have done so, and 53% for people 70 to 79.
MYTH 4:
At least I'll have Medicare to help with my medical bills.
REALITY
A recent estimate by Fidelity shows that a couple at age 65 will need $300,000 to cover medical costs in retirement. This includes Medicare deductibles, copays, supplemental plans, and expenses that Medicare doesn't cover like hearing aids and glasses. What is not included? Long term care. That same couple at age 65 - they each have a 70% chance of needing some type of long term care in the future, which may exceed $65,000 per year in the state of New Jersey.
MYTH 5:
I probably won't need long-term care.
REALITY
Almost 70% of people are expected to need long-term care services at some point during their lives. It's common to underestimate the cost of long-term care and overestimate the funding that will be available through public programs and private health insurance.
When it comes to envisioning your retirement, it helps to have a professional on your side to help guide the way. With over 40 years of financial planning experience, M Financial recognizes that each of our clients has a unique set of financial goals, and we strive to help them work towards them. If you have concerns about your particular situation, or if you're looking for a second opinion, please feel free to call us at 856-810-7701.
Securities and advisory services offered through LPL Financial, a registered investment advisor. Member FINRA / SIPC. Financial planning offered through M Financial Planning Services, a Registered Investment Advisor and a separate entity.
Article continues below
---
advertisement


---
Author:
M Financial
Archives
---
More Articles