Who's Who in Health Care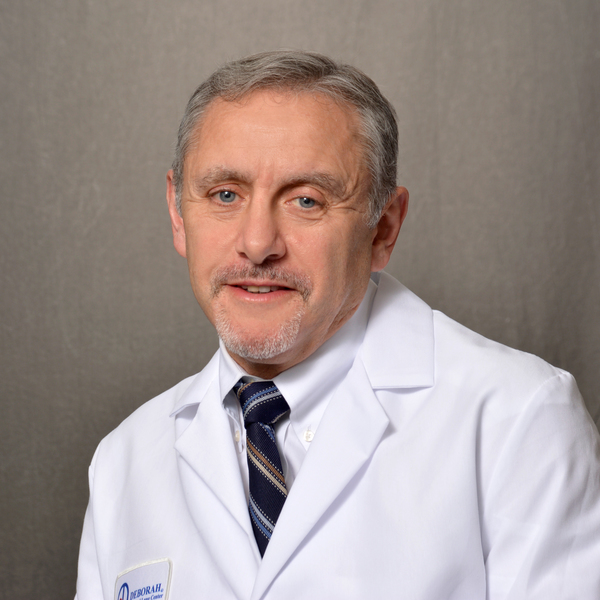 There has perhaps never been more of a focus on the world of medicine than there has been over the course of the past 15 months as the COVID-19 pandemic took hold of the world. With folks doing everything they can to avoid catching the virus and health care personnel working overtime to treat those afflicted—not to mention the record time in which effective vaccines were developed—the monumental work these selfless professionals do was rightly celebrated.
In keeping in line with honoring those who are pushing medicine forward, we are happy to once again present our annual Who's Who in Health Care. Whether dealing directly with the pandemic, conducting breakthrough research or helping providers move toward an excitingly bright future, this talented group is certainly helping cement South Jersey's place in the medical landscape.
REGINALD BLABER, MD, MBA
Executive Vice President and Chief Clinical Officer, Virtua Health
Dr. Blaber is responsible for providing strategic direction, leadership and accountability for all physician and clinical services, and for setting standards for the highest level of quality and safety throughout Virtua. His leadership and medical expertise played a vital role during the COVID-19 pandemic as he was instrumental in the decision-making process for coronavirus-related issues. Not only did he keep Virtua employees aware of the evolving hospital policies and enhanced safety measures, but he also served as a liaison with elected officials and the community. Dr. Blaber additionally spearheaded Virtua's vaccine distribution plan and regularly volunteers his time to administer doses.
Dr. Blaber is also a practicing cardiologist who has been affiliated with Virtua Our Lady of Lourdes Hospital in Camden for more than two decades, and served as the president of Lourdes Health System when Virtua acquired it in 2019. He created the Lourdes Cardiovascular Institute—leading more than 80 employed and affiliated cardiologists—and grew the service to become the largest heart program in South Jersey and a top 50 cardiovascular program for quality and safety in the nation.
JEAN-SEBASTIEN RACHOIN, MD, MBA
Co-Medical Director, Center for Critical Care Medicine, Cooper University Health
In his significant role with Cooper, Dr. Rachoin oversees the health system's management of critical care and intensivist coverage to dozens of hospitals throughout Southern New Jersey. Thanks to the relationships he has formed over the years, not only was he able to care for more than 3,200 hospitalized patients at Cooper, but Dr. Rachoin and his trusted team were able to provide care and guidance for thousands of other patients throughout the region.
Dr. Rachoin holds board certifications in several specialty areas, including internal medicine, nephrology, critical care and clinical hypertension. He is also an associate professor of medicine at Cooper Medical School of Rowan University and is a member of both the Society of Hospital Medicine and the American Society of Nephrology.
BRIAN SWEENEY, RN, MBA, FACHE
President and Chief Operating Officer, Jefferson Health – New Jersey
Sweeney has been part of Jefferson Health for 24 years, previously leading the daily hospital operations across all Jefferson campuses in Philadelphia as well as leading the enterprise's digestive health and transplant service lines. When he transitioned to his current role in March 2020, his first day on the job was also the same day the very first COVID-19 patient in South Jersey was identified, at Jefferson – Cherry Hill Hospital.
Sweeney has proven to be an inspiring and keenly focused leader, hitting the ground running and successfully navigating Jefferson Health – New Jersey through the coronavirus crisis. In the early stages of the pandemic, he played a key role in helping the health system establish and operate several COVID-19 testing centers. And as the vaccine rollout in New Jersey was getting underway, Sweeney collaborated closely with officials in Camden County to help launch the mega site distribution center at Camden County College. All the while, Sweeney has also seen the completion of the multi-million-dollar Cherry Hill campus expansion and the soon-to-be completed expansion in Washington Township.
RAFFAELE CORBISIERO, MD
Director of Electrophysiology and Pacing, Deborah Heart and Lung Center
Dr. Corbisiero is head of an extremely busy and critically important department at Deborah Heart and Lung Center, New Jersey's only specialty heart, lung and vascular hospital. His team oversees electrophysiology (or electrical issues) of the heart and conduct patient procedures including ablations as well as the insertion of pacemakers, implantable cardioverter-defibrillators (ICDs) and the WATCHMAN FLX device—a left atrial appendage closure device designed to help reduce the risk of strokes. Dr. Corbisiero also works in other areas to address a variety of heart arrhythmia problems and progressive heart failure.
Despite COVID-19, Dr. Corbisiero has recently been involved in hitting a number of departmental milestones, including the 200th implant of the WATCHMAN device and overseeing the transition to the aforementioned WATCHMAN FLX; the 2,000th Stereotaxis ablation (with him personally reaching his 1,000th procedure); the 100th successful implant of a Bluetooth-enabled defibrillator; and the department being recognized on the front page of EP Lab Digest, the profession's premier medical publication.
CHARISSE FIZER, MSN, RN, FACHE
Vice President of Clinical Services and Chief Diversity, Equity and Inclusion Officer (CDEIO), AtlantiCare
In her clinical role, Fizer leads AtlantiCare's health care delivery service lines and as CDEIO, she leads the development of a transformative diversity strategy while overseeing the continuation and expansion of existing diversity, equity and inclusion efforts. She has also been directly involved with many quality and performance improvement initiatives that have enhanced patient care. Under her supervision, AtlantiCare implemented several clinical programs, including transcatheter aortic valve replacement (TAVR); a treatment program for atrial fibrillation that involves both an electrophysiology program and CT surgery; and a new intensive care cardiac rehabilitation program. Furthermore, Fizer was instrumental in AtlantiCare's expansion of pharmacy services to include retail and community pharmacies, as well as pharmacy clinics, to help assist patients taking anticoagulation medications.
Fizer joined AtlantiCare as the administrator for the health system's main campus in Pomona in 2006 and has also served as vice president of clinical operations and ambulatory services. She is involved in numerous community organizations throughout the area and is the president of the South/Central New Jersey Chapter of the American Heart Association Board.
BENJAMIN GOLDSMITH, MD
Radiation Oncology Medical Director, Penn Medicine Cherry Hill; Regional Network Medical Director, Penn Radiation Oncology
Dr. Goldsmith manages four radiation oncology facilities in Penn Medicine's ever-expanding network of centers in New Jersey. Additionally, he is leading Penn's partnership for proton therapy with Virtua Health and has been diligently working toward forging professional and creative relationships with the network's newly affiliated radiation oncology department at Cape Regional Medical Center.
A New Jersey native, Dr. Goldsmith prioritizes providing exceptional cancer treatment to South Jersey and its surrounding communities. He has committed himself to ensuring his patients receive the highest quality of care and has a reputation for being not only extremely knowledgeable, but also kind and compassionate. His comforting nature comes from him fully understanding that cancer affects not only patients but also their family members and friends. Considered a natural leader, Dr. Goldsmith's team in Cherry Hill feels supported and confident that together they can provide patients with the medical care they deserve and expect.
GREGORY BREEN, MD
Pulmonary/Critical Care/Sleep Specialist, Inspira Medical Center Mullica Hill
During the pandemic, Dr. Breen was responsible for efforts to incorporate innovative treatments for critically-ill patients, guiding them through difficult regimens. And along with directors of the pharmacy and cancer services as well as emergency department physicians, he played a pivotal role in helping create a safe outpatient location to provide monoclonal antibody infusion therapy. That has allowed Inspira to treat more than 250 patients and helped reduce hospitalizations, resulting in a re-admission rate of under 5%.
As medical director of Inspira's Sleep Center, Dr. Breen's patient-centered approach took hold as he requested that negative pressure air systems be installed in all rooms. As a result, the center was able to complete its vital services and sleep studies, even amidst pandemic surges. Dr. Breen was further essential in guiding Inspira's outpatient response for COVID-19, realizing that many patients would need significant treatment even after discharge. He began referring all of his coronavirus patients to the Inspira Pulmonary Rehab center where they could receive necessary treatment and when the second surge of the pandemic hit last fall, he made sure the center remained fully operational.
SHOGHAG PANJARIAN, Ph.D.
Research Scientist, Coriell Institute for Medical Research
In addition to her groundbreaking work at Coriell, Panjarian is also a postdoctoral scientist at Temple University. Her research has included devising models and strategies to discover epigenetically modified breast cancer drivers and in unraveling novel synthetically lethal targets within the context of breast cancer. She is also studying epigenetic changes in aging breast epithelium and designing new platforms for drug screening and epigenetic targets.
In late 2019, her work earned a grant from the W. W. Smith Charitable Trust to support her search for the factors that contribute to the development and growth of breast cancer. More recently she took part in a study examining accelerated aging in normal breast tissue of women with breast cancer. It's all part of her strive to help the health care world be better equipped to develop new tools for diagnosis and better treatments for the disease.
JENNIFER LECOMTE, DO
Founding Director of the Rowan Integrated Special Needs (RISN) Center, Rowan Medicine
Dr. LeComte is board certified in both pediatrics and internal medicine and is committed to helping patients with special needs or complex conditions originating in childhood to be able to transition to adult care. Working with co-director Dr. Wendy Aita and RISN Center staff members, LeComte helps to fill a significant gap in the health care continuum of children with physical, intellectual or developmental disabilities. Frequently, these patients and their caregivers are left to scramble for primary care once the patient approaches their teen years, but the RISN Center fills the void by providing primary and behavioral health care to patients ages 14 years and older.
Dr. LeComte is currently an associate professor at RowanSOM in the internal medicine and pediatric departments and serves on the board of directors for Special Olympics of Delaware. She also volunteers her time with Rowan Unified Sports, which promotes inclusion in sports by partnering Rowan University students with Special Olympic athletes on recreational basketball and soccer teams.
MICHAEL LOVETT
Chief Operating Officer, Consensus Health
Still fairly new to his position, Lovett is responsible for driving the operations and growth of Consensus Medical Group's area practices. He brings years of experience to the job, having most recently served as COO of Northwell Direct and prior to that he was chief commercial officer of Formativ Health. Throughout his career he has become known as a leader with a successful history of inspiring growth by partnering with providers and health systems to effectively improve patient experience and engagement, physician satisfaction and productivity, and financial health.
As Consensus Health continues to expand its footprint, Lovett's focus in operational discipline will be key. With a broad base of financial and clinical knowledge coupled with his expertise with regulatory business drivers, Lovett's leadership skills will surely keep the organization on its continued path of growth and development.
SHERRILL T. LITTLE, MD, DABR
Co-Director Women's Imaging Division, South Jersey Radiology (SJRA)
Dr. Little is one of 45 board certified and fellowship trained specialists and sub-specialists with SJRA. It is the first radiology practice in the area to earn the Breast Imaging Center of Excellence honor and the only one to have earned the Diagnostic Imaging Center of Excellence honor, both bestowed by the American College of Radiology, and Little's contributions have been a big factor.
Utilizing world-class medical technologies, Dr. Little champions the use of 3-D mammography to provide clear and highly focused three-dimensional images of the breast tissue, which make the disease easier to spot. And usage of the new Brevera Breast Biopsy System offers a less invasive option which requires fewer samples to be taken. Previously, before this breakthrough treatment, a typical biopsy procedure would require at least six samples per patient. Dr. Little touts the added benefit of patients experiencing "faster recovery and less pain since fewer needles are involved."
Click here to subscribe to the free digital editions of South Jersey Magazine.
To read the digital edition of South Jersey Magazine, click here.
Article continues below
---
advertisement


---

Published and copyrighted in South Jersey Magazine, Volume 18, Issue 6 (June 2021).

For more info on South Jersey Magazine, click here.
To subscribe to South Jersey Magazine, click here.
To advertise in South Jersey Magazine, click here.

Author:

by Peter Proko
Archives
---
A Looming Healthcare Crisis
Getting Your Life Back
Aging Graciously
A Show of Support
Fighting the Good Fight
Building a Community All Year Long
Under the Winter Weather
Innovations in Health Care
A Growing Presence
A Rewarding Journey
Relief is on the Way
Changing the Narrative
What's New in Neurology
Top Physicians 2022
No Pain, All Gain
More Articles