Mainland grad fully enjoys MLB draft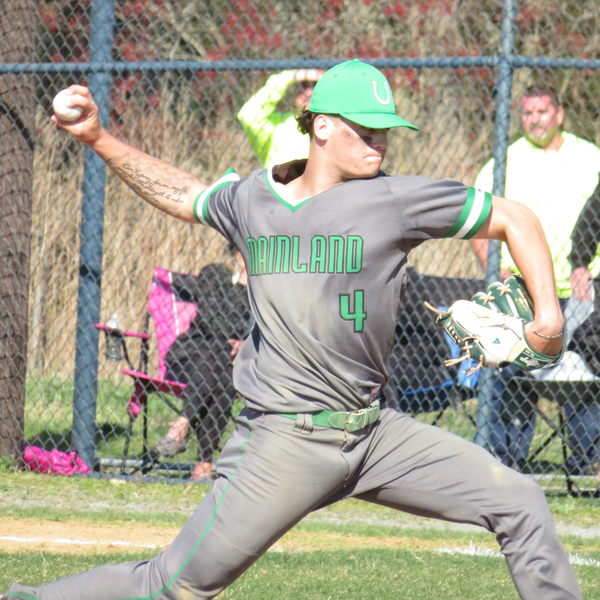 There might not have been a player who enjoyed the Major League Baseball First-Year Player Draft than recent Mainland graduate Chase Petty, who attended the draft held in Colorado and in conjunction with the MLB All-Star game.
What made Petty's day was that he was drafted in the first round by the Minnesota Twins, the 26th overall selection.
After showing his joy, Petty was a hit when interviewed on television, dropping names of All-Star players he had or would be in contact with.
He was seen signing autographs for everybody and genuinely having a great time.
And why not?
Hearing his name called was literally a potential million-dollar event. MLB places a slot value for bonuses on each pick for the first 10 rounds. Teams can give a player more than the slot or less than the slot, but at least in the first round, a player usually receives a bundle.
The slot value for the 26th pick is $2.65 million.
Petty has a scholarship offer to Florida, but it would be a surprise if he didn't sign. A pitcher can suffer an injury at any time and to turn down guaranteed money is difficult. Plus, MLB teams have a college provision, where a player who signs, is often offered educational money if he decides to attend school, usually after a career is over.
Petty was one of the hardest-throwing players in the country, reaching as high as 101 MPH. This season for Mainland he was 5-1 with a 1.15 ERA in 48 2/3 innings. He had 99 strikeouts.
For any player, especially one who is projected to be selected in the first round, the draft could be a stressful time.
"I just tried to stay as calm, cool and relaxed as I possibly could," Petty said in a Zoom interview with Minnesota reporters afterwards. "It all worked out for me and I am more than happy."
He told a national audience that he would be having dinner with two of the bigger stars in the game, San Diego Padres shortstop Fernando Tatis Jr. and third baseman Manny Machado the next evening.
He later explained off-camera that all three are represented by the same agency and all the players from that agency that were at the All-Star game were having dinner together on Monday.
Petty also talked about his friendship with baseball's top player Mike Trout, the Millville graduate. This year Petty threw a no-hitter in a 3-0 win over Millville, striking out 18.
It turns out he was introduced to Trout through a mutual friend.
"He is just somebody I kind of looked up to and then he actually reached out to me halfway through my senior season and we just started talking, he gave me his number."
The two talked before the draft.
"An hour before the draft he wished me luck, we talked a little bit and he kind of told me about this night that (draft) night and I can completely see where he's coming from now because this is just unreal," Petty said.
What is interesting is that Trout was drafted 25th overall by the Los Angeles Angels, just one slot above where Petty was selected.
When asked what he wants the Twins fans to know about him as a competitor, he said, "I think you (Twins fans) got the strongest competitor in the draft. I am going to do everything I can to help my team win and the organization win."
Petty made a good first impression, the same thing he did all year to those who saw him compete around South Jersey.
Article continues below
---
advertisement


---
Author:
Marc Narducci
Archives
---
Eastern and Cinnaminson are top girls' and boys' seeds in South Jersey Soccer Coaches Tournament
Healthy People, Healthy Business
South Jersey highschool football games of the week
Best of Home and Garden
Back to School
Ready to Take Flight
Bishop Eustace's Danny O'Rourke a model of stability
Who's Who in Real Estate
Special Delivery
South Jersey Football Games of the Week
Eagles saved their season with win over Carolina
A Difficult Loss
Top Physicians 2021
Phillies wasted lights-out seasons from Bryce Harper and Zack Wheeler
Another strong season for Olympic American Girls' Soccer
More...