Sixers and Joel Embiid to hunt titles together for years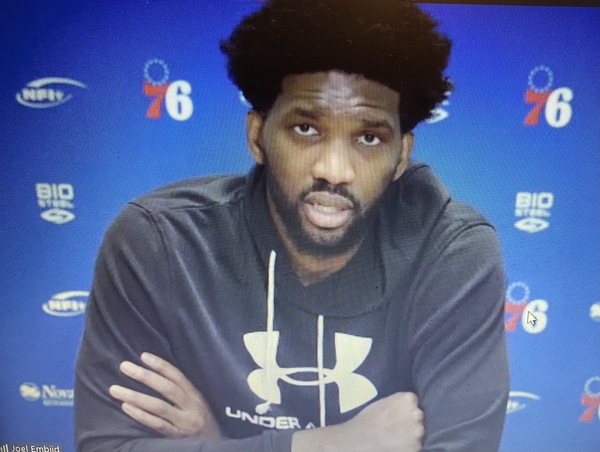 After finishing second in the MVP voting, Joel Embiid convinced the 76ers to commit to him long-term and put the franchise's fate in his hands.
Embiid recently signed a Supermax extension, projected to be $196 million for four years. That is tacked on to his current contract which has two years remaining.
"There's no place like PHILADELPHIA!!!," Embiid said in a tweet. "Excited to continue working toward bringing a title home and eventually retire here. "PHILLY"
Embiid is already owed a total of more than $65 million for the next two seasons. The extension kicks in during the 2023-24 season and will run through 2026-2027. He will turn 33 in March of 2027.
If Embiid performs the way he did last season, then the extension will be a bargain.
So it is a good deal for both sides, only if Embiid can stay relatively healthy, something that has been his biggest obstacle.
His injury history is well documented, having missed his first two NBA season due to foot surgeries and then playing in just 31 games in 2016-2017 before suffering a season-ending knee injury.
Over the last four years he has been an All-Star each season. Still, Embiid has missed an average of 20 games a season during the past four years.
This past season he missed one playoff game with a slight meniscus tear and was at less than 100 percent, although his play suggested otherwise.
During the upset seven-game series loss to the Atlanta Hawks in the Eastern Conference semifinals, Embiid averaged 30.4 points, 12.7 rebounds, 2.0 blocks and 3.9 assists (along with 4.7 turnovers) in 37.4 minutes.
To put the minutes total in context, the most minutes he has averaged is 33.7 in the 2018-19 season. It's also the most he ever averaged in the postseason.
Embiid carried the Sixers to the No. 1 seed in the Eastern Conference by averaging 28.5 points, 10.6 rebounds and 1.4 blocked shots in just 31.1 minutes per game.
Now that Embiid is signed long-term, the Sixers now will keep working on getting a second superstar to team up with him.
Ben Simmons, who lost all confidence in the playoffs, hasn't proven to be the second so-called 'superstar' to team with Embiid.
Even though Simmons is a three-time All-Star and is just 25-years-old, his confidence was totally shot by the end of the playoffs. Against Atlanta, he shot just 15-for-45 from the foul line (33.3 percent) and only attempted three shots from the field in the fourth quarters of the seven games.
The Sixers are at a standstill because they have reportedly had a high asking price for Simmons. They likely won't get what they are asking for.
The Sixers have to hope that Portland's Damian Lillard demands a trade and that Portland moves him, because he would be a good complement to Embiid (although the Sixers would lose a lot defensively, if Simmons is included in a trade for him).
The guess here is that Lillard won't be made available this offseason. He has three years and a fourth year option on his contract, so Portland would command a high price.
Bradley Beal only has a year left on his deal with Washington, so he probably isn't a likely to be traded, although he could be an unrestricted free agent after the 2021-2022 season.
Either way, the Sixers need to find a viable second star to team with Embiid. They also have to hope that physically he holds up for the duration of his extension, but really the Sixers had not choice. He is among the top players in the NBA, a true difference maker. Now the Sixers have to look to find the other parts.
Article continues below
---
advertisement


---
Author:
Marc Narducci
Archives
---
Who's Who in Health Care
Former Shawnee star Doolittle Calls It A Career
Camden County College welcomes Baseball Hall of Fame
South Jersey Football Games of the Week
Out & About
QB Ronnie Borden is Back in the Game
Should fans be worried for the Phillies bullpen?
South Jersey Football Games of the Week
A look at South Jersey's Top H.S. Girls' Soccer Teams
Out & About
Eagles will be fine after close call in opener
High School Football Games of the Week
Is it Super Bowl or bust for the Eagles?
What's New in South Jersey?
From New Jersey to Nashville
More...