Super Kids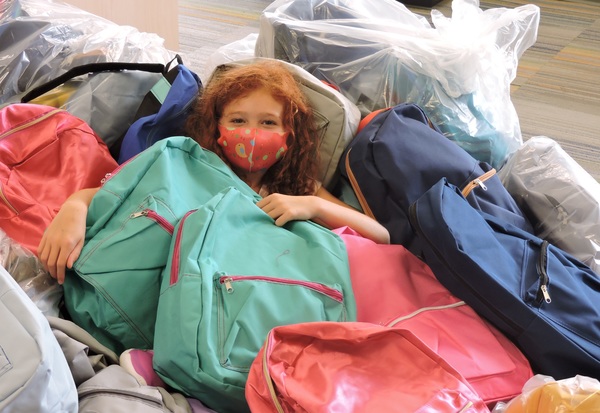 While today's youth are often thought of as lazy, screen-addicted adolescents, the truth of the matter is there are plenty of kids out in the world doing amazing things that are having a lasting impact in the community. Here, we introduce you to some of South Jersey's finest; kids who show tremendous maturity for their age and who have mastered the art of selfless giving.
Ebele Azikiwe
Azikiwe, a 13-year-old who attends Beck Middle School in Cherry Hill, recently received the President's Volunteer Service Award for her work advocating for more Black history to be taught in school. Last spring, she penned a letter to the district's superintendent pushing for the inclusion of Black history and other culture courses.
"When I wrote the letter, I was tired, upset, and most of all disgusted by what I saw around me. By the unnecessary deaths that would leave a hole in somebody's heart. I was scared that such mistreatment could happen to not only me and my family but everybody else who is a part of the Black community and other persons of color in general," she says.
Thanks to Azikiwe's efforts, the board of education approved an African-American Studies course in February that will be a requirement for the incoming classes of 2025, and every subsequent class moving forward at both of the township's high schools.
Due to her hard work and initiative, Azikiwe was also recognized on May 18 as New Jersey's first winner of the John Lewis Youth Leadership Award. She hopes to continue to advocate once returning to school, and takes pride in helping the community around her.
"Speaking and volunteering on a topic such as Black education is extremely important because then we can start to get rid of judgments and that prejudice that holds us back as a people," she says. "If you give your time to understand others and the topic, only then can we finally understand people that are around us."
Jake Minnick
Washington Township's Minnick began volunteering early on in life, helping out however and wherever he could. He owes a lot of that to his family who always pushed him to be a good person and to help others and better society.
Minnick has volunteered with the Ronald McDonald House of South Jersey, at area food banks, the Epilepsy Foundation and even served as a soccer coach for Special Olympics. He was awarded the Gift of Heart Community Scholarship for his contribution and drive to help the surrounding community. The award is presented to a few select students in the South Jersey area who have shown passion for others throughout their community.
"I always felt a certain way after volunteering, a feeling that I was able to make a positive change, even if it was small. And this was something that I knew I wanted to keep feeling," he shares.
Minnick hopes to continue his volunteer efforts as he attends American University in Washington, D.C., where he will be pursuing a degree in political science. He hopes to one day hold a government position and implement change on a larger scale.
"I find pride in doing things for those in need and those around me. It costs nothing to be kind, and that's a message I want to send around the world," says Minnick.
Lily Lazarus and Ethan Farber
Rising seniors Lazarus and Farber both have a passion and dedication for helping others. While working together as co-chairs for their high school's blood drive, they developed the idea to carry it throughout the summer for South Jersey residents.
"With everything going on with the pandemic, we thought this would be a great way to not only bring the community together, but to help people in need," Lazarus says.
The duo set up two separate blood drives, one in Margate and the other in Cherry Hill. The events were a resounding success as they were able to collect a total of 64 units of blood, which can help as many as 192 people. They were also able to collect donations for the ALS Foundation.
"It is really important that we use whatever advantages and privileges we have just to make all those problems as solvable as possible ... but also gathering these people and hosting the drive to gather the gift of life was the big priority for us," says Farber.
Francesca Dostillio
As a young child, Dostillio started volunteering at her church and by the time she got to high school, the Washington Township resident found herself involved in several school projects.
She became an executive board member for the Interact Club, where she was the chair for annual events including food and clothing drives, the Festival of Friends Carnival and an ALS fundraiser that collected $15,000.
"I feel like volunteering is super rewarding, so knowing that my efforts are helping make someone else's life easier, or are helping the community in general, is fulfilling to me and is why I continue to volunteer," she says.
Dostillio was the second recipient of the Gift of Heart Community scholarship at Washington Township High School. The recent graduate will now begin her college career at the University of Miami where she will be studying biochemistry. Of course, she plans on joining at least one volunteer organization on campus and is excited to continue to help others in need.
"I believe everyone deserves to live a full, rich life with opportunities to grow and learn, and unfortunately there are people who won't have that experience. I want to be a part of the solution," Dostillio says.
Jordan Grabelle
Alarmed to see children reading far below their grade level, this Voorhees resident involved herself at child literacy events in underserved communities throughout the area.
At just 10 years old, Grabelle decided to take action and launched Love Letters for Literacy.
"Through Love Letters for Literacy, I seek to equalize the educational playing field," she offers. "I believe we all have a responsibility to work toward bettering our communities."
The nonprofit focuses on teaching the alphabet to preschoolers and recruits volunteers of all ages to create literacy packets using paper and markers. Each packet includes three parts: colorful A-Z flashcards, a personalized note encouraging reading and multi-lingual instructions for fun educational games that families can play together. The packets are then donated to pre-readers in at-risk communities.
Seven years in the making, Love Letters for Literacy has donated literacy packets to 43,000-plus children, spanning all 50 states, 30 countries and 6 continents.
Lily Cuticchia
During the onset of the COVID-19 pandemic last year, this 8-year-old Haddon Township youngster set out to collect items for homeless patients receiving care at Cooper Health's emergency department and addiction medicine program.
Cuticchia collected more than 1,200 pairs of men's, women's and children's socks and ran a bake sale to raise money to purchase more personal care items for backpack care kits. In August she donated more than 200 backpacks to Cooper University Hospital.
Rachel Haroz, MD, a board-certified medicine and addiction specialist at Cooper, calls Cuticchia a "role model for people of any age. … She is a really special girl."
The staff of Center for Healing were so thankful for Cuticchia and her outreach efforts and so they presented her with an Act of Kindness award and look forward to her future good deeds.
Click here to subscribe to the free digital editions of South Jersey Magazine
To read the digital edition of South Jersey Magazine, click here.
Article continues below
---
advertisement


---

Published and copyrighted in South Jersey Magazine, Volume 18, Issue 8 (August 2021)

For more info on South Jersey Magazine, click here.
To subscribe to South Jersey Magazine, click here.
To advertise in South Jersey Magazine, click here.




Author:

Amy Kodrich
Archives
---
Who's Who in Health Care
Former Shawnee star Doolittle Calls It A Career
Camden County College welcomes Baseball Hall of Fame
South Jersey Football Games of the Week
Out & About
QB Ronnie Borden is Back in the Game
Should fans be worried for the Phillies bullpen?
South Jersey Football Games of the Week
A look at South Jersey's Top H.S. Girls' Soccer Teams
Out & About
Eagles will be fine after close call in opener
High School Football Games of the Week
Is it Super Bowl or bust for the Eagles?
What's New in South Jersey?
From New Jersey to Nashville
More...