Still way too early for Eagles conclusions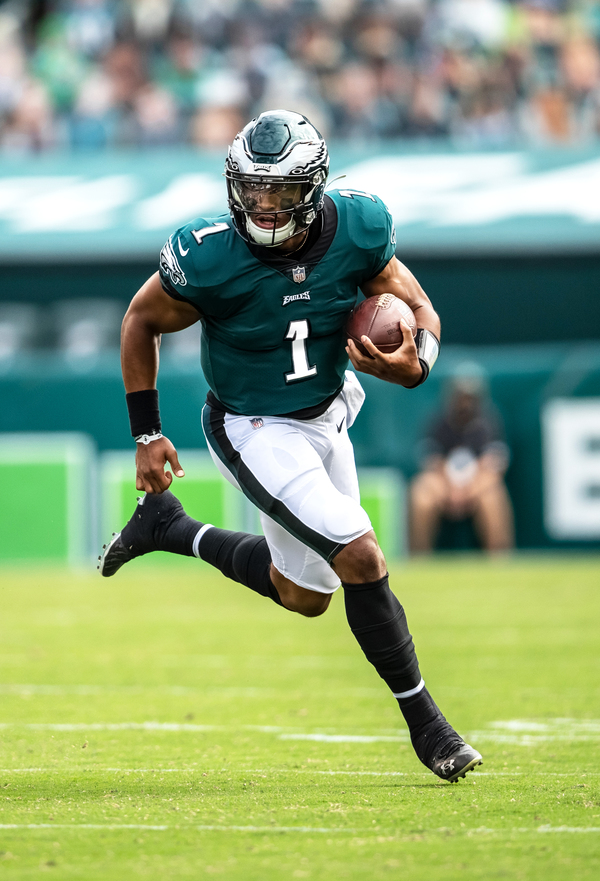 After the Eagles opened with a 32-6 trouncing at Atlanta, the opinion of the team skyrocketed just like their performance. Then following Sunday's 17-11 loss to the San Francisco 49ers at Lincoln Financial Field, some of that optimism faded among the Eagles faithful.
That is how it is in the NFL where overreactions each week are as common as the forward pass.
The truth is, we are not even close to knowing how this Eagles season will play out.
The skeptics say that the win came over one of the worst teams in the NFL, and there is merit to that.
But that Falcons team that failed to score a touchdown against the Eagles, trailed just 28-25 late in the third quarter against the defending Super Bowl champion Tampa Bay Buccaneers before eventually losing 48-25.
An optimist could point out that the 49ers are a viable Super Bowl contender, with a strong defense and the Eagles were in the game until the end.
A pessimist would point out that the 49ers defense allowed 33 points in a 41-33 opening win over a Detroit Lions team that is considered talent-wise in the same boat as the Falcons.
What was disconcerting for an Eagles fan is that the Birds were pushed around on both lines of scrimmage by the 49ers.
The Eagles offensive and defensive lines are supposed to be their strength, but they lost the battle on both sides.
One stat that showed the 49ers dominance on the offensive line was time of possession, where they had a 34:54 to 25:06 advantage.
The Eagles failed to earn a sack, while San Francisco only had two, but the 49ers, while not dazzling on offense, kept controlling the clock.
San Francisco scored touchdowns on a 12-play 97-yard drive and a 16-play 85-yard drive that consumed nearly nine minutes. Their field goal was also scored after a nine-play drive.
The Eagles also came out of the game with injuries to defensive end Brandon Graham and guard Brandon Brooks, major losses, hurting the depth on their two best positions.
After going three-and-out on their first three possessions, the 49ers offensive line started to hit stride.
One thing that won't change is that there will continue to be questions about Jalen Hurts until the second-year quarterback can string together several consistent performances.
He was lights out against Atlanta, but against the 49ers, he completed just 12 of 23 passes (52.2 percent) for 190 yards. For the second straight game he didn't throw an interception, which is a positive stat for a young quarterback. Hurts was also a major threat running the ball with 82 yards and a touchdown on 10 carries.
Yet it's dangerous to rely so much on the run. Yes, Lamar Jackson of Baltimore has been a successful quarterback relying on the run, but there haven't been many others at the position who have done the same and stayed relatively healthy.
Hurts has shown he is a dynamic runner, which gives the defense much more to worry about but there is always the injury risk.
Still, whether Hurts becomes the Eagles quarterback for the long-term will be determined by his accuracy as a passer.
The other thing the Eagles need to do is clean up the penalties, something that adversely affected the team with frequently during last year's 4-11-1 season.
The Eagles were penalized eight times for 57 yards against San Francisco.
So that will have to be cleaned up.
The Eagles will face a major test when they visit Dallas next Monday. The Cowboys are 1-1, losing 31-29 at Tampa Bay and then winning, 20-17 Sunday at the Los Angeles Chargers, despite some late botched clock management by coach Mike McCarthy.
The Cowboys have gotten good reviews, but for a team that has only won three playoff games since 1998, nobody should be anointing the Cowboys as a postseason certainty.
At this point neither are the Eagles. They appear to be contenders in a weak division, but there is still so much that is unknown about first-year coach Nick Sirianni and his Eagles team. We might not get a true handle on the Eagles until about 10 games in.
Photo Courtesy of Philadelphia Eagles
Article continues below
---
advertisement


---
Author:
Marc Narducci
Archives
---
Eastern and Cinnaminson are top girls' and boys' seeds in South Jersey Soccer Coaches Tournament
Healthy People, Healthy Business
South Jersey highschool football games of the week
Best of Home and Garden
Back to School
Ready to Take Flight
Bishop Eustace's Danny O'Rourke a model of stability
Who's Who in Real Estate
Special Delivery
South Jersey Football Games of the Week
Eagles saved their season with win over Carolina
A Difficult Loss
Top Physicians 2021
Phillies wasted lights-out seasons from Bryce Harper and Zack Wheeler
Another strong season for Olympic American Girls' Soccer
More...