A Familiar Voice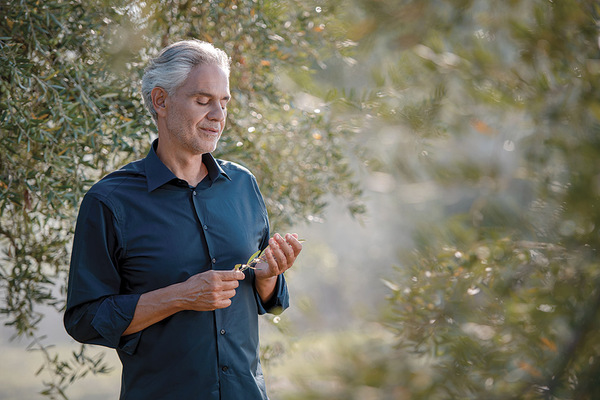 For nearly three decades, renowned Italian tenor Andrea Bocelli has captivated audiences with his soothing yet powerful voice. Throughout his illustrious career, he has earned six Grammy Award nominations as well as six Latin Grammy Award nods and has sold over 90 million records worldwide.
A man of deep compassion, he founded the Andrea Bocelli Foundation (ABF) in 2011, with a mission to empower people and communities suffering from disease, poverty and social exclusion. On Easter of 2020, Bocelli sang at the deserted Duomo of Milan, on the invitation of the city and the Archdiocese of Milan. "Music for Hope" is believed to be one of the biggest musical livestream performances of all time, with over 2.8 million peak concurrent viewers and the largest simultaneous audience for a classical livestream in YouTube history. The video received more than 28 million views in its first 24 hours.
In his 1999 autobiography, The Music of Silence, Bocelli shares gripping and inspiring memories of his early life and offers readers a glimpse into his love of classical music. The captivating book inspired the 2017 movie of the same name, featuring Antonio Banderas. Last November, Bocelli released his 17th studio album, Believe, which quickly topped Billboard's classical albums charts. This month, he returns to the area for a one-night-only performance of his Believe tour at the Wells Fargo Center in Philadelphia.
South Jersey Magazine recently spoke to the classical singing sensation and multi-instrumentalist about his love of music, his beautiful family and impressive career.
The late Luciano Pavarotti played a role in the success of your career. You later became very close friends. How would you describe him and the relationship you shared?
My meeting Pavarotti has meant a lot to me. Besides being a sublime performer and one of the most beautiful voices of the past 100 years, his declared affection and esteem for me contributed to the launch of my career. He was a friend and maestro: In the years I was privileged to spend time with him, we often talked about vocal technique and interpretation. Some of his advice was particularly invaluable. I can recall, not without feeling emotional, our last meeting, at his Manhattan residence in New York. Unfortunately, it was clear that he was nearing the end of his journey on Earth. However, when we spoke of music, his eyes and even his voice began to shine light again, to the extent that, to give me an example of a concept we were discussing, he actually sang briefly. These were the last notes I heard him sing.
You've had the chance to work with several other artists, spanning many genres of music. Do you enjoy branching out, so to speak, and what were some of the more memorable collaborations for you?
I've always loved finding travel companions [and] collaborating with colleagues, on stage or in the recording studio. It's a challenge that I've been passionate about from the start of my career. I learned something from each, and a lot from some. It has been a great privilege to mix my voice with others, such as Plácido Domingo, José Carreras, Luciano Pavarotti in opera; Céline Dion, Barbra Streisand, Stevie Wonder, Tony Bennett. The list goes on and on. The choice of a vocal partner is a complex one: To explain, I can compare it to what a painter evaluates, when mixing two colors, considering which nuances emerge when they are combined. In the same way, we singers try to find fellow artists that can bring the chemistry of a duet to life, in which— when it "works"—the expressive qualities of both are enhanced and amplified.
As a young boy growing up in the countryside you began horseback riding. Can you tell us a bit about this lifelong love of horses?
My grandfather gave me my first small horse when I was 8 years old. Later, as an adolescent, I asked my father if I could have a larger horse, and after a great deal of resistance, he gave me a mare that was raven black, named Andris. ... For me, horseback riding is not only my favorite childhood sport, but also a privileged means of motion. Still today, in the Tuscan lands where I was born and raised, I sometimes move around on horseback. I appreciate the intelligence of this extraordinary animal; its ability to express affection, fickleness, the complicity that you establish when riding, its ability to heighten the rider's emotions. Inevitably you create a very intense relationship with your horse. As with people, the connection can be greater or weaker. ... I remember, for example, a wonderful animal—an Arabian horse named Giasir. When he died, I was so upset that I decided to dedicate a poem to him in his memory. During lockdown, I unfortunately had to give up seeing my beloved horses. But I returned to horseback riding as soon as conditions permitted. This spring, I took on quite an ambitious project, considering my not-so-young age: I wanted to embark on a journey of a few hundred kilometers (almost 200 miles), together with my wife, Veronica, completely on horseback, following the ancient road— Via Francigena—running from Rome to Lajatico, my town of birth.
In 2011, you and your wife founded the Andrea Bocelli Foundation. What inspired you to do that? What are the hopes and goals of the foundation?
The commitment to philanthropy, my wife's and mine, is age-old, albeit expressed in ways that were quiet and "private." Then, at the time of Veronica's pregnancy, we felt the need to create something that was more stable and structured, so as to not squander the wealth of relations and bonds of mutual trust we had established with so many people. The Foundation took shape from the concept that unity is strength: We can do a lot on our own, but we can do much more together. The ABF is an extraordinary adventure that has grown very much in recent years, operating at the international level in the fields of education and technology research, following its stated mission of "empowering people and communities." It is a large, extended family that launches projects throughout the world, offering opportunities for people and communities to express their talent. Starting in 2011, ABF raised more than 40 million euros and funded the building of nine schools in Italy and in Haiti, giving over 3,500 students access to education. It ensures daily access to drinking water to over 400,000 people and basic health care in five of the most poor and remote communities in Haiti. In addition, the foundation implements and promotes educational programs that use music as a further tool for social inclusion and valorization of talent.
On Easter Sunday of 2020, you performed in an empty cathedral in Milan, which was streamed and watched live by tens of millions of people worldwide. Your performance provided a message of hope to all during the pandemic. How did that come about?
I need to underscore that the Milanese event was not a concert but a moment to pray together and reaffirm the power of the Christian message, [which] speaks of rebirth and life that overcomes all. The Duomo was empty, but I was not alone. In fact, there were tens of millions of us, virtually together but profoundly interconnected. It was incredibly touching to feel, despite our forced separation, so much unity and fraternity. The invitation came initially from the mayor and the Archdiocese of Milan. I accepted without hesitation, because I believed in the good of the cause, doing with pleasure what I feel is first and foremost my duty, as a person of faith, as a Christian. Then the idea was further developed and the event grew exponentially. I keep the memory of that unprecedented experience as one of my absolute fondest.
Last November, you released your 17th studio album, Believe, to rave reviews. What can you tell us about the making of that album?
The idea of a recording project like this was brewing for some time. … It then became somewhat of an urgency, later, during the forced inactivity of the first lockdown. The album is a sort of spiritual autobiography. It is a collection of songs that can speak to the soul, offering the listener an incentive to encounter one's spiritual dimension and understand its driving force. The project hinges on three concepts, the first of which is faith. Together with hope and charity, it makes up the theological virtues: the foundation of Christian action. The common denominator of the album is the impetus toward spirituality, a call to meditation on the meaning of life. Believe represents the wish to offer a selection of songs that—regardless of one's religious beliefs— could be a moment of serenity, introspection and beauty.
You just recently began touring again. How does it feel to be performing in front of audiences again?
This new start of the tour has me on a tight schedule, thus demanding a strong vocal commitment and good health. But it is a labor of extreme love, because I can finally reunite with my audience again in person, as I had done for so many years. I can thank all of those who have been so kind to appreciate my music. To return to concert venues and sing is like finally being able to hug the many friends I was not able to meet for so long.
What can fans look forward to during this tour?
The objective is an evening dedicated to sharing beauty, together with good music and positive emotions. As for me, I will give it my all to offer a performance worthy of expectations. The concert will have its usual format, with a first part dedicated to the most famous and beloved opera pieces, and a second part tied to popular music and songs. Thus, you will find the great composers that have given luster to my country, Giuseppe Verdi, Giacomo Puccini and others. The second part will feature many songs from Believe, but there will also be music and songs taken from other albums that the audience expects to hear from me, and which I will be delighted to sing. When I succeed at conveying a message of positivity and hope through my concerts, when members of the audience return to their homes a bit more serene, with a smile on their faces and the feeling of having shared a moment of beauty, a moment to remember with pleasure —well, that's when I can say I feel complete.
Your son Matteo Bocelli just released his first-ever single called "Solo" with a stunning video on the Dolomites. What's your relationship with him and what's your advice to him?
I am overjoyed with how Matteo found his own way and his own style, according to his personality and sensitivity. First and foremost, I am his father. … My children have always been and will always be my top priority. Having had Matteo beside me on a few tours, sharing the stage with him, was an even greater and unexpected gift for me in my life. In effect, his first single seems very promising. It's also a song that perfectly matches his vocals. The advice I've given him—and that I think Matteo has already fully taken in—is more ethical than artistic, and hardly needed any explanation, because through the years, I advised him by way of example. … I expressed the need to not give in to the temptation to make compromises because of trends or novelty, and to instead keep a relationship with the public of frankness and intellectual honesty, without ever trying to water it down, without ever forcing one's professional boundaries. I also warned him, very clearly and from the beginning, about the difficulties that I am well aware of; helping him understand the complexities of the show business environment. It was, nonetheless, his choice. Matteo also has something that you cannot learn, that is, a highly recognizable tone of voice and a good level of musicality.
Your wife and three children are all talented musicians/singers who you have performed with. Is music truly the language of love in your family?
Studying music is always useful; it fortifies and makes people better. I encouraged my children to study and frequent music, but not to make it a profession. All of my children studied music— even my eldest, Amos, graduated in piano from the conservatory, although he then opted for a scientific career, earning a degree in aerospace engineering. The language of music has the capacity to impact our consciences and contribute to spiritual evolution. This is why we included music in the Andrea Bocelli Foundation's educational programs. Studying music is an experience that enriches the spirit; music is a friend that is by your side for life. Art, as a whole, is a gift from the heavens that exalts the spirit and thus disseminates good.
Click here to subscribe to the free digital editions of South Jersey Magazine
To read the digital edition of South Jersey Magazine, click here.
Article continues below
---
advertisement


---
Published and copyrighted in
South Jersey Magazine
, Volume 18, Issue 8 (November 2021)
For more info on South Jersey Magazine, click here.
To subscribe to South Jersey Magazine, click here.
To advertise in South Jersey Magazine, click here.
Author:
Karen Nimetz
Archives
---
Who's Who in Health Care
Out & About
QB Ronnie Borden is Back in the Game
Should fans be worried for the Phillies bullpen?
South Jersey Football Games of the Week
A look at South Jersey's Top H.S. Girls' Soccer Teams
Out & About
Eagles will be fine after close call in opener
High School Football Games of the Week
Is it Super Bowl or bust for the Eagles?
What's New in South Jersey?
From New Jersey to Nashville
Frustrating times for Millville's Mike Trout
High School Football Games of the Week
Hammonton's Kenny Smith off to a quick start
More...