Dick Allen a glaring omission in recent Hall of Fame vote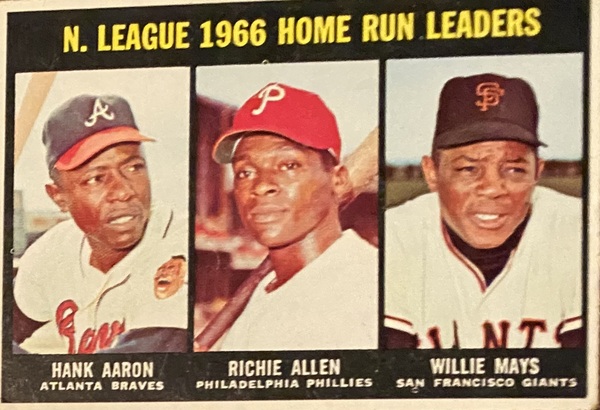 Here's a quick baseball quiz.
What do Hall of Famers Hank Aaron, Joe DiMaggio and Willie Mays, three of the greatest to ever play the game, have in common? Neither had a career adjusted OPS better than Dick Allen.
We bring this up because Allen again missed being elected to the Baseball Hall of Fame by one vote from the Golden Days Era Committee. This committee voted for players whose main contributions were from 1950-69, but many of the players under consideration such as Allen, had big years after that.
He also missed by one vote in 2014 and now must wait another five years for the next vote.
As for the adjusted OPS, or commonly known as OPS+, this is a statistic that gives a true indication of the all-around excellence of a hitter. OPS+ is on base plus slugging percentage adjusted for the park and league in which a player played, but not for fielding position.
An OPS+ of 100 is defined as league average. Any OPS+ of 150 or more is considered excellent.
That tied Allen with Hall of Famer Frank Thomas for 22nd all-time.
Of the other aforementioned players, Aaron, DiMaggio and Mays, all finished just behind Allen with a career 155 OPS.
Think about that. Allen topped three of the best who ever played the game in one of the most important offensive statistics. The fact that he was even in the neighborhood with these immortals shows what a special hitter Allen was.
Yet there was much more to Allen and his credentials.
He was a player who hit for average and power, an enviable and difficult combination.
His career batting average was .292 with 351 home runs in 15 seasons. Allen also finished with 1,119 career RBI.
In 1972, Allen won the American League MVP with the Chicago White Sox. That was the year he led the AL in home runs (37), RBI (113) and walks (99). He was the National League Rookie of the Year in 1964 with the Phillies.
Allen was a seven-time All-Star.
During his career he was a league leader in OPS four times, in slugging percentage three times, in on base percentage twice and adjusted OPS on three occasions. He also led twice in home runs. During his Rookie of the Year season in 1964 he also led the National League in runs (125), triples (13) and total bases (352).
He played 15 seasons, but one season in 1963 consisted of only 10 games as he was brought up late in the year. In addition, his last two seasons were in a much lesser role, so he didn't compile the counting stats of other Hall of Famers, but as we have learned with the popularity of analytics, there are other stats that tell the story much better story.
And there is one other factor that makes what Allen has done even more remarkable. He came up in a time where he was subject to racism. His final minor league season was in Little Rock Arkansas in 1963.
Allen made his mistakes as a player, but we can't relate what it was like for a Black man in the 60's attempting to make his mark, whether it was in professional sports or any other profession.
Allen died at the age of 78 on Dec. 7, 2020, but there are so many people that have pulled for him to be a Hall of Famer. Now there must be another five-year wait, for something that should have been a done deal years ago.
Article continues below
---
advertisement


---
Author:
Marc Narducci
Archives
---
Just Getting Started
Shawnee's Joe Kessler Continues his amazing run
Sixers offer hope for Philadelphia sports fan
On the Horizon
New key rules for seeding high school boys & girls basketball teams
2022 Annual Resource Directory
Setting the Standard: Top CEOs/CFOs 2022
Tax-Saving Tips
Early story lines in the South Jersey boys' basketball season
South Jersey Soccer Coaches Association names the best of the best
Is Jalen Hurts the Eagles QB of the Future?
South Jersey Coronavirus (COVID-19) Developments (January 14)
Big Season for Timber Creek grad Devin Leary of N.C. State
Camden-Lenape highlights the best of South Jersey boys' basketball
Just Getting Started
More...