Defying the Odds One Day at a Time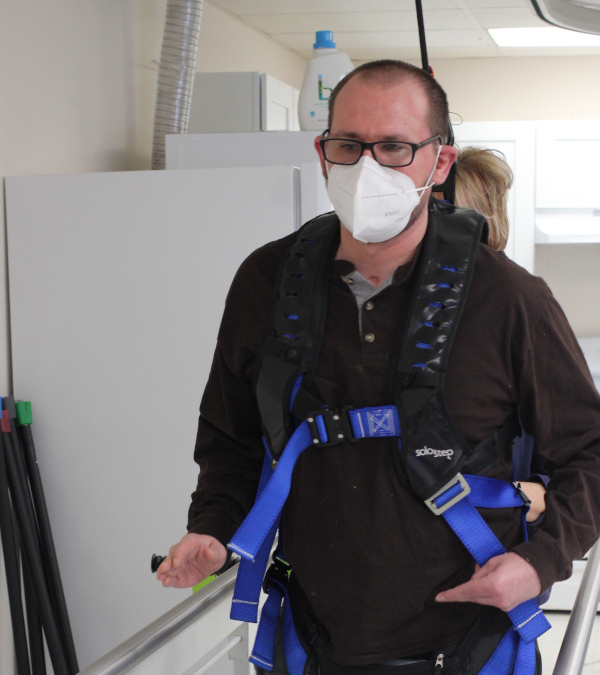 Matt Collura's life changed forever on March 9th, 2011 when he suffered a traumatic brain injury while snowboarding with friends. He was only 27 years old. The injury left Matt in the ICU in a coma for weeks. His doctors predicted if he were to regain consciousness, that he would never walk again. Not only did Matt regain consciousness - he is thriving.
Prior to his injury, Matt was an all-star athlete, captain of three sports teams in high school. He was also an avid long distance runner, a writer, and had earned advanced degrees in biochemistry and architecture.
But the world stopped turning that day in March and there was a new reality.
As he gradually awoke from his coma, and began a long, challenging road to recovery, his friends and family said, "if anyone can make it through this, it's Matt." Before his accident, Matt started a blog on a whim and ironically called it Profoundly Relevant Meditations. Most of the entries were short and funny, sometimes a little weird. However, after his accident and before he was able to speak, he communicated with a keyboard on his iPad. The once short and funny blog turned into a daily chronicle of his recovery. Matt selected his favorite posts for his first published book under the same name, Profoundly Relevant Meditations which infuses humor, wit and self-reflection and is a testament to how far he has come. Matt continues to go farther each day.
Traumatic Brain Injury is a leading cause of death and disability - there were about 61,000 TBI deaths in 2019. Crashes and falls are, of course, causes but so are activities like snowboarding or summer activities like bike riding and pool diving that many of us are doing everyday. Getting the right care at the right time in the recovery process is critical for optimal patient outcomes. For Matt, the choice was clear.
Fast forward 10 years and Matt is now 37 years old and Bancroft NeuroRehab has been with him every step of the way since 2013 when he was admitted for residential and day program services. Matt receives physical, occupational, speech, vocational, psychology and music therapy. Yvonne Van Bochove, is Matt's Physical Therapist. When she looks back to her initial evaluation,she thought it would be difficult for Matt to become an independent and safe ambulator. However, with the help of technology and robotic systems Matt is working in rehab to identify activities that promote the same endorphins as running does. He is now able to successfully walk independently with a platform walker and ramps and curbs with supervision., "Matt never gives up, perseveres and is a motivator for other individuals with a brain injury. Matt's commitment to recovery both physically and emotionally humbles me," says Yvonne. He reminds me everytime I see him, how important it is to have a sense of humor, avoid negativity, and how important family support is in the recovery process."
Matt continues to live in a Bancroft NeuroRehab group home with four other individuals. He has progressed to the point where he can live independently in an apartment with limited supervision. He cooks his own meals and maintains a structured room-maintenance schedule. Matt is currently looking for a job as a journalist for a local newspaper. He wants to continue to write periodical editorials like this one on relevant topics from a brain injury survivor's perspective..
Matt credits his continual progress to his expert clinical team at Bancroft NeuroRehab. "Bancroft has been great. The therapists have really helped me to become more independent. I also very much appreciate the direct care staff as well for supporting me in my journey to become more independent. They are all very helpful in assisting me when I need it."
Matt's future is bright and in his June 30th, 2018 entry from his book Matt says,
"People notice our actions,
We make a difference.
Each day we live, we make an impression,
The people who see us use us as an example,
Many people see us,
and many see those who see us.
In our life, we make many impressions.
If you realize your positive attributes
Make an exponentially positive difference,
your days will add up to a happy lifetime."
A happy life indeed Matt - keep inspiring others and defying the odds one day at a time!
Article continues below
---
advertisement


---
Author:
Bancroft
Archives
---
A Looming Healthcare Crisis
Getting Your Life Back
Aging Graciously
A Show of Support
Fighting the Good Fight
Building a Community All Year Long
Under the Winter Weather
Innovations in Health Care
A Growing Presence
A Rewarding Journey
Relief is on the Way
Changing the Narrative
What's New in Neurology
Top Physicians 2022
No Pain, All Gain
More Articles