Doug Pederson faces a big challenge, but should have success in Jacksonville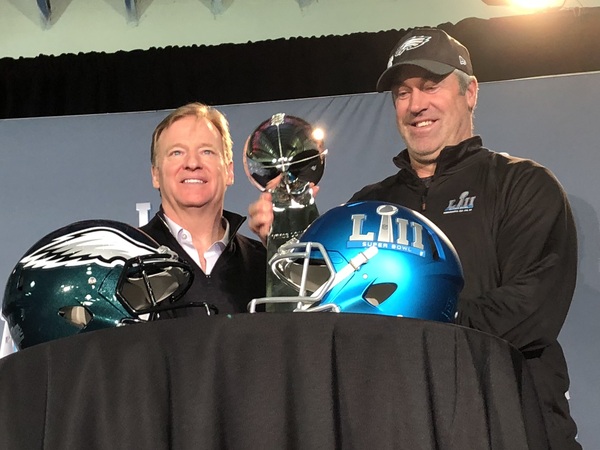 Doug Pederson has gotten his second chance to coach in the NFL when many felt he should still be on his first.
The debate on whether Pederson should have been fired three seasons after leading the Eagles to the Super Bowl is pointless at this juncture.
Pederson has another chance as the new coach of the dysfunctional Jacksonville Jaguars.
Meanwhile, his successor with the Eagles, Nick Sirianni, did a nice job in his first season, leading the Eagles to a 9-8 record and playoff berth.
That doesn't mean Pederson should have been let go by the Eagles, but now he has a second chance.
While Jacksonville has been seen as the Siberia of the NFL, there could be hope if this mismanaged organization allows Pederson to do his job without unnecessary interference.
Jacksonville has had one winning season and played in one playoff game in the last 14 years.
This past season the Jags were 3-14 and are coming off the Urban Meyer disaster, where the former big-name college coach couldn't make it through one NFL season due to several missteps, not to mention an unimaginative offense.
The reason Jacksonville seems even semi-attractive is due to the presence of Trevor Lawrence, the No. 1 overall pick in last year's draft, who had a rocky rookie year.
Lawrence completed 59.6 percent of his passes for 3,641 yards, 12 touchdowns and 17 interceptions and a 71.9 passer rating.
Despite those underwhelming stats, Pederson inherits a much better QB situation than the one his former team has.
We're sure many would take the future of the 6-foot-6, 213-pound Lawrence over Eagles QB Jalen Hurts.
This is not to disparage Hurts, but Lawrence has a much higher ceiling.
It's up to Pederson, a long-time NFL backup quarterback, to bring this out.
In his second year coaching the Eagles, Pederson had Carson Wentz playing at an MVP level before he suffered a season-ending knee injury.
Is the fact that Wentz never regained that form, a mark against Pederson, or as some have suggested, an indication that Wentz started tuning out his former coach?
Either way, Pederson had a year off from the game, appears refreshed. He also is on a Jacksonville team that has the No. 1 overall draft choice for the second straight year and will have four selections among the top 70. Jacksonville also has the third-most salary cap space, according to spotrac.com.
Plus at least the Jags didn't pack things in at the end last season. They beat Wentz and the Colts, 26-11 on the last game of the regular season, knocking Indianapolis from playoff contention.
The good news is that they showed some spirit. The bad news is that they still ended up 3-14.
So there is a lot of rebuilding to do, but Pederson brings a strong resume from his five seasons coaching the Eagles.
Yes, he was 42-37-1, but the Eagles made the postseason three times and of course, won the Super Bowl.
Pederson has the second most playoff in the Eagles coaching history. He was 4-2, with only Andy Reid (10-9) having more postseason wins.
Pederson had a great 2017 season that resulted in the Super Bowl, but making late charges to the playoffs in 2018 and 2019 showed great leadership.
Did Pederson have an off-year in 2020?
No question. His play-calling wasn't good, and his team lost its way.
It happens and Pederson is out to show that 2020 was an aberration.
He has a talented running back in James Robinson, who will be 24 when the season starts, and another, Travis Etienne, Lawrence's former Clemson teammate, who missed his rookie season due to injury.
The receiving corps needs to be built up, with the leader veteran Marvin Jones who had 73 receptions for 832 yards and four touchdowns.
The defense allowed 26.9 points per game, fifth-worst in the NFL, so there are plenty of holes to fill.
Pederson said in his first press conference with the Jaguars that a turnaround won't happen overnight.
No doubt, he has learned a lot from his first head coaching experience.
Pederson soundly outcoached Bill Belichick to win Super Bowl LII. While he can't live off that game or that season forever, it shows that he can win the biggest event in sports.
Pederson hasn't forgotten how to coach.
It says here that the Jags made a good hire. Now it's up to Pederson to prove all the positive publicity he has generated since his hiring, is well justified.
Article continues below
---
advertisement


---
Author:
Marc Narducci
Archives
---
Who's Who in Health Care
Out & About
QB Ronnie Borden is Back in the Game
Should fans be worried for the Phillies bullpen?
South Jersey Football Games of the Week
A look at South Jersey's Top H.S. Girls' Soccer Teams
Out & About
Eagles will be fine after close call in opener
High School Football Games of the Week
Is it Super Bowl or bust for the Eagles?
What's New in South Jersey?
From New Jersey to Nashville
Frustrating times for Millville's Mike Trout
High School Football Games of the Week
Hammonton's Kenny Smith off to a quick start
More...