Designer Dreams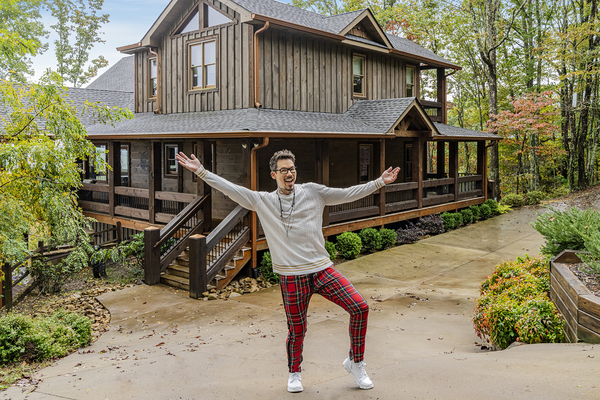 After being crowned HGTV's first "Design Star" in 2006, David Bromstad quickly found a home on the network. Over the past 15 years, the vivacious designer and artist has gone on to have an incredibly successful career in television. As host of Color Splash, Beach Flip and the immensely popular My Lottery Dream Home, Bromstad has become a household name, largely in part to his impeccable eye for design and larger-than-life personality. Recently, viewers got the chance to witness Bromstad house hunting for himself in Orlando in a special episode entitled, "My Lottery Dream Home: David's Dream Home."
A native of Minnesota and a graduate of the Ringling College of Art and Design in Sarasota, Bromstad was originally drawn to Orlando after landing a job with Disney. His time with the company was an instrumental component in his design career. Bromstad, who is known for being full of both life and tattoos, recently spoke with South Jersey Magazine about his love of the area, design and his dream home.
SOUTH JERSEY MAGAZINE: You are such a talented and accomplished artist. When did you first discover your love of art?
DAVID BROMSTAD: Oh my gosh, I've loved art ever since I could breathe. As a kid, I didn't realize I loved art, it was just all I knew and all I did. I was the youngest and often my brothers and sisters didn't want to play with me (laughing), so all I did was color and paint. I just thought that was what every kid did. I really had no idea it was unusual for a child to be so artistically inclined until I moved from a very small town of only about 2,000 people in Minnesota, called Cokato, and ended up going to a much bigger school (Wayzata High School) where the art program was sensational. I just dove right into it because I was super bullied and not well liked so art was my escape; it was really the only thing I was good at. I did well academically and was always on the honor roll but academics were a real struggle for me, and I didn't enjoy it. But I know my strengths and my strength is in art. It was the one thing that kind of saved me. S
SJM: As a child, you dreamed of being a Disney animator/illustrator and after attending Ringling College of Art and Design in Sarasota, you ended up working for Disney. Can you tell us about that experience?
DB: I've always loved Disney; it was a huge part of my growing up. My whole family would watch The Wonderful World of Disney on TV every week. We took a trip to Disney World once. We didn't have a lot of money and that was a big trip for us. I remember every second of it even though I was only about 3 years old. Going back to when I really fell in love with art, when I was about 15 years old, I watched The Little Mermaid and said, "I want to do this. I know I can do this because I have the talent." The only thing I was confident in was my talent as an artist. That's why I went to Ringling College because Disney often hired the illustrators from there. I majored in illustration but never became an animator.
After graduating, I was hired by Disney to work as a visual merchandiser at World of Disney and moved to Orlando. I only did that job for about six months, because although I was excited to be a part of their creative window displays, my boss put me where there were no windows to do, only mannequins to dress. … One day, my boss told me that he knew of a better opportunity for me but it would mean I would lose my benefits and could be let go at any time, but I would work in an art department that worked on the animated windows at the Magic Kingdom as well as sculptures throughout all the parks and resorts. I took that job, it paid like 25 cents more an hour, which I was super thrilled with, and had no job security, but that's when I started being an artist. I learned the guts and all of the perfection that goes into working for Disney as an artistic being. It was hard, rough work. But that's where I developed my ideal for perfection. During the time I worked for Disney, as well as Universal Studios and SeaWorld, I was barely making ends meet but I was loving it because I was being creative and I was doing exactly what I needed to do.
SJM: How did your time with Disney lead you to your career in design?
DB: Right before 9/11 happened, I was working as an outside contractor for the Disney resorts and with all of my dealings there I had actually started my own little business and was doing really well. Right after 9/11, everything I had worked so hard for, all the connections I made, were all gone because Disney, for security reasons, was only using larger companies, so my job was over. I was just about to file for bankruptcy and was at the gym when I saw an interior designer friend that I hadn't seen in a few years. He told me he had some art that he needed done for some local hotels and asked me to show him my portfolio. When he looked at my art for Disney and Universal, and there was some fine art in there as well, he said. "OK, you can do artwork for all of the hotels that I'm working with. Also, I do model homes around the Southeast and don't like doing kids' rooms, so you can tackle those as well. I'll give you this much money and whatever you have left over you can keep."
I ended up making only like a few hundred bucks because I put so much of my heart and soul into each room. Each room was an experience because I was taking my Disney and Universal aesthetic and bringing it into these kids' rooms. I did that for about two years when another interior designer friend who I was doing work for told me that HGTV was doing this new show called Design Star, which I believe was going to be an online show at the time. She suggested I apply and I said, "Why? I'm not an interior designer." And she said, "You have a good eye, you're cute, and your personality is fabulous." … So I applied and got in but soon realized I was up against people who had their masters degree in architecture from Harvard and Yale and people who had owned their own interior design businesses for 35 years. I thought, "What am I doing here?" I was afraid I would get eliminated first. That was my only goal, to not get eliminated first, because I knew I had no chance of winning.
SJM: How did you handle being on Design Star?
DB: I'm used to winging it. When Disney first let me go, a few of the managers and people in charge of the resorts and merchandising asked me to do some independent work for them and so that's actually how my company started. One of the managers said they needed some things made out of wood. She told me what was needed and the dimensions and asked if I could work with wood. I said, "Of course, I can work with anything!" Then I went home, called up my Dad and said, "Dad, I have to do some woodwork, I'm lost!" He said, "Son, get yourself a jigsaw, pick up a drill, get some wood glue and nails and you'll be just fine." And that's exactly what I did. That was the first time of me never saying no to a project. So, TV was just a bigger scale version of me doing that.
SJM: The prize of the competition was your own show. Did you ever think you were going to have a long-term career with HGTV?
DB: HGTV said they were going to give the winner a show, they didn't say a series. I could have ended up getting a webisode or being a special guest on an episode of another show, it's all in the wording. I really didn't know what to expect, since I was the first winner, but they had me film a pilot. After the pilot, they gave me 13 episodes and I signed a contract with them. I was like, "Oh wow, we're really doing this! TV, here we go!"
SJM: You've spent a great deal of time in Miami where your show Color Splash was filmed. What drew you to Miami and what brought you back to Orlando?
DB: I moved to Miami before I got onto Design Star. I had moved away from Orlando because Orlando was a little boring back then. It just didn't have the identity that it does now. Now, I'm so obsessed with Orlando and I'm so glad I moved back, but I moved to Miami because it had a better art movement that was being built up and I wanted to be a part of that. I was about to be a part of it and was working my inroads but then I got on TV so I never got to fully experience the whole Miami art scene. Because of my job, I was traveling so much and when I finally returned, I realized it wasn't a fit for me and Orlando kept popping up in my head. My friends and family are here and then when I moved back it just felt right. Everyone is so nice here. It feels very Midwest to me. People are friendly and happy to see you when they greet you. That's something I wasn't getting from Miami and I'm from the Midwest so being nice on the daily, whether you're in the mood for it or not, was a requirement.
SJM: How did you become involved with My Lottery Dream Home?
DB: HGTV was seeing the demand for more renovation shows and less interest for straight design shows. Our show was still maintaining the numbers we always had but the data showed
we weren't bringing in the men like the renovation shows were. I had just gone through a breakup and wasn't interested in getting into the renovation business. Lottery came up and I was asked to do it and I said, "I've got nothing else to do and I'm still under contract, might as well." It was one of those shows that no one thought would last, not even the network, because it took an entire year to cast and shoot the first season and then the same with the second season. It was hard to get people who had just won millions of dollars to be on TV and tell their stories. It took up until around season 4 for people to be like, "I want to be on that show. I'm going to play the lotto just to be on that show."
SJM: What can you tell us about the episode in which you choose a home for yourself in Orlando?
DB: That one is super weird. I had been looking for a house a year before I even moved to Orlando because I knew it was going to take a long time for me to find something that I'd fall in love with. Then doing the show, I had an amazing realtor friend show me some properties that I would have never thought to look at; two of them I would have but the other two, not at all. Going outside the comfort zone I realized I was looking in the wrong place the entire time. And now looking at this house, I never want to leave it. It's my dream home, for the moment.
Photography courtesy of HGTV
Click here to subscribe to the free digital editions of South Jersey Magazine
To read the digital edition of South Jersey Magazine, click here.
Article continues below
---
advertisement


---

Published and copyrighted in South Jersey Magazine, Volume 18, Issue 11 (February 2022)

For more info on South Jersey Magazine, click here.
To subscribe to South Jersey Magazine, click here.
To advertise in South Jersey Magazine, click here.

Author:

Karen Nimetz
Archives
---
Who's Who in Health Care
Former Shawnee star Doolittle Calls It A Career
Camden County College welcomes Baseball Hall of Fame
South Jersey Football Games of the Week
Out & About
QB Ronnie Borden is Back in the Game
Should fans be worried for the Phillies bullpen?
South Jersey Football Games of the Week
A look at South Jersey's Top H.S. Girls' Soccer Teams
Out & About
Eagles will be fine after close call in opener
High School Football Games of the Week
Is it Super Bowl or bust for the Eagles?
What's New in South Jersey?
From New Jersey to Nashville
More...