With Russell Wilson off the table, Eagles likely to stick with Jalen Hurts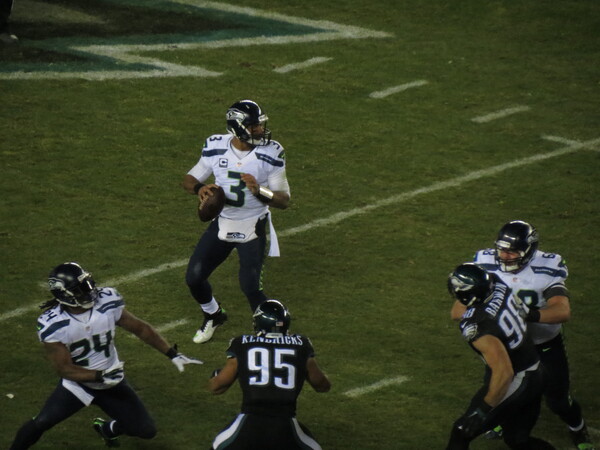 The quarterback options just got a lit slimmer for the Eagles. In one day, Russell Wilson was traded from Seattle to Denver (with ESPN's Adam Schefter getting the scoop) and Aaron Rodgers confirmed a tweet from his friend Pat McAfee that he would be returning to Green Bay.
So much for the offseason conversation about replacing Jalen Hurts.
The deal for Wilson can't be announced until March 16, the first day of the new NFL calendar.
Wilson would have been the best option for the Eagles since he is 33 and even though coming off his worst season (mainly due to a finger injury that kept him out of three games)
We're sure that Eagles fans will say that they could have made a better offer for Wilson, and that could be correct, but Wilson had a no-trade clause. He wanted to go to Denver.
Several reports also indicated that Seattle didn't want to deal Wilson to an NFC team.
According to Schefter and others, Seattle sent Wilson and a fourth-round pick to Denver. The Seahawks received two first-round picks, two second-round picks, a fifth-round pick, tight end Noah Fant (a former first-round selection and a talented player), defensive lineman Shelby Harris and quarterback Drew Lock.
Article continues below
---
advertisement


---

That is a good haul, but in these cases, a team rarely received equal value for dealing a franchise quarterback.
Just look back to last year.
The Detroit Lions sent Matthew Stafford to the Los Angeles Rams for two first-round picks, a third rounder and quarterback Jared Goff.
Again, a nice haul, but with the Rams winning the Super Bowl in Stafford's first season in LA, what Los Angeles surrendered was more than worth it.
As for the Eagles, any speculation about replacing Hurts is probably done.
It only made sense to replace Hurts with a clear upgrade and the other two perceived quarterbacks who were available who fit that category were Wilson and Rodgers.
There will be speculation about the availability of Las Vegas Raiders QB Derek Carr, who would be an upgrade over Hurts, but a few things need to be noted.
First off, why in the world would the Raiders want to get rid of Carr?
He is a Top 12 quarterback in the NFL and is coming off a productive season that leads to a playoff berth.
Carr, who turns 31 later this month, has a year to go on his contract. Las Vegas should be looking to extend him instead of trading him.
There is one other option for the Eagles - Deshaun Watson, but until his legal situation is settled, it would be a risk that quite frankly isn't worth taking.
Even if his legal situation is settled, there is no telling whether the NFL would suspend Watson.
There is one other alternative - the NFL draft, but there doesn't appear to be a player who is hands-down better than Hurts.
Kenny Pickett of Pitt looks like the best of the bunch. Malik Willis of Liberty has the best upside but how much different is he as a quarterback than Hurts?
The Eagles will continue to look at all quarterback avenues but with Wilson and Rodgers off the market, the Eagles likely will enter the season with Hurts, whether he is the long-term answer or not. Author:

Marc Narducci
Archives
---
Who's Who in Health Care
Out & About
QB Ronnie Borden is Back in the Game
Should fans be worried for the Phillies bullpen?
South Jersey Football Games of the Week
A look at South Jersey's Top H.S. Girls' Soccer Teams
Out & About
Eagles will be fine after close call in opener
High School Football Games of the Week
Is it Super Bowl or bust for the Eagles?
What's New in South Jersey?
From New Jersey to Nashville
Frustrating times for Millville's Mike Trout
High School Football Games of the Week
Hammonton's Kenny Smith off to a quick start
More...