Power Player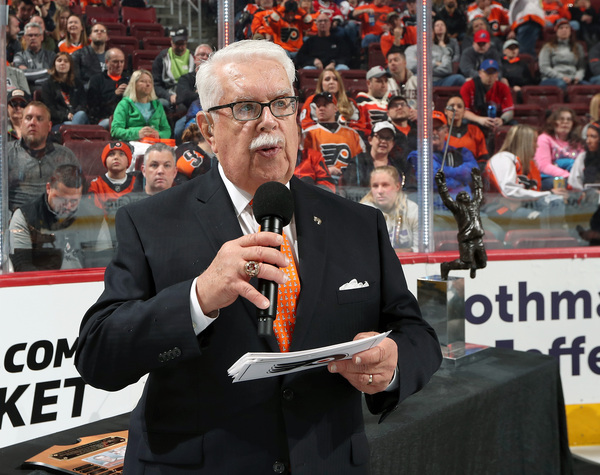 Lou Nolan certainly doesn't have the most recognizable face in the Delaware Valley. Unlike other area "celebrities" who make a living in the spotlight, he can usually move freely in and out of stores or restaurants without getting stopped for small talk or asked to pose for a picture. As long as he doesn't open his mouth, that is.
That's because generations of sports fans have come to know and love Nolan as the voice of the Philadelphia Flyers, a role he first assumed 50 years ago as the public address announcer at The Spectrum and continues to this day at the Wells Fargo Center. The longest-serving person in that position in the National Hockey League, he will be honored by the team for the milestone before a game against the Anaheim Ducks on April 9.
A Philadelphia native who has been with the Flyers since their inaugural season in 1967-68, the 76-year-old Nolan has worked over 2,000 combined regular-season and playoff games, including two Stanley Cup seasons in the 1970s, six additional appearances in the finals and two NHL All-Star Games. He considers himself blessed to have stuck around so long doing what he loves, and when he does dare to speak in public and is immediately known—like during a recent trip to a coffee shop—he is happy to share stories with fellow hockey fanatics.
"I said, 'Excuse me' to get by three people and one of them said, 'I know that voice,'" Nolan says. "On my way out he stopped me and we talked and I met their dog. … People do that a lot. Sometimes I'll say something in an elevator and people will turn around and look. It's flattering to be recognized."
Not that fame is why Nolan got into sports in the first place. He was passionate about hockey since his youth, and it's been a dream come true to become friends with members of the Broad Street Bullies and to coin the famous phrase, "And the Flyers are going on the PECO power play!"
We spoke to Nolan about his distinguished career, the dangerous aspects of his job and South Jersey's special connection to the Flyers.
SOUTH JERSEY MAGAZINE: Did you ever imagine when you first started this job that you would be doing it 50 years later?
LOU NOLAN: No. I started the year before the first Stanley Cup and timing is everything. I've been through two of those and had a great time and met a lot of great people. It's been an amazing ride, I'll say that much—and it's still going on, which is cool.
SJM: Did you know they were going to be having a special ceremony to celebrate the milestone?
LN: It was mentioned to me a couple of weeks ago that it was going to happen. I'm honored; it's a very neat thing. To be able to do anything that long, especially in the spotlight, is pretty cool. I'm honored and I can't wait. It's going to be fun.
SJM: Although you've been the PA announcer for 50 years, your service to the organization goes back to the team's founding, right?
LN: Yeah, I'm an original Flyer. I did work in the press box … [like] handing out stats and making goal announcements on the phone as follow-up, which we still do for the press. Basically, I managed the press area and made sure people got what they needed to get. Now, every 4 or 5 feet there's a television for replays, but we didn't have all that. At first, I would write down the goal, hear a roar and realize another goal had been scored, and then write that goal down. I wrote down the penalties and distributed it each period. I missed a lot of goals in those early years, believe me, with no replays. Nowadays you can see the replay or dial it up on the web the next day. It's a lot different.
SJM: Ice hockey was so new to the area when the Flyers first came around. Did you have any kind of background in the sport?
LN: Well, when I was back in grade school, maybe seventh and eighth grade, we used to go up to see the Ramblers, which was an American Hockey League team or maybe an Eastern Hockey League team, up at the [Philadelphia] Arena, which was at 46th and Market. … I had a classmate whose uncle was a goal judge and he would take us up on Friday nights because we didn't have school the next day. I was basically a rink rat and we'd run around and have fun. We would pick up the cracked sticks at the end of the day, bring them home and put them back together the best we could and play street hockey behind the school on a newly resurfaced road. We didn't have any nets; we would draw those with chalk. We had shoe skates that would attach to your shoes. That was the beginning and it was a lot of fun. That's basically how I began, and then I did a couple of games with the former New Jersey Devils who played over in Cherry Hill. They were another Eastern Hockey League team and I did a couple of those games, and then I started doing the Flyers games. All I can say is that it was a major part of my life and continues to be.
SJM: What stands out from your early years?
LN: I was in the penalty box; I worked at the red line without glass. I didn't know any better—none of us who worked in the penalty box, the guys who opened the doors or the timekeepers, we didn't worry about it. If you got hit by a puck, you got hit by a puck, or a stick or whatever. Now we have the glass there and a little hole to talk to the referees, but lately because of COVID I've been working out of the press area, not on the ice. I hope to go back there but I don't know what the league is going to decide.
SJM: Do you remember the first game you did in 1972? Do you remember being nervous leading up to it?
LN: Yes and yes. I do remember being nervous and I think the first thing I announced was a coincidental penalty. … It must have been a major because the guys were really upset with one another. They came in the box and the visiting player threw the puck bucket at our guy, and I was in the middle of it. I got hit with a few pucks and ice. That was an interesting way to get introduced to announcing.
SJM: I'm sure you saw a lot of that during the days of the Broad Street Bullies.
LN: Sure. I was always getting hit with pucks and sticks. Even my good friend Bob Kelly told me one night, 'Louie, I'm going to put somebody in your lap.' And you know, up the boards there he hip checked a guy right into the middle of the box, right in my lap. It knocked all the timing off and everything else, and caused us to stop the game and reset everything. That stuff happens. It adds to the mystique and the fun. There are people who would do it for free, I'm sure, but it's a job too. It's a lot of fun but it is work.
SJM: To this day, the Stanley Cup teams of the Flyers are revered. What was it about that group that resonated with fans?
LN: I think people were able to identify with the players as far as being lunch pail-kind of guys. Living in places like Medford and going out to have a beer at Rexy's and places like that, which became hangouts, allowed people to see them and get to know them. Then lots of guys decided they wanted to make this their home. Bobby Taylor, who now lives down in Florida [and works] with Tampa, lived in Medford Lakes for a long time. [Orest] Kindrachuk still lives in Medford Lakes, and Bobby Kelly is down that way. Now we have a bunch of players in Haddonfield. It's cool to be able to relate to the people who worked hard to make a real living, and I think that's the mystique of this. People could identify with the players, and to win a championship in the National Hockey League [added to it]. I was in the Stanley Cup parade and it was just unbelievable. It had been a long time since Philly had won anything … and then we got another one. That cemented it for the players who decided to stay and for the fans.
SJM: There have been other Flyers teams to come close to a championship since then, during the 1980s and then in the Eric Lindros years and again in 2010. Are those the teams that stand out the most along with the Cup teams, or do you have fond memories of all of them?
LN: I have fond memories of everything because of the players themselves. When I first started I was the same age as most of those guys, and some were even a little older because they were veteran players. You get to know these guys and they're good people. You hang out, go on a few trips. My relationship changed through the years as I put a few years on. There are a lot of young guys now and it's amazing how good they are. Even when they're in bad stretches like they are now, the players' talent is outstanding.
SJM: How long do you think you want to stay on the job?
LN: People always ask me that. I don't have any goal for doing it to a certain year. I'll just keep doing it until I screw up or someone calls me in and says, 'We're going to make a change.' I don't anticipate that but you never know. It's nice that people say they've been hearing me for so long and they consider me part of everything with the games. It's flattering.
SJM: Well, you have to outlast Dan Baker [the Phillies' PA announcer].
LN: [Laughs] Yeah, Dan and I started around the same time, probably within a few months of one another. He's a great friend and a great announcer. We each have our own style of doing things, and Matt Cord has his style with the Sixers. The NBA style is a little different and boy, Matt is good too. We're all part of a fraternity here in Philadelphia. They're good people and good broadcasters.
SJM: Does it sink in the impact you've had on local sports fans? People as old as their late 40s have been coming to Flyers and Phillies games their whole lives and all they know is hearing you and Dan at the arena or ballpark.
LN: Well, that's kind of you to say. I don't think about it that way, I just come in and do my job. People have told me that and the neatest thing is when I'm walking through the concourse and a guy with his young son will say, 'Hey, this is Lou Nolan.' The kids look at me like, 'OK.' Then I usually say, 'The PECO power play guy,' and immediately the kids know because they look forward to that. It's an honor to do this for so long and have people make those comments like you just made. I just hope I had some kind of impact on people's lives and it was fun. It's important to have fun.
SJM: Since you mentioned it, I have to ask about the PECO power play. How did that come about?
LN: I'm bad at dates and I don't know how long we've been doing it, but it's been a while now. I try not to be a cheerleader and it started out as [in a monotone voice], 'The Flyers are going on the PECO power play.' Then somebody in my ear said, 'You have to give it more gas.' Eventually it got more gas and then it got to be like it is now, when people actually say it as I'm saying it. There's even a little button I have in my office that PECO issued [that plays a recording of the phrase]. … People always ask me where they can get one of those and I say, 'It beats me, I don't know. I've got one on my desk and that's about it.' It continues to be something that we do, however, it hasn't done our power play much good this year. But it is what it is. It's a great expression and we all use it.
SJM: Do you spend much time in South Jersey?
LN: Yes. We have a place in Ocean City, 56th and West in the south end. We're there lots of weekends in the summer. … We like it. At first it was pretty quiet for us at that end of the island. But we've been there for close to 25 years and it's easier to park and to do everything down at that end, as opposed to 34th Street, where you have to battle your way in and out all the time.
Article continues below
---
advertisement


---
Author:
Matt Cosentino
Archives
---
Who's Who in Health Care
Former Shawnee star Doolittle Calls It A Career
Camden County College welcomes Baseball Hall of Fame
South Jersey Football Games of the Week
Out & About
QB Ronnie Borden is Back in the Game
Should fans be worried for the Phillies bullpen?
South Jersey Football Games of the Week
A look at South Jersey's Top H.S. Girls' Soccer Teams
Out & About
Eagles will be fine after close call in opener
High School Football Games of the Week
Is it Super Bowl or bust for the Eagles?
What's New in South Jersey?
From New Jersey to Nashville
More...