Undoing the Damage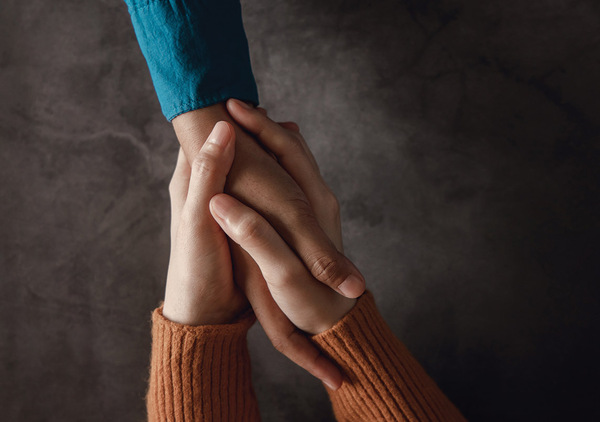 Each day, life begins to feel a little more "normal" than it did one year, and especially two years, ago. Masks are mostly off (for now), entertainment and sports events are in full swing, and workers have returned to offices. However, while the community as a whole seems "normal," a closer look shows that many individuals are still fighting their own demons as a result of the pandemic.
"In the first year [of the pandemic] we saw stress and worry and anxiety, and we're seeing more now. I think it's manifesting at higher levels and it doesn't help that there are other crises happening in the world, like war and inflation. All of these things have an impact," says Bridget DeFiccio, the senior VP of Integrated Health at Acenda, a community-based behavioral health agency providing a range of mental wellness and crisis services for adults, children, teens and families.
According to the National Alliance on Mental Illness (NAMI), one in five people report that the pandemic had a significant impact on their mental health; 45% of those are with mental illness, over half of whom are with serious mental illness. NAMI's New Jersey chapter saw a 30% increase in attendance of its statewide virtual support groups and educational presentations, says Maggie Luo, associate director of development and communications.
The communities with more risks compared to other segments include frontline professionals, older adults who felt isolated and alone, and those who were already vulnerable with a pre-existing mental illness. NAMI NJ's data further show racial/ethnic minority communities were suffering, and that youth and young adults experienced particular challenges. But it's not unique to New Jersey, says Luo, who notes that the U.S. Surgeon General issued a recent advisory calling for a swift and coordinated response to the mental health crisis of our youth and young adults.
Stuck at home and separated from their friends, children suffered the anxiety of having to log in for remote learning, not being able to get that one-on-one interaction with their teachers and subsequently their grades weren't up to par, says Jeff Cox, director of clinical services for Beautiful Minds, which provides in-home therapeutic interventions to children and families.
"There was a lot that they just didn't have access to, those outlets were gone. We have a significant increase in anxiety amongst children and, with that anxiety, that might be a primary diagnosis but your secondary and tertiary diagnoses … ended up sometimes being greater, sometimes you have anxiety but you have children that are twirling their hair or they have ADHD symptoms now, which are really rooted in anxiety," he says.
For some children, the risks of being home were even greater, says DeFiccio. "In the first year, calls to the Division of Child Protection and Permanency went down. We don't think child abuse and neglect decreased, but reporting for it did since children weren't around the community member who would have noticed it, such as teachers," she says. "If they have been abused and didn't get the intervention they needed, it can lead to problems as they get older with potentially more acting out."
It's hard to say how young people will progress into their futures, and DeFiccio says it would be easy to go down a path of worry. "But I wonder, maybe we're going to find that this generation has a different outlook on things because of this experience," she says.
Adults weren't without their hardships either, says DeFiccio, and they found unhealthy ways to cope. "Alcohol sales went up nationwide, and within groups with higher incomes and those with school-age children, 25% of adults reported drinking more alcohol. … The stress leads people to use substances and food as well. Who doesn't know someone who gained weight in the pandemic?"
She encourages people to find healthier coping mechanisms, such as eating a balanced diet, resting, and either drinking in moderation or not at all. "We have been hearing a lot about self-care, but what does that look like for different people?" she says. "Take the time to read a book, exercise, meditate and take a hot shower."
Perhaps the glass-half-full perspective is appreciating how mental health awareness and dialogue has been elevated during the past two years, adds Luo. "With decreased stigma, it is more acceptable to talk about mental health and easier to seek services. Notably, according to NAMI, 26.3 million adults in our country received virtual mental health services in 2020, 34% of those were with mental health conditions.
"There is a lot of hope due to increased funding and support being channeled to the mental health system which presents opportunities to improve the system, including crisis response," she says.
Now it's common to hear people talk openly about seeing a therapist, says Cox. "People don't think anything of it. But 15, 20 years ago, if you were to say that out loud, people would give you an awkward look and say, 'You have a therapist?' like they think you're crazy, that's the undertone that would come from saying that."
Discussions were even opened up within the workplace, adds DeFiccio. "Employees want their employer to know they could be impacted by certain struggles—COVID-related or not—and employers should create a culture of wellness and encourage a work/life balance. And this isn't just about offering sick days—wellness should be nurtured and developed. … We have begun to see these walls coming down."
Many challenges in the mental health space remain, and important work needs to be done to help people get the services that they need, Luo points out. According to NAMI's data, 17.7 million U.S. adults who received mental health services in 2020 experienced delays or cancellations in appointments, 7.3 million experienced delays in getting prescriptions, and 4.9 million were unable to access needed care. "The silver lining was the availability of telehealth, which provided an essential option," she says.
The field is not immune to the workforce shortages that other industries are experiencing, adds DeFiccio, which is creating a perfect storm. "We're seeing an influx of people needing services yet we're not able to meet the need because people are leaving the workforce for various reasons, whether it's the stress or they moved to a telehealth-based role, and it's created a strain on the more traditional community behavioral health organizations," she says.
"There is more to be done," concludes Luo, "which calls for collaborations of stakeholders to not only continue reforming our service delivery system, but also ensure this system meets people where they are, with culturally competent services aligned with diversity, equity and inclusion principles."
Article continues below
---
advertisement


---
Author:
Liz Hunter
Archives
---
A Looming Healthcare Crisis
Getting Your Life Back
Aging Graciously
A Show of Support
Fighting the Good Fight
Building a Community All Year Long
Under the Winter Weather
Innovations in Health Care
A Growing Presence
A Rewarding Journey
Relief is on the Way
Changing the Narrative
What's New in Neurology
Top Physicians 2022
No Pain, All Gain
More Articles