Summer is a crucial time for high school football teams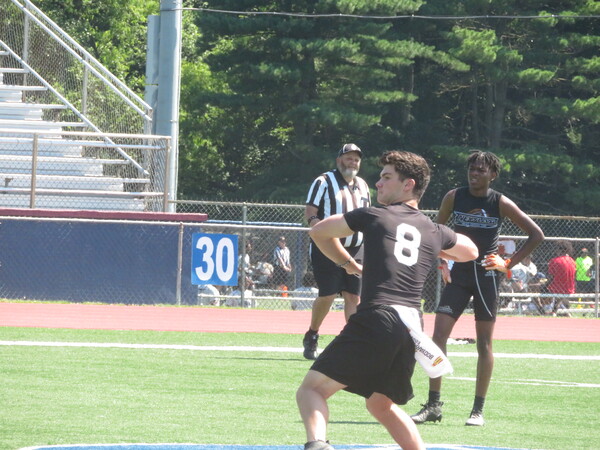 Don't look now, but high school football practice will begin in less than a month. The NJSIAA allows high school football teams to begin practice on Aug. 10.
Of course many teams have practiced all summer. It is legal to practice in the summer, but not with pads. Many teams have weight room workouts several days a week with also a couple of days of work on the field and in the classroom.
Football is a complex sport to begin with, but with the seasons beginning earlier, there is less time to prepare for opening day.
That is why any teams looking to be competitive do work in the summer.
Some states have spring football, but New Jersey doesn't. In New Jersey, football teams and other fall sports aren't able to meet together to practice until after the last day of sports activity for the spring season.
This season the last sporting events were the NJSIAA baseball state championships, held on June 18. (Teams were able to practice on June 20).
And since then, teams have been working toward preparing for the football season and other fall sports.
Football in particular is interesting. The popularity of seven-on-seven tournaments and leagues has been another factor in team training.
Sure it's like playing flag football, but it gives the quarterbacks and receivers a chance to work on their timing and it allows defensive backs to test their skills against top-flight receivers.
A big event before the start of preseason will be a first-ever 7-on-7 tournament that is being run by South Jersey football writer and podcaster Mark Trible.
There will be 12 teams on Sunday, July 24, competing in a 7-on-7 tournament at Washington Township beginning at 9 a.m. (with free admission).
Again, these 7 of 7 tourneys can be awful competitive. One of the first 7-on-7 tournaments this summer was sponsored by the Adam Taliaferro Foundation at Eastern High. It was called the Adam Taliaferro Foundation Ginsburg 7 x 7 Classic.
Stepping away from football for a second, the Taliaferro Foundation assists patients with spinal cord injuries and their families from Pennsylvania, New Jersey and Delaware. (For more information on the foundation: https://taliaferrofoundation.org/.)
Teams often get a break right before the Aug. 10 beginning of the training camp, one last chance for the players and coaches to catch their collective breaths.
Several years ago the NJSIAA instituted a 'black out' meaning a week in the summer where there are no practices. Many teams choose to have the week off before camp, so to recharge the batteries for a long season. A team that plays in a public school sectional final, could be playing football into the first week of December.
This year the regular season can begin as early as Aug. 26. Times have changed. A few decades ago, fall practice didn't begin until Sept. 1. Now some teams could have their second regular season game by then.
Football is such an intricate sport that teams need the summer to get part of it, if not the entire playbook introduced. Think about it.
Teams that open on Aug. 26 will have 16 days to prepare for the season. Many will have one or two scrimmages that they must prepare for.
By comparison, the Philadelphia Eagles open training camp on July 26 and don't play their first regular season game until Sept. 11 in Detroit.
So that is why summer training in football is as important as any sport. There is so much to do, with little time to do it.
And even those 7-on-7 competitions, get the players much-needed reps for the upcoming season.
Article continues below
---
advertisement


---
Author:
Marc Narducci
Archives
---
Who's Who in Health Care
Former Shawnee star Doolittle Calls It A Career
Camden County College welcomes Baseball Hall of Fame
South Jersey Football Games of the Week
Out & About
QB Ronnie Borden is Back in the Game
Should fans be worried for the Phillies bullpen?
South Jersey Football Games of the Week
A look at South Jersey's Top H.S. Girls' Soccer Teams
Out & About
Eagles will be fine after close call in opener
High School Football Games of the Week
Is it Super Bowl or bust for the Eagles?
What's New in South Jersey?
From New Jersey to Nashville
More...