All About Balance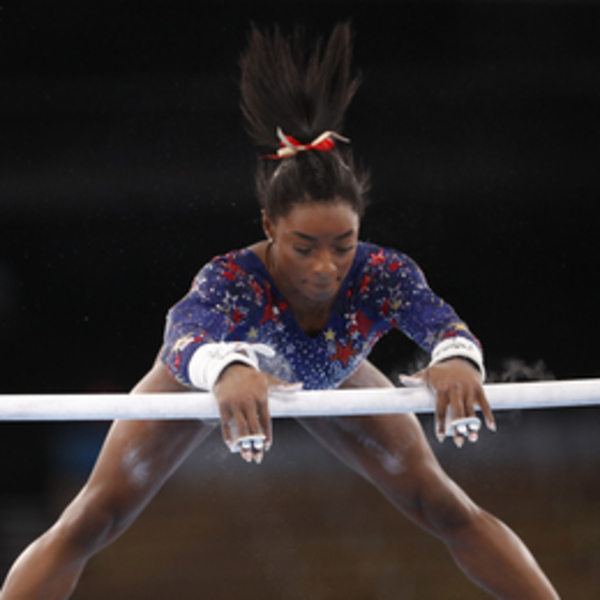 Si­mone Biles was smitten with gymnastics from the moment she discovered the sport as a 6-year-old. Considered an elite athlete by the age of 14, Biles went on to become one of the world's most celebrated gymnasts, with dozens of Olympic and World medals, among other awards, to her credit.
"As soon as I started gymnastics, I loved the freedom of the sport and having so much fun flipping and flying in the gym," Biles told the more than 11,500 participants at the 2021 Pennsylvania Conference for Women. "I knew it wasn't going to be easy and there was a great deal of training involved, but nobody really told me the sacrifices that would be required to get where I wanted to be."
Biles, now 25, initially had relatively modest goals—namely, a college scholarship. Her world changed when she began to expand her definition of the word possibility.
Of course, Biles has made headlines for reasons beyond her athletic performance. At the Tokyo 2020 Olympic Games, which were held in 2021 because of the COVID-19 pandemic, she attracted the admiration of people around the world—plenty of criticism, too—after her controversial decision to withdraw from much of the competition to prioritize her mental health.
Article continues below
---
advertisement


---
On the sacrifices she has had to make in her career …
Going into ninth grade, I had to start making a lot of sacrifices for a dream that I wasn't sure how feasible it would become. Nobody has a globe that can tell you what the future holds; so, you're just working toward it and hoping, and that's exactly what I did.
On balancing the pressure to win with a strong sense of self …
In the beginning, since I sacrificed so much, I felt like the pressure came from outside and from everyone else because I still wanted to have fun and be that little girl that had such passion for the sport. I feel like the pressure definitely came from outside. Then, as I started to get older and I realized this is what I want, then that's when I started putting pressure on myself and holding myself accountable for the goals that I wanted to achieve.
As I got even older, after the 2016 Olympics, then I was like, yes, I have a lot of pressure on myself. But I kind of eased up because I still had such a passion and a love for it. I had accomplished more than my wildest dreams, so it's, like, OK, I can go back to doing this for myself, having fun and just having that passion that I had as a little girl.
On stepping back from competition at the Tokyo 2020 Olympics …
I knew physically that I wouldn't be safe to do everything that I was doing. It's not, like, "Oh, I'm just going to get a booboo; I'll really injure myself." I thought it would be better to let the other girls go do it because they were more than prepared. Obviously, it wasn't in my plans to do that because going in I was super prepared. Something just clicked and told me, "Hey, you need to take a step back; you need to just chill." That's the first time I really listened to my mind and my body because usually, being a stubborn kid, I would push through. Usually, after every competition, I come back with a haul of medals, and so that's what we're usually celebrating. But this time everybody celebrated that I took the courage, and I made the right decision, and I was smart about it. At the end of the day, I've realized I am more than any medal.
On her advice to others …
Some of it starts with being vulnerable. I know that is so hard, but try to stay true to yourself. Write down your short-term and long-term goals and just go for whatever you want to do, because I believe that you'll achieve more than you actually think you could.
On life beyond the medals …
For me, success moving forward is advocating for anything that I can that can be relatable. Right now, it would definitely be helping some other survivors, being with foster care, speaking up for mental health. So, I think there are a lot of different avenues that I can go to. So, if I can be a helping hand in any aspect, then I feel like I've reached success
Author:
Debra Wallace
Archives
---
Who's Who in Health Care
Former Shawnee star Doolittle Calls It A Career
Camden County College welcomes Baseball Hall of Fame
South Jersey Football Games of the Week
Out & About
QB Ronnie Borden is Back in the Game
Should fans be worried for the Phillies bullpen?
South Jersey Football Games of the Week
A look at South Jersey's Top H.S. Girls' Soccer Teams
Out & About
Eagles will be fine after close call in opener
High School Football Games of the Week
Is it Super Bowl or bust for the Eagles?
What's New in South Jersey?
From New Jersey to Nashville
More...