'The Backbone of a Strong Economy'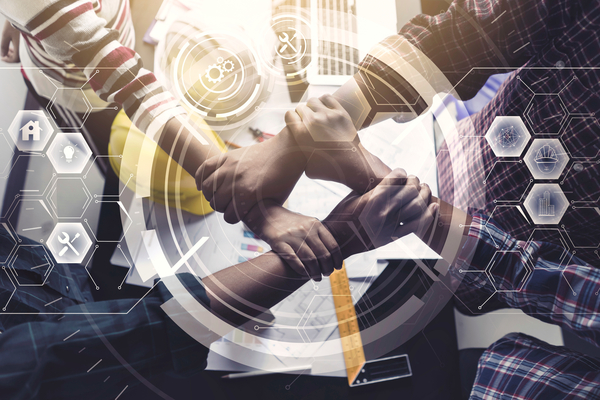 No matter the brutal weather conditions, potentially dangerous work or, say, a pandemic shutting down everything but essential services, David Bruce says you'll see skilled craftspeople going about their work like it's just another day on site—an attitude befitting a workforce whose responsibility to their neighbors and community is a 24/7 obligation.
"When I was in the field, I worked 500 feet in the air in the middle of winter in the freezing cold in Atlantic City,," explains Bruce, the business manager of Plumbers & Steamfitters Local 322. "Today's building-trades unions still draw from a serious group, a pool of individuals who are even more educated and more dedicated."
For many of those dedicated workers, the support of their trade union is invaluable for providing them the opportunities, education, resources and security that ensure they're at the top of their game. And, according to Darlene Regina, chief operating officer of American Construction Contractors of New Jersey (ACCNJ), "strong labor unions have long been considered the backbone of a strong economy."
She notes: "In New Jersey especially, unions and union labor can positively impact craftworkers and the communities they live in. Union jobs offer competitive pay and benefits, continuous training opportunities, and access to technology. … Collective bargaining, safer workplaces, higher wages, improved job security, and training and skill development are all union benefits that improve the quality of life for craftworkers. Unions create a sense of community for their members, and those members have a more secure lifestyle, which means more money to spend within their extended communities."
That power of collective bargaining is a significant advantage that doesn't just help workers advocate for themselves: It has a community-wide impact, ensuring that safe conditions, fair compensation, job security and other top-tier concerns aren't worries distracting skilled tradesfolk from giving anything less than their full attention to the work they do.
"The workers are the first line of defense for us all," affirms Hugh Giordano, director of organizing for UFCW Local 360, which represents those who work in food services and the cannabis industry. "We must keep worker standards at the highest regulatory scheme possible and protect them so they're seen and heard, and can protect the integrity of New Jersey's industries."
Giordano adds that being at the forefront of a developing industry has reinforced why it's so important to protect the workforce powering any economic segment. "Workers deserve to have a voice on the job. Companies have their lawyers, they have their consultants, but who do the workers have? Their union is who they have. A big thing happening this year, specifically in New Jersey, is that these workers are constantly standing up for their rights and I think that's only going to get better and better as time goes on."
With Americans' approval of labor unions the highest it's been since 1965—71% as of the most recent Gallup poll in August 2022, up from 2021's 68% and the pre-pandemic 64%—local unions and labor associations alike are reporting an uptick in membership. It's a trend they find heartening, especially since it signals that more individuals are realizing that they can opt out of a four-year college degree and still secure a solid future.
"How many other professions today are offering pensions?" Cathy Murphy, executive director for South Jersey Mechanical Contractors Association, points out. "It's definitely a thing of the past, where a kid who's in high school today probably doesn't even know what that is until you explain it. But what an awesome way to set yourself up for retirement and be thinking about that at the age of 20!"
Starting each industry entrant off on the right food is vitally important. Visible, interactive outreach to high schoolers attracts the next generation of skilled workers; providing them the classroom and hands-on education, immersive training and motivation to establish a trade career—and cultivate a valuable skill that safeguards their future in the process—ensures a robust future workforce.
"We have a very high level of interest in our trade," says Greg Lalavee, business manager for Local 825 Operating Engineers, who adds that he and a colleague recently visited with about 35 Ocean County Vocational Technical School students and "walked away with about a dozen" names of session participants whose interest in the trade was palpable. "One of the things we try to impress upon the students is that you have to be a good, productive employee, which is totally in your own control, to have a very good career working in the construction industry."
And encouraging a diverse talent pool that better represents the richly varied tapestry comprising the South Jersey region to find their place in the trades is an effort everyone is sharing in.
"[A|misconception we are more than happy to eradicate is that the construction industry is not a place for women and minorities," Regina says. "We have seen a steady increase in women and minorities joining the trades. The unions are making strong efforts to encourage applying through pre-apprenticeship programs. We are also seeing unions be awarded grants through the state to assist in women and minority recruitment."
Education, of course, isn't just limited to those learning the ropes. Experience isn't allowed to complacently rest on its laurels, and routine development is mandatory throughout one's career.
"We are always providing the necessary tools to make sure that we have a highly qualified and skilled labor force, to ensure that the workforce stays up to date on all the changes that are happening out there," Murphy says. "It's very important that we train not only the ones that are in school, but we've got to make sure that we're working on the workforce that's already out there."
"It is absolutely critical that we stay up-to-date on technology," Lalavee agrees. "We're primarily heavy-equipment operators, and we see more and more technology every day, so training and retraining is the absolute lifeblood of what we do. We can't afford to be stagnant."
The labor workforce does include a significant number of non-union members, like those in Associated Builders & Contractors, which comprises those in the construction sector who've decided union membership isn't the right fit for them for any number of reasons. But no matter their affiliation, association president Samantha DeAlmeida agrees that education is the rising tide that raises the labor workforce together and helps put them on a path to finding success on their own terms.
"An apprenticeship is one area where you can get a great education for little to no cost whatsoever, come out of school and hit the ground running," she says. "Things like apprenticeship programs make sure that we have the best and brightest and most-skilled people working on these jobs."
After all, she notes that there are so many projects throughout the state that both union and non-union members wind up working together sooner or later, and have to do so effectively for the benefit of their shared goal.
"There's always such a need for tradespeople to fix things and build things, whether they're non-union or a union company," DeAlmeida continues. "There's so much work here in New Jersey. We're very unique with the amount of funding that we've received on a state level and a federal level, and we're seeing such an influx of people and businesses coming into the state that we're thriving. I think there are so many opportunities for the construction industry that we should work together as a whole."
And with New Jersey's many labor projects ranging from maintaining and updating older systems to helping bring entirely new industries to fruition, there will always be a need for a specialized, dedicated talent pool that's equal to any task the region needs them to expertly tackle.
"We have an aging infrastructure, and we have a nation that's changing dramatically with, it seems, every decade that goes by—and that's going to require changes for energy, our infrastructure and highway systems," says Bruce. "You've got offshore wind, you have the solar field, in my field it looks like hydrogen might be the next big thing in our region, which is a big part of what we do since everything in the hydrogen and gas industry is a piping process. Without that skilled labor pool, it'd be very difficult to meet those demands."
Article continues below
---
advertisement


---
Author:
Madeleine Maccar
Archives
---
Who's Who in Health Care
Out & About
QB Ronnie Borden is Back in the Game
Should fans be worried for the Phillies bullpen?
South Jersey Football Games of the Week
A look at South Jersey's Top H.S. Girls' Soccer Teams
Out & About
Eagles will be fine after close call in opener
High School Football Games of the Week
Is it Super Bowl or bust for the Eagles?
What's New in South Jersey?
From New Jersey to Nashville
Frustrating times for Millville's Mike Trout
High School Football Games of the Week
Hammonton's Kenny Smith off to a quick start
More...