Ahead of the Game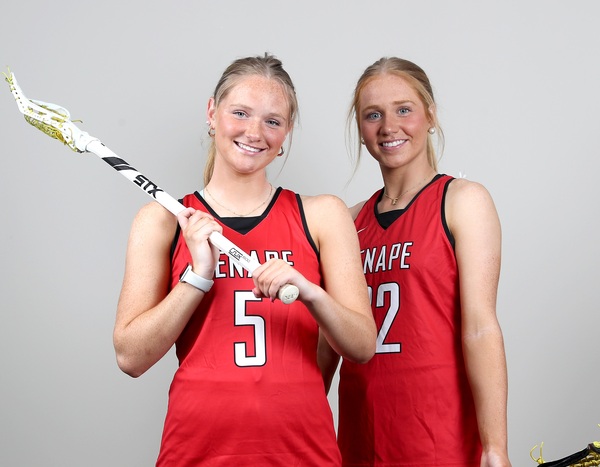 Ethan Krauss, Shawnee lacrosse
After leading the Renegades with 39 goals and 48 assists as a sophomore, Krauss was even better last year, as he registered 56 goals and 54 assists and helped spark Shawnee to its first sectional championship since 2015. The University of Delaware commit recently scored his 100th career goal.
SJM: Has it sunk in yet that this is your final season at Shawnee?
EK: It's a little weird, but I'm excited to play in college.
SJM: What was it like to break through and win a South Jersey title last year after the program had been a runner-up four seasons in a row?
EK: That felt great. In preseason, we had that on the board as our main goal, to win sectionals. After losing the year before, winning that game felt awesome.
SJM: Have you been playing with a lot of your high school teammates since you were little?
EK: Yes. All of us have such great chemistry and that makes it easy to play with them and to win.
SJM: Do you think you have a chance to repeat this year?
EK: Absolutely. I have a lot of confidence in our team.
SJM: Who do you see as the top contenders?
EK: Ocean City, Clearview again, and you never know with Moorestown in the playoffs. … Last year we beat them by like 10 in the regular season, and in the playoffs it was a one-goal game. So you really never know in the playoffs.
SJM: Is the Moorestown rivalry the one you most look forward to?
EK: Yeah. We just have such a past with them. I remember when I was younger, coming to Shawnee-Moorestown games and they were always one-goal games, gritty games. It means a lot to us to play against them.
SJM: What did it mean to you to score your 100th career goal earlier this year?
EK: That's been my goal for a while. The next goal is to break the [school] record for points and the record for goals, so I'm still going for more.
SJM: Were you always a goal scorer growing up?
EK: Yes, but I love to pass the ball, get assists and get other guys involved. I almost like that more than scoring. I've always been a pass-first guy and the goals just come.
SJM: Did you enjoy not just lacrosse but playing all sports growing up?
EK: Yes, I played football and I played basketball growing up all my life and then stopped freshman year. Lacrosse and football were my favorites.
SJM: You had a very good senior season in football too. How did you decide between lacrosse and football as the sport you wanted to play in college?
EK: I was just better in lacrosse. That made it easy.
SJM: Do you think you're going to miss football when fall comes around?
EK: Oh, definitely, 100%. I've played it my whole life and I love playing football. It's going to be weird not having a preseason in the summer and not having a game every Friday night.
SJM: What led to your decision to commit to Delaware?
EK: It's close to home, it's a great program and I love the coaches there, so that made it easy to pick.
SJM: Do you know what you want to study?
EK: Not yet, no. Probably business. I'd say I'm the best at math. That's the [subject] that came the most naturally growing up.
SJM: Have you always lived in the Medford area?
EK: Yes, Medford Lakes. In middle school, we would bike to school every day, which I liked. There's lakes all around, and me and my friends would just bike around and get food. Everyone lives so close in Medford Lakes, which I really like.
SJM: Aside from athletics, what else do you like about going to school at Shawnee?
EK: There's not only a great tradition in sports but in academics too. I love all the teachers and people there. We're all one big community at Shawnee.
SJM: What do you do for fun aside from lacrosse?
EK: I play video games sometimes, hang out with friends, and we play other sports like volleyball or pickup basketball. I'm a big sports guy.
SJM: Who is the funniest guy on the team?
EK: I would say Josh Peluse is the funniest guy on the team. Some of the stuff he says is so wild, you don't expect it. He's always making people laugh and getting everybody fired up. You definitely need a guy like that.
SJM: What are you going to miss the most about home when you're at school?
EK: Probably just hanging out with my friends.
Kadence Dumas, Eastern track and field
One of the most accomplished runners in New Jersey, Dumas was a sectional champion in the 400 and placed third in the event at both states and the Meet of Champions last spring as a junior. This winter in indoor track, she won sectional titles in both the 400 and 800 and anchored the Vikings' 4x400 state championship relay.
SJM: Has the 400 always been your thing?
KD: It was the 400, but now I'm shifting into more of a 400/800 runner. I did the 400 to get better with speed, and now I'm shifting back to the 800 and I'll probably end up doing a lot of both.
SJM: Do you prefer the 400 of the 800?
KD: I don't prefer the 800 because of how hard it is mentally. It's the hardest race for me, so I prefer the 400, but I feel like I have the most success when I have a good race in the 800.
SJM: How does running during indoor season compare to the outdoor season?
KD: It's a lot different, especially for me in the 400. I'm more of an endurance-based athlete than the other sprinters who run the 400, so all of the sprinters get out ahead of me and I have to run around them. So being in lanes in outdoor is a lot easier for me, because I don't have to worry about going around people. I know I have the second half of the race every time.
SJM: Is your strategy in the 400 to bide your time and outlast the sprinters?
KD: I work to stay with them as much as possible and go out as fast as I can. Having people who run crazy times in the 200 and constantly practice the 100, it's hard for me to keep up. I don't have the speed but I have the endurance base to run past them.
SJM: How did you originally get interested in the sport?
KD: I got into the sport in sixth grade. Both of my parents were runners at TCNJ, so running has always been a big thing for me and my entire family has always been into running, even if it's not track. My grandfather has run in the Boston Marathon and multiple marathons. I remember having speed and constantly wanting to run [when I was little], and finally in sixth grade I wanted to go out for the team, and here I am.
SJM: Is track your only sport?
KD: I also played soccer at Eastern, but I shifted more into track mode because I have more love for the sport and my passion has driven me to get faster.
SJM: What are your favorite memories from your soccer career at Eastern?
KD: I played all four years and I actually scored the winning goal for the sectional title for my team, which was really exciting. I loved all of my teammates and my coach was great. I really did it to stay in shape, knowing I had another two seasons of sports.
SJM: What are your goals for the outdoor season?
KD: This spring, I'm really looking to just have fun with it. When I was doing college visits, a lot of the girls told me they regretted not having fun in their senior season. So I want to drop my times, but I want it to be fun and not stressful.
SJM: So you're not dead set on winning state championships?
KD: That's always the goal—I really want a state title in the 400 or 800, and I think I can do it in either of them, I just have to put in the work. But I'm also looking to reintroduce the fun part of why I love running.
SJM: Do you know where you're going to college?
KD: I'm not sure yet—it's kind of in the finalization process. I'm looking for a good track program that I can contribute to and where I can find my place. I'm also looking at the coaches, because I have a group of coaches now who really help me and I'm thankful for that. In past years, not in high school sports, but I've dealt with other coaches who I didn't click with it and it led to me not liking the sport as much. Right now I have coaches who I enjoy working with, so in college I'm looking for that same spark so I can continue to have the love for the sport for four years and not want to transfer or leave.
SJM: Do you know what you want to study?
KD: I'm looking to go into the nursing and psychology fields, kind of a mix of both, which will most likely end up in me going for a master's. I'll probably get a BSN and then a master's for psychology. That's my plan, but things change.
SJM: What do you like to do for fun away from sports?
KD: One of my pastimes is art. I'm actually in AP Art and I'm working on my portfolio for the AP exam coming up, so that takes up a lot of my time. A lot of my friends are on the track team and we recently went down to the beach as a team. We always get together and it's a lot of fun. We go all over New Jersey: sometimes we go to Six Flags, sometimes we go to different colleges for a football game or something. We do team bonding once a week and I have my best friend and multiple other close friends on the team.
SJM: Do you like growing up in South Jersey?
KD: I love growing up in South Jersey. I have Philly, I have the beach, and I have friends all over the area, which track has really helped me with. I have friends in Pennsauken, RV [Rancocas Valley], and Alexis Tepper from Cherry Hill East is one of my absolute favorite girls to run with. … Having a bond with all of my friends in the area is great.
SJM: What's your favorite Shore town?
KD: That's a hard question—there are so many of them. If I'm not going for a boardwalk, probably Ventnor or Margate, but if I am going for a boardwalk, sometimes I'll go to Wildwood and stay over since it's far. But Ocean City is not that far of a drive so that's probably my favorite.
SJM: What do you like about Eastern? Do you have any favorite teachers?
KD: I can't really say that I have a favorite teacher, but I really get along with all of my coaches. Right now we have a close bond, which is really cool. I can give suggestions and they're heard. … I work a lot with [head track coach Mike Tangeman] a lot, and if I need something, I know that he's got me.
SJM: What is your pre-race routine?
KD: I have a playlist that I listen to on repeat. I'm religious, so I listen to worship music before races, but I would say that my favorite song to listen to is "X Gon' Give It To Ya" [by DMX]. At one of the meets I played it and I forgot to change the song afterwards, so it just kept replaying, and now it's my thing. I'm pretty superstitious about my routine—the night before I have a protein drink, because one time I did it and it went very well.
Emma and Lily Bunting, Lenape lacrosse
Emma, a senior attacker, and her fraternal twin Lily, a senior midfielder, have been key contributors throughout their time at Lenape and helped the Indians capture a sectional title last spring. Emma has collected over 150 career goals and 130 assists, while Lily is also a member of the 100-goal club and shines on draw controls as well. They are headed across the country to play college lacrosse together at USC.
SJM: Have you enjoying growing up as twins?
LB: Yes. You always have someone with you, you're never alone, so that's a good thing. We've never had to go somewhere by ourselves, without a friend.
EB: It's nice to always have that person. Like she said, we've never showed up to a tryout and not had a partner to start off with, which I think is pretty special. We've never had to face something alone and we always have each other's backs. It's just special to have a family member that you're so close with who's always with you.
SJM: Do you have similar playing styles?
EB: I get angry very easily, and that's not Lily. But I think we have the same goals on the field.
LB: We're very gritty players and I think we feed off each other. We push each other to get better and if one of us makes a mistake, we hold each other to high standards.
SJM: Do you ever fight on the field?
LB: Sometimes, but it comes out of love. If we don't make a shot or drop a pass, we'll say, "You can do better."
SJM: You must have great chemistry on the field though.
EB: 100%, especially because I'm a lefty and I feed all the time, so when Lily is coming down the field it's a perfect pass for me to hit her in her right hand. Whenever I look to feed the ball, she's the first person I look for because I know she's going to catch it and score that goal.
LB: It's a twin thing—we look at each other and just go. It works.
SJM: What was it like to be part of a sectional championship team last year?
LB: It was so awesome. The whole season, it was our goal to get there and once we got there, it was so surreal. We had a lot of ups and downs in practices and games and worked so hard, so it was very rewarding that our hard work paid off.
EB: The year before we lost in the semis and it sucked. It was a game we should have won but we didn't play as a team in that game. A lot of people didn't believe in us after that and we weren't even ranked going into the year. People didn't expect much from us but we had an unbelievable season and went 16-2. A lot of it came from the relationships we have off the field—we're all best friends with each other, so it made coming to practices enjoyable and we wanted to be there, getting better for each other. When we had the opportunity to win the sectional championship at home, that was something we weren't going to lose. It was such a fun game.
SJM: Who do you consider Lenape's biggest rival—Cherokee, Shawnee, Moorestown?
EB: I always say Cherokee is first because they're in our group, so we always have them in the playoffs. Shawnee is more of a pride thing, we want to beat them just because it's Shawnee. And Moorestown, I don't even consider them a rival.
LB: Cherokee is definitely up there because they're in our group and each year we have to fight them to get a sectional title.
SJM: Do you think you have a good chance at repeating?
EB: If we put in the work, we definitely have that possibility.
LB: Especially since it's our senior year, I set a goal that I don't want to graduate without another sectional championship. We have a younger team this year and we have a new head coach, so we're adapting to that. I think we can do it but we have to work together.
SJM: USC sounds exciting. What led to that decision?
EB: I always wanted to go kind of far from home, but I never expected to be going across the country to California. It was actually our first official visit. We flew out in the beginning of September [2021] and it was insane when we got there. They have great team chemistry and they took us around L.A.: we visited the whole campus, we went surfing. The campus was beautiful and all of the facilities are insane. On the flight home I said to my mom, "I want to go here." She was like, "It's one weekend, we still have to visit other schools." But I loved it.
LB: There was a moment when we were in the hotel or something and Emma turned to me and said, "Do you want to go here?" And I said, "Yeah, I actually do." We were freshly 16 when we went, and choosing a college at a young age when you have no idea what's out there is hard. People tell you that you get a feeling, and we got a feeling there. Beyond lacrosse, it's such an amazing academic school, so you get the benefits of that. Plus it's California—you're walking to class and there's palm trees everywhere. The coaches are supportive and the players made us feel like we were already on the team, they were so welcoming.
SJM: Do you know what you want to study?
LB: I got into the communications school but I'm not sure yet. I'll see where it takes me.
EB: I'm not sure. I've always wanted to be a physician's assistant so I might go pre-med. I'll figure it out.
SJM: Was it always the plan to go to college together?
EB: Lily is very much a homebody and has always been like that. She doesn't like to sleep out a lot. I'm the opposite—I can stay away from home for so long and obviously I miss everyone, but I'm fine. So I was open to the idea of going our separate ways but all of our offers were together.
LB: I just think that we've been playing together since we were 5, so why stop now? Playing together all the time, we benefit from each other. We sat down and talked about it and we didn't think it would be right to play without each other. We're two completely different people and completely different players, but we benefit from being together.
SJM: Are you going to room together?
EB: It's a suite, so there are two bedrooms, a family room and a kitchen. There will be four of us so we'll be in the same suite but not the same room. I cannot be in the same room as her. [Laughs] We're complete opposites—she's a mess and my room is clean all the time. Maybe it will teach her when we get out there that she can't live like that.
LB: I don't know, we'll see.
SJM: What are you going to miss the most about home?
LB: Going away to college is always a big change, whether it's across the country or not. But we're going to be in a different time zone and everything is going to be a big switch for us. We'll miss our family but we'll have each other. I can tell you that I definitely won't miss the cold weather.
EB: It will be a change to live on our own but we'll have each other and our whole entire team. A lot of people go to college and don't know a single person, but we'll already have 30 best friends once we get there, which is special.
SJM: What are your hobbies away from sports?
LB: We hang out with our friends and we like to go to the beach in the summer when we have time off. We're pretty busy with lacrosse most of the time but our friends are a big part of our life.
EB: We're always out shopping with them or getting food—we're always out.
Violet Marta, Moorestown softball
A three-year varsity starter at Moorestown, Marta has taken the next step this spring and emerged as one of the best pitchers in South Jersey. She won six of her first eight starts and was averaging over nine strikeouts per game thanks to an expanded arsenal of pitches.
SJM: I know you and the team are off to a great start this season. Have you exceeded your expectations so far?
VM: Yeah, it's been exciting. I think we're a lot stronger as a team. Hopefully our bats keep it up, because that's what we lost at the end of last year, but I think they will. Everyone has improved.
SJM: What has been the key to your personal success?
VM: I've been working on my spins and different pitches, and my control overall is a lot better. Me and Kylie [Llewellyn], my catcher, got closer this year and that's been helping. … She knows what I want to throw, and if I don't like it I'll shake her off, and she's fine with that.
SJM: Is it a lot different being an upperclassman now?
VM: Yes. We only have one senior, so that puts me and Kylie in leadership roles on the team.
SJM: Have you always been a pitcher?
VM: Yes, always. Since T-ball. I like being in control—the game goes depending on how you pitch.
SJM: You've been racking up the strikeouts this year. Has that always been a big part of your game?
VM: No, that's new. I used to be a groundout, dinker pitcher. I think my spins have gotten a lot better.
SJM: What pitches do you throw?
VM: I throw a fastball, changeup, drop ball, curveball, a rise and a backdoor curve. The rise is new, I've never thrown that before, and I'm still working on the drop ball with Kylie. I throw my curveball the most and I love my changeup.
SJM: How did you get into softball?
VM: I did gymnastics first and that did not work out. Then I did soccer and broke my wrist playing that — I don't even know how that happened. Then softball was the only one left so I stuck with that. My dad has always been a baseball fan [so that helped].
SJM: Do you have a sister on the team?
VM: Yes, Lily. She's a freshman. I love her but sometimes it's a lot because I'm with her all the time now. She's a great person to add to the team, though, because she has a good bat and that's what we needed. She's a really good fielder too.
SJM: Have you always lived in Moorestown?
VM: I grew up in Florence and moved to Moorestown halfway through fourth grade. It's definitely nicer than my other town. I live right next to Costco and Target, which is nice. In Florence, we were 15 minutes away from everything. … I think Moorestown is more friendly.
SJM: What do you do for fun away from softball?
VM: I really like animals, so I go to the animal hospital a lot and feed them. The Mount Laurel Animal Hospital has a whole farm where you can feed cows, pigs, goats. I also like to bake and hang out with friends.
SJM: Do you have any pets of your own?
VM: I have two dogs, Noodles and Alfie. Odd names, but Alfie we rescued, so we didn't name him.
SJM: Do you want to play softball in college?
VM: I would love to play, hopefully D-I. … I'm looking for high academics because I want to go into environmental studies and sustainable architecture/engineering. That's a specific major to go into, so I'm definitely looking for that.
George Andrus, Haddonfield track and field
One of the top distance runners in New Jersey, Andrus placed second in both the 1600 and 3200 at sectionals and states last spring, finishing behind teammate Seth Clevenger each time, and he also took third in the 3200 at the Meet of Champions. This past fall, the Villanova commit claimed a state title in cross country while leading the Bulldawgs to the team crown.
SJM: What is it like being part of the track and cross country programs at Haddonfield, which have enjoyed great success over the years?
GA: Growing up I wasn't a runner, so when I first started cross country freshman year, I was told about the streak we have. It's a long [winning] streak over many, many years. I wanted to be a part of that, and I've seen so many guys competing at the national level so I wanted to do that too.
SJM: Who were some of the guys when you were younger who took you under their wing?
GA: As a freshman, we had Stephen Kasko, Martin Riddell, Andrew Gostovich and Grayson Fasolo, and they were all great leaders. Sophomore year, we had John Hurly, Caleb Clevenger and Sean Eisenhower who were awesome captains, and last year I had Seth Clevenger as a built-in training partner. I was running with him for so long and me and him were a one-two punch at every meet.
SJM: So you came to running late?
GA: Yes. I got cut from the freshman basketball team, so it seemed like running was my only option. Growing up, I was a baseball and basketball player. I ran middle school track and cross country, but I didn't take it seriously at all. Coach [Nick] Baker is an amazing coach [in cross country and track], so learning from him I skyrocketed my sophomore year and took off from there. Now I love it so much.
SJM: You have to be committed to succeed in any sport, but do you feel like you really have to put the time in to become good in this one?
GA: Yes, you really have to be hardworking. This isn't a sport where you just magically become good. You have to put in a lot of work, and having great teammates, we all push each other every day. The 15th guy pushes the 14th guy, who pushes the 13th guy, and so on and so forth. We have fun with it too. I try my best to be the best leader and bring energy to the team.
SJM: What did it mean to you to win the Group 2 state title in cross country this past fall?
GA: It meant a lot, but the team state championship meant more. Crossing the line felt really good. Going into it, I knew it was going to be a challenge because Group 2 is so competitive. I just knew I needed to run my race and get the least amount of points to help my team win. Carrying that trophy felt so much better than the individual state trophy, but I was thrilled with the individual win too.
SJM: What are your goals for this spring?
GA: To win all the meets that I run in. I don't like coming in second—that happened to me all last year because Seth would always win. I don't really have time goals but I want to win the state championship in the 1600 and the 3200. I kind of got that taken away from me this winter because I was sick on the day of states. I didn't do my best in the 1600 and I didn't end up running the 3200 because I had a 102 fever. So definitely getting two state championships, I'm always competing for a Meet of Champions title and that means a lot to me, and come national meets, I'd like to get All-American. My teammate Seth did that last year coming out of the unseeded meet, so after he ran that I think that anything is possible.
SJM: What do you prefer, the mile or the two-mile?
GA: That's such a hard question because both are awesome. I'm definitely leaning toward the mile, but I know I'm a two-miler at heart. … I like both the same.
SJM: Is Villanova a school you had your eye on for a while?
GA: 100%. Growing up as a kid I was a Nova basketball fan, and when I found out they had a great cross country and track program with such a rich history and tradition, I knew it was definitely going to be one of my top schools. On my official visit, I loved all the guys and the coaches were great. I've known [coach] Marcus [O'Sullivan] for a couple of years now because he's the director at our summer camp, so I've been doing his training for a while.
SJM: Do you know what you want to study?
GA: I'm going in undecided, so I don't know yet.
SJM: Have you always lived in Haddonfield?
GA: Yes. I think people take living in Haddonfield for granted. It's very calm and the downtown area is beautiful. … Running in Haddonfield is beautiful, and it's a small town so everybody knows each other and I'm friends with so many people.
SJM: What else do you do for fun?
GA: I love hanging out with my friends. My whole friend group is all sports guys, so we love watching sports and playing sports video games. I'm a big sports guy.
Evan Brown, Cherokee baseball
A senior infielder/pitcher, Brown set the tone for Cherokee's lineup as a junior, when he batted .402 with five home runs, 28 runs and 23 RBIs to lead the Chiefs to a sectional championship. Also a former state placewinner in wrestling, he will focus on baseball next year at the Naval Academy.
SJM: Obviously, you had a lot of success last year on a team and individual level. What are your goals this year—do you think you have a chance to repeat as sectional champs?
EB: Absolutely we do. Our team goal is to obviously repeat as sectional champs but we also want to win the state championship this year. We had a tough loss to Howell in the semifinals last year on a tough call when the ball got lodged in the netting and the kid was able to score. That left a bad taste in our mouth so we want to get back there, get to the state "chip" and win it. For my individual goals, I want to hit over .500 this year, I want to hit more home runs than I did last year, and basically just beat everything that I did last year.
SJM: Your power came out of nowhere last year, right? You didn't used to consider yourself a home run hitter.
EB: It was so strange. They put me in the leadoff spot to get on base, and I started swinging the bat well and cracking home runs. I don't know what it was.
SJM: You didn't wrestle this year after placing eighth in the state as a junior. Did you just want to focus on baseball?
EB: I wanted to focus on baseball and I also wanted to focus on my admissions process for the Academy because it's really rigorous and there are a lot of interviews and stuff I have to do. I also wanted to focus on getting bigger for the season, and I put on like 20 or 25 pounds. I feel good about my body, I feel strong, and after wrestling I would feel a little weak after cutting weight. I wanted to go into this season feeling strong and then transition to the Academy when I leave at the end of June.
SJM: Did you miss wrestling, especially when the postseason came around?
EB: There were definitely times when I missed it. I got to watch my brother wrestle in A.C. [at states], and that's my favorite tournament to go to—I just love being in A.C. That was when I missed it the most.
SJM: Has baseball always been your favorite sport?
EB: It sort of fluctuates, but overall, over the 14 years I've been playing, I think baseball has been my No. 1 compared to wrestling. I always took pride in being good at both and I dedicated a lot of time to both, but it turned out that baseball was No. 1.
SJM: Who do you consider Cherokee's biggest rival?
EB: I guess Lenape is now, because Shawnee is out [of our group]. We always say that Millville is our new rival. We played them twice last year and there was a lot of trash talk. The first time we played them, there was a lot of back and forth and there were probably six home runs alone in that game. We just think of them as a new rival, I don't know what it is.
SJM: Do you follow MLB? Who are the players you like to watch?
EB: Definitely. I like Trea Turner, he would be my No. 1. He's a five-tool player and a threat in just about every aspect of the game. He'll steal bags on you, he plays great defense, he hits for average and power, he gets on base when you need him to. He's just an all-around player and that's who I aspire to be. If you're dangerous in all aspects of the game and you're a tough out, how is a guy going to beat you?
SJM: Do you like serving as a closer in addition to playing shortstop?
EB: Yeah, I do. It's different because I haven't pitched a lot in the past, but I think it's really cool getting the ball in my hands and trying to close out games.
SJM: Is the Naval Academy something you had your eye on for a long time?
EB: Not really. Growing up, I wanted to go Ivy League, to a really good school, and that's what I looked at early on. I never really thought about going into the military; it started when my recruiting process started, late sophomore and early junior year. They were recruiting me pretty heavily after I played in a tournament at their field. They told me to come on a visit, it was the first college visit I went on, and I just fell in love with the school and everything that they were about. … It's free school too, and you really can't beat it.
SJM: Are you looking forward to serving after school?
EB: I am. I want to fly jets as of right now, although things can obviously change. The player I stayed with on my visit, he graduated and he's a pilot now. He's in Pensacola right now, and I always see on Instagram these cool photos of him in planes. That's what I aspire to be.
SJM: Like Top Gun?
EB: [Laughs] Yeah, I guess so. I've seen both of those movies and people always joke about it with me. I guess you can kind of compare it to Top Gun because that's a realistic film. It's fascinating to me.
SJM: What do you like to do for fun away from sports?
EB: I lift a lot, I cook a lot, I like to read different books about how to create good habits and stuff like that. I'm just trying to make myself a better person.
SJM: What are you going to miss about South Jersey when you go to school?
EB: Being able to go to the beach during the summer. It's kind of like a getaway for me, and my family always goes for a week and a half in the summer. We usually do it at the end of the summer, and it's my getaway from the stress of school and the summer season.
Derrin Lerner, Cherry Hill East tennis
After going undefeated in team matches at second singles the past two years, Lerner has moved up to the top spot and established himself as one of the premier players in the area. The senior hopes to follow up his impressive performances from last year in the state singles and South Jersey tournaments, and lead the Cougars to their third sectional title of his career.
SJM: The season is going well so far. Are you happy with how you and the team are playing?
DL: It's a good start. We're undefeated so far and hopefully we can continue that.
SJM: How is the adjustment going for you from second to first singles?
DL: Not too bad, actually. I got to train over the summer and become friends with a lot of the good, competitive first singles around here, like Milan [Karajovic] from Lenape and Mike [Glowacki] from Eastern. I feel welcome and it's going pretty good.
SJM: Is the jump in talent level very noticeable?
DL: Yeah, it's a lot more difficult. I was undefeated at second but I've already lost twice, to Milan and Kunaal [Jaganathan of Northern Burlington]. We went to a set tiebreaker and a 10-point tiebreaker, respectively, and it was fun. There's always something to learn, because everybody has a different play style and you get to see what works and what doesn't. Honestly, when it's that close, it's mostly a mental game. Whoever can keep their head in the game more usually comes out on top.
SJM: Were you surprised by your early success in high school tennis?
DL: I didn't know what to expect sophomore year, but I got into the swing of it and had a close challenge match with our first singles. I remember one of the coaches from another school said, "You would be a good first at another school." By the end of the season, I felt confident that I could perform well at second and possibly decently well at first in a future year.
SJM: You're part of a program that has been one of the best in South Jersey for quite some time. Do you like having a target on your back at Cherry Hill East?
DL: I do like that. I'm very grateful to have so many good teammates and I've spent the last few years with the same people: Max [Dombrowski], Ben [Xi], Zach [Van Meter], and then some graduated seniors like Brett [Schuster] and Nathan [Belitsky]. [Greg] DeWolf is a great coach and we have Mr. [Ross] Silverberg as an assistant coach this year and he's a really good hitting partner. He actually played for East when he was in high school and he's a big help at practice.
SJM: What are your goals this year?
DL: The past two years we made it to the state round in Group 4 but lost 2-3 both years. I'm hoping as a team we can get it together and go farther. Individually, last year was a great year and I reached the quarterfinals of the state singles tournament. I'd be happy to match it and I'd be happy to push even further and make the semis. … That would be a great achievement.
SJM: Do you know what you're doing next year?
DL: I committed for engineering to Lafayette College. I've been in contact with the coach and he said I can definitely try to walk on. I'll continue to keep in touch, and even if it doesn't work out, I'll try the next year and the year after that. I'll definitely have a good education, nevertheless.
SJM: What kind of engineering would you like to focus on?
DL: I'm leaning toward electrical but I want to keep my options open because there's a lot of good first-semester courses where you can try the different branches of engineering. I don't want to tunnel vision it just yet.
SJM: One of the great things about tennis is that you can play well into adulthood. Do you think it's going to remain a passion for you?
DL: I sure hope so. Especially with the rise of pickleball, I'll always have a racket in my hand.
SJM: Do you play pickleball?
DL: Just recreationally once in a while. There's definitely a correlation between the hand-eye coordination and both being racket sports. Every new court they build is a pickleball court.
SJM: Do you follow pro tennis?
DL: Yes. There's a lot of good young players coming up, and obviously everyone loves [Carlos] Alcaraz. I've always been a big fan of [Rafael] Nadal, especially his play style. I love his high topspin shots and I try to emulate a good defense from the baseline, so he's always been my role model from the pro tennis scene.
SJM: I have a standard question for every tennis player: If you could go to any Grand Slam tournament, which one would you pick?
DL: I would go with Roland Garros for the French Open. I've gotten to play once on grass and twice on clay, and clay is definitely the most fun not just to play but to watch. The way the surface is, it's so entertaining to watch with everyone sliding around. You can commit more to the ball because you're not going to get hurt on the hardcourt like in the U.S. or Australia. Also, I've never been to France.
SJM: What else do you do for fun?
DL: I like to get involved in music a lot; I play piano in one of the school bands. Of course I like to hang out with friends and do fun activities like golf or baseball or just going to eat or to watch a movie.
SJM: What do you like about growing up in Cherry Hill?
DL: It might not be the most interesting place, but it's definitely not the most boring. There's a lot of different types of food to try, a lot of fun recreational opportunities, and you can generally get anywhere you want to go.
Justin Forman, Washington Township golf
After a promising freshman season, Forman was outstanding last year as a sophomore. He lowered his nine-hole average from 43.3 to 39.4, tied for first at sectionals before falling in a playoff, and finished second in the state in Group 4 at the Tournament of Champions. He expects to be a contender at all of the major tournaments this spring.
SJM: Last year was a special season for you. Did you feel you had that potential?
JF: Honestly, going into my sophomore year I just wanted to improve upon my freshman year. I just wanted to drop my average, and I did drop it to 39. But I wasn't expecting to shoot 74 at sectionals or 74 at the Tournament of Champions. I wanted to play better and I ended up playing a lot better.
SJM: Do you have a lot of confidence from that experience?
JF: Yes. In my tournaments over the summer, I stepped up my game another notch and started playing a lot of better.
SJM: What are the goals this year?
JF: Just improve upon last year: do better putting wise, hit more greens, hit more fairways. Since we're in the Tri-County this year, I want to win the conference in our first year too.
SJM: Do you like the shorter bus rides to play Williamstown or Clearview instead of Shawnee or Cherokee?
JF: Yes, it's a lot better.
SJM: Are you still a member at Scotland Run?
JF: Yes. I played there a lot over the summer and I still play there a lot, every weekend.
SJM: Do you like playing for longtime Washington Township coach Shane Snyder?
JF: Yes. He's a great coach and he knows how to keep his players' morale up. If I have a bad round, he knows how to make me feel better about it and look at the positives in my round.
SJM: I know your dad is the one who got you interested in golf. Are you still playing together a lot?
JF: Well, he hurt his back in December so he hasn't been able to play. He didn't join Scotland Run with me this year. He's just relaxing and taking it easy, but he definitely wants to help me get better. He inspires me.
SJM: Who are the pro golfers you like to watch?
JF: I watched a little bit of The Masters but I'm not a big watcher of golf. If I watch golf, I want to play golf. When I was younger, my parents took me to the Quicken Loans Tournament, and I just didn't like it that much. It was cool to be on the course, but I wished I had my clubs.
SJM: Is Scotland Run your favorite local course?
JF: Yes and no. I was a member at Running Deer before and that will always have a special place in my heart, because that's where I learned to play golf. That was my first real golf course so it's my favorite, and then Scotland Run is second.
SJM: Have you ever played Pine Valley?
JF: I never have, but I would like to. Some of the guys are trying to get caddy jobs there. One of the guys who is going to caddy for me at a U.S. Junior Am this summer, he's getting a job there, so hopefully he can pull some strings.
SJM: What is your dream course to play anywhere?
JF: Probably Bay Hill because I love Florida. It seems like a cool course and the towel on my golf bag is a Bay Hill Invitational towel. I don't know why, it's just a course I would like to play.
SJM: What do you like to do for fun when you're not golfing?
JF: I like to play video games and I like to fish. This year, the weather has been pretty good for fishing. I go to Alcyon Lake in Pitman or Scotland Run Lake.
SJM: What do you like about growing up in Washington Township?
JF: Everything is close by. The school is not far from my house, and I have a golf course, Wedgwood, that's two minutes from my house.
SJM: Do you want to play golf in college?
JF: I would like to, yes. I've been talking to a couple of D-III schools and I went to an open house at Elizabethtown. I'm hoping to email some D-I schools too. I'm looking for a close-knit team and I'm definitely looking for good academics. So far, the schools I've reached out to have good job placement and good opportunities, so I want to plan for after college.
SJM: Do you know what you want to study?
JF: Engineering, either mechanical or electrical. Golf is an expensive sport, so I have to pay for it somehow.
Click here
to subscribe to the free digital editions of South Jersey Magazine
To read the digital edition of South Jersey Magazine,
click here.
Article continues below
---
advertisement


---
Published and copyrighted in South Jersey Magazine, Volume 20, Issue 1 (April 2023)
Author:
Matt Cosentino
Archives
---
Who's Who in Health Care
Out & About
QB Ronnie Borden is Back in the Game
Should fans be worried for the Phillies bullpen?
South Jersey Football Games of the Week
A look at South Jersey's Top H.S. Girls' Soccer Teams
Out & About
Eagles will be fine after close call in opener
High School Football Games of the Week
Is it Super Bowl or bust for the Eagles?
What's New in South Jersey?
From New Jersey to Nashville
Frustrating times for Millville's Mike Trout
High School Football Games of the Week
Hammonton's Kenny Smith off to a quick start
More...