A Show of Support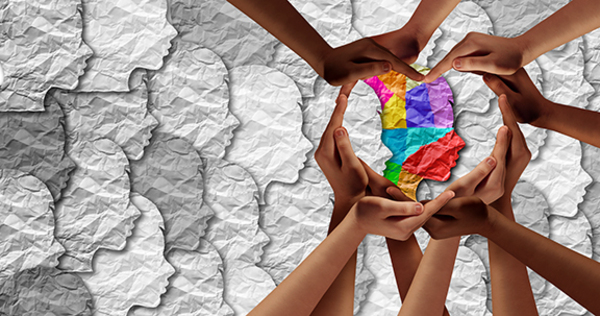 Modern times have seen a notable uptick in discussions about mental health, especially following the globally shared anxieties of the COVID-19 pandemic. As discussions about mental wellness have become popularized, help and education are more readily accessible than ever before. Additionally, these resources have adapted to accommodate a multitude of situations.
"Mental health is an important, vital part of everyone's total health and, culturally, we do a disservice as providers when we view health as separate systems, instead of many parts of one whole," says Caitlin Archibald (LPC, NCC, CCTP-II), of The Chrysalis Counseling Center.
Aside from societal or perceived stigma, additional hurdles like cost, transportation and time constraints can prevent individuals from seeking help. Virtual appointments have streamlined the care process, and eased many reservations that patients may have.
"Telehealth has reduced a lot of those barriers … to actually getting into an office, fitting it into a week or a busy schedule," says Bridget DeFiccio, senior vice president of integrated health at Acenda Integrated Health. "It's really helped with that, and the effectiveness is showing to be just as effective as it was with face to face."
It is important for individuals to know that their external and internal struggles are not singular, but it is also vital to seek care that is specialized to treat particular ailments. While there are organizations that can help in crisis situations, there are also organizations that specialize in specific diagnoses such as post-traumatic stress disorder (PTSD). Furthermore, there are group sessions within PTSD therapy for shared experiences, such as military trauma, grief and gun-violence trauma, many of which have seen incredible successes after plumbing individuals' psychological depths for long-buried, unhealed emotional wounds.
With medical and psychiatric advancements, new treatments are available for individuals who did not benefit from traditional methods, such as EMDR. A combination of treatments may also be preferred, as experimental ones continue to emerge such as ketamine and mushroom therapy for major depressive disorder and post-traumatic stress disorder. Ultimately, there are so many new options emerging so often that there's no reason to feel like things are hopeless, no matter how hard it may be to believe it or how long the road to recovery may seem.
"They're just starting a new program … it's neuroplasticity in the brain, and different things to treat it besides drugs," Susan Howland, the founder of Sky Help Trauma Recovery Services, explains. "They are doing TMS, which is transcranial magnetic stimulation … and it's really good for depression and PTSD and a lot of other things. You go for 35 sessions approximately, and it changes your brain … ADHD it's good for, too, and it helps your prefrontal cortex focus and gets the circuitry going."
Education and mindfulness are essential parts of mental wellness for both the individual, and for the community. Thankfully, South Jersey has a plethora of options.
"Treating those with mental health issues is not only treating a disease process, but also the person as a whole. If you neglect treating the person as a whole, you neglect the fundamental core of mental health," says Dr. Krystal Briglia of Triada Integrative Medicine & Wellness.
Despite all of the work that has been done to demonstrate that mental struggles are a normal part of the human condition, there is still a lingering stigma associated with admitting help is needed.
"As much as we've done a really nice job across the country, and the world, talking about mental health and talking about mental health wellness … there's still very much a stigma behind it that kind of keeps people from pursuing help or options," says DeFiccio. "Some cultures, there's more stigma around mental health than others, and that can be a barrier. Sometimes people like to have that façade of 'Everything's great, I'm fine, nothing's wrong.' Some of that self-talk keeps people from accessing services. People don't really know about a lot of the services that are available to them in the community. We really try hard on our end to educate and be out there and let people know through different forums what's available. I think it's a combination of all those things. People don't know… 'Does my insurance cover this? Do I have to pay for it?' … finances are tight for people, and that might be a barrier as well."
Sometimes, individuals who consider seeking help may hesitate because they mistakenly believe that their condition is not severe enough to seek care. At the other extreme, some people may think that their condition is too severe for treatment. Experts say that this is never the case in either scenario.
"There's no shame in seeking treatment of any type, there's no shame in asking for help. Everyone is going through different things in life, and there's always going to be a time where you need help with something, whether it's doing the dishes, or helping to take care of your children," says Jennifer DeSimone-Jewell, public relations specialist with the Center for Family Services. "We always talk about taking care of our physical health, and mental health should be no different."
RESOURCE BOX
Article continues below
---
advertisement


---

Acenda Integrated Health
(844) 4-ACENDA |
AcendaHealth.org
Click here
to subscribe to the free digital editions of South Jersey Magazine
To read the digital edition of South Jersey Magazine,
click here.
Published and copyrighted in South Jersey Magazine, Volume 20, Issue 1 (April 2023)
Author:
Carly Murray
Archives
---
A Looming Healthcare Crisis
Getting Your Life Back
Aging Graciously
Fighting the Good Fight
Building a Community All Year Long
Under the Winter Weather
Innovations in Health Care
A Growing Presence
A Rewarding Journey
Relief is on the Way
Changing the Narrative
What's New in Neurology
Top Physicians 2022
No Pain, All Gain
Top Dentist 2022
More Articles