The 76ers and their James Harden dilemma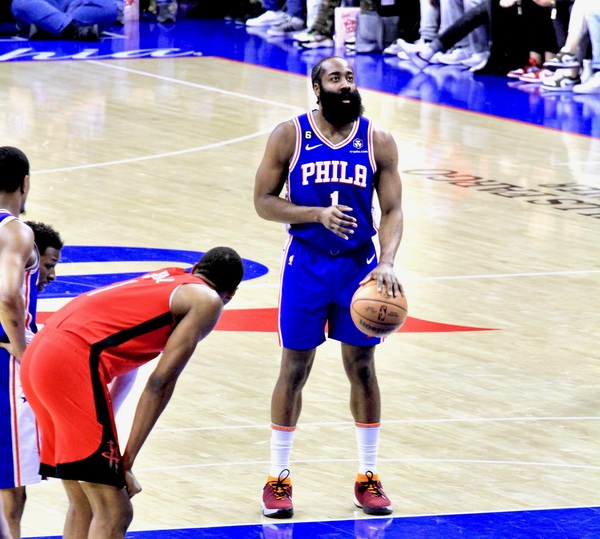 James Harden is among the most complicated NBA players to figure out. While he is not at the level of his MVP season in 2017-18, Harden is still a highly productive player.
This season for the 76ers, he averaged 21 points and led the NBA in assists, averaging 10.7 per game.
He has a reputation for not coming up big in the playoffs and that is why this past postseason was so confounding.
In the seven-game series the Sixers lost to the Boston Celtics during the Eastern Conference semifinals, Harden averaged 22 points, 8.0 assists and 6.6 rebounds in 40.4 minutes.
Those numbers are nothing to sneeze at, but in the two biggest events - Game 6 when the Sixers lost 95-86 at home and then Game 7 when the Celtics blew the Sixers out by 24 points, Harden struggled mightily.
What that series showed is that Harden at times can be elite, but he can't perform that way consistently.
Let's take a look at his series with Boston:
Game 1
The Sixers won 119-115 in Boston. This was vintage Harden, who carried the Sixers to a win without the injured Joel Embiid. Harden scored 45 points and shot 17 for 30 from the field and 7 of 14 from 3, while making all foul shots. He had six assists and three turnovers. He was +8.
Game 2
Boston won 121-87 at home. Harden scored 12 points, shooting 2 for 14 from the field and 0 for 6 from three-point range. He had four assists and no turnovers. He was -21 in 32:20.
Game 3
Boston won 114-102 in Philadelphia. Harden scored 16 points and shot 3 for 14 and 2 of 7 from three-point range and 8 for 10 from the foul line. He had 11 assists and five turnovers in 40:49 and was -12.
Game 4
The Sixers won 116-115 in overtime at home. Harden exploded for 42 points, shooting 16 of 23 and 6 of 9 while hitting all four free throws. He had nine assists and one turnover and was -6 in 47:24.
Game 5
The Sixers won 115-103 in Boston. Harden had 17 points shooting 4 for 8, 1 for 2 from 3, and 8 of 10 from the foul line. He had 10 assists and two turnovers and was +10 in 39:02.
Game 6
Boston won 95-86 in Philadelphia. Here is where it went downhill. Harden scored 13 points, shooting 4 for 16, including 0 for 6 from 3 and hitting all five free throws. He was -10 in 43:09. In the fourth quarter, he shot 0 for 4 and was -13 in 11:24.
Game 7
The Celtics won 112-88 in Boston, outscoring the Sixers 33-10 in the third quarter. Harden scored nine points, shooting 3 for 11 and 1 of 5 from 3, while hitting both free throws. He was -30 in 40:49.
The problem with Harden at this stage is that it is hard to depend on him for an entire playoff series against a quality team. He turns 34 in August, he was never a speed demon but he used to be able to get by defenders effortlessly.
There was a report in The Philadelphia Inquirer that sources said Harden is expected to opt out of his contract (he has a player option) and return to Houston. He has until June 29 to opt out of his $35.6 million contract for the 2023-24 season.
While that is likely to happen, it would be premature to assume he will be gone from Philadelphia. Sixers
President of Basketball Operations
Daryl Morey has always blacked up Harden and the guess here is that Morey will offer a three or maybe even a four-year contract.
Harden still has the ability to dominate teams as he did in Games 1 and 4 against Boston, but sustaining the effort, like in a seven-game series with Boston, has proven to be more difficult.
Say what you want about Joel Embiid, but he remains the biggest reason why the Sixers will have a chance to contend for an NBA title.
So any mention of trading Embiid isn't realistic. Letting Harden go is.
He still has value, but the question is whether he does in a difficult seven-game playoff series.
That is what the Sixers will have to debate in their biggest offseason decision.
Photo Courtesty: Nate Aqunio
Article continues below
---
advertisement


---
Author:
Marc Narducci
Archives
---
Who's Who in Health Care
Out & About
QB Ronnie Borden is Back in the Game
Should fans be worried for the Phillies bullpen?
South Jersey Football Games of the Week
A look at South Jersey's Top H.S. Girls' Soccer Teams
Out & About
Eagles will be fine after close call in opener
High School Football Games of the Week
Is it Super Bowl or bust for the Eagles?
What's New in South Jersey?
From New Jersey to Nashville
Frustrating times for Millville's Mike Trout
High School Football Games of the Week
Hammonton's Kenny Smith off to a quick start
More...