A Look at Bryce Harper's Return to the Field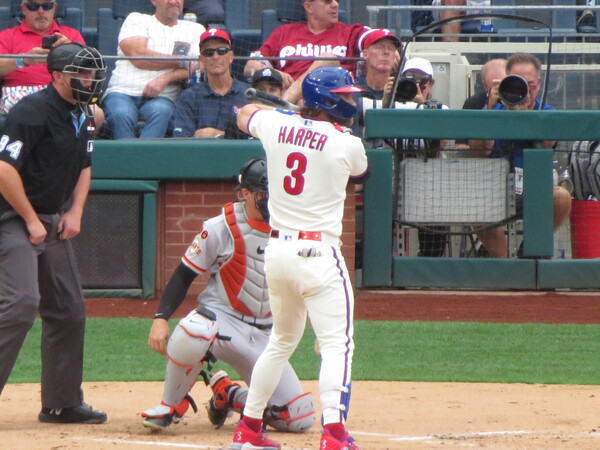 Bryce Harper spent the beginning of the Phillies season recovering from Tommy John surgery on his right elbow. In a remarkable recovery, Harper returned to action just 160 days after his surgery.
Upon his return, he was hitting for average, not for power, but it seems that's now changed. Harper is back to his old groove and has helped the Phillies in a major way–as first baseman.
Despite not having experience in the position prior to this season, Harper looked quite comfortable and started this week having played 15 games at first base.
Harper playing first allows Kyle Schwarber to be the designated hitter, which strengthens the left field as Schwarber is among the statistically worst fielders in MLB.
Harper began the week batting .306. While many analytics-driven baseball people may not put much stock in batting average, we would argue this is still a significant statistic.
If batting average didn't matter, why is it so difficult to hit .300?
At the beginning of the week, only nine players in all of MLB were hitting .300.
There are some pretty good names in that list including MVP candidates Shohei Otani, Mookie Betts and Freddie Freeman.
During his career, Harper has batted .300 three times - .330 in 2015, .319 in 2017 and .309 in 2021. Not so coincidentally, he was named MVP in two of those seasons, 2015 with Washington and 2021 with the Phillies. This year he won't challenge for MVP, simply because he missed too much time early in the season. Still, his season has been incredible, especially since he had to recover from such a difficult injury.
And while his average is impressive, Harper is starting to get his power back.
Harper has heated up in August. He had a slash line of .366/.446/.721 in the first 23 games of the month with seven home runs and 19 RBI. (One of those seven home runs was an inside the park special).
Harper had more home runs in August than he did in May through July, when he had five in 73 games.
He began the week with 297 career home runs.
Harper, who turns 31 in October, is certainly in line to hit 500 home runs.
He is a seven-time All-Star and if he continues his normal production for another few seasons, then Harper will be headed to Cooperstown.
By volunteering to play first base, he has shown what a team player he is. Harper is the unquestioned leader and a superstar who truly enjoys the opportunity to play in front of the passionate Philadelphia fans.
His ability to hit in the clutch has been well documented, with his eighth inning 2-run home run in the Phillies 4-3 win over the San Diego Padres to clinch the National League Championship Series, among the most iconic memories in Philadelphia sports history.
In that five-game series that earned the Phillies a World Series berth, Harper hit .400/.4000/.850 with two home runs.
This season Harper also began the week with a 140 OPS+, which was tenth in MLB.
The amazing thing about Harper is that the Phillies signed him to a 13-year, $330 million contract as a free agent prior to the 2019 season and with escalating MLB salaries, one can make the argument that Harper is now underpaid.
Article continues below
---
advertisement


---
Author:
Marc Narducci
Archives
---
Who's Who in Health Care
Crowd Pleaser
Can the Eagles Regain Their Winning Way?
A Bight Future Ahead for Glassboro Football
The Big Impact of Small Businesses
Eagles Need to Reset
Feeling Festive
Another dominating season for Delsea football
Mainland's Historic Football Season
A Rooting Interest
Eagles Continue to Fly High
Raising the Bar
Thanksgiving Football Continues
Hotstovers to honor All-SJ Baseball and new HOF inductees
South Jersey Football Games of the Week
More...