Should Castellanos return for a third season with the Phillies?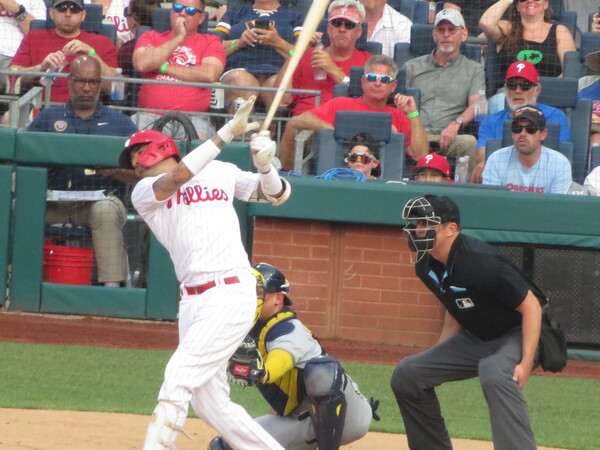 One gets the impression that this will be a busy offseason for the Phillies. Not just an offseason with a tweak here or there, but major moves ahead by Phillies president of baseball operations Dave Dombrowski.
There has already been a lot of offseason chatter that the Phillies might want to unload Nick Castellanos, who has three years and $60 million left on his original five-year $100 million contract.
MLB.com reported that the Phillies are open to the idea of trading their right fielder.
A few days later, ESPN reported that the Phillies are not interested in trading Castellanos.
In November, nothing is etched in stone. It could very well be that the Phillies aren't interested in trading Castellanos, but it seems a little early to say that anything is definite.
And it might be in the Phillies' best interest to pursue trading Castellanos, who has had a roller coaster existence in his two seasons with the Phils.
The first season was almost a washout.
In 2022 he hit .262 with 13 home runs, 62 RBI and just a .694 OPS and a 96 OPS+ (where 100 is league average).

Article continues below

---
advertisement


---

He wasn't much better in the postseason and was worse in the World Series, hitting 3-for-24 (.125) with just one RBI during the six-game series with the Houston Astros.
Castellanos did make some fine defensive plays during the 2022 postseason, but it was a pretty much a lost season. Castellanos wasn't the first free agent to struggle in his first year.
This season started out in a much different fashion.
Castellanos was one of the Phillies best players over the first half of the season. He earned his second All-Star berth, but then slumped immediately after the All-Star game before finishing the regular season on a strong note.
His regular season numbers were better than solid. He batted .272 with 29 home runs, 106 RBI, a .798 OPS and 112 OPS+
His postseason was another mix of inconsistent play.
In the National League Division Series four-game win over the Atlanta Braves, he batted .467 with four home runs and four RBI. He became the first player in postseason history to hit two home runs in consecutive games.
Then in the seven-game National League Championship Series loss to the Arizona Diamondbacks, he batted .042 (1 for 24) with a home run and two RBI. He finished the NLCS 0 for his last 23 at-bats with 11 strikeouts.
Castellanos' inconsistency makes him a player who is hard to count on in the future.
He turns 32 in March so he is not a relic, but even if the Phillies do want to deal him, it doesn't mean that another team will step up.
Offensive deficient teams such as Cleveland or San Francisco seem like a fit, but would a team really be willing to take on that salary for three more years?
Would the Phillies have to eat some of the salary to make the move?
The Phillies likely wouldn't look for much in return for Castellanos. Just getting his salary off the books and bringing in a more consistent player to play right field, would be a plus.
Castellanos has worked hard, improved his fielding and by all accounts been a good teammate. Yet somebody who has so many peaks and valleys can't be counted on in the long haul. As mentioned, the Phillies, according to ESPN, say they will keep him. Stay tuned on this one, it might not be over.
Author:
Marc Narducci
Archives
---
Who's Who in Health Care
Crowd Pleaser
A Bight Future Ahead for Glassboro Football
The Big Impact of Small Businesses
Eagles Need to Reset
Feeling Festive
Another dominating season for Delsea football
Mainland's Historic Football Season
A Rooting Interest
Eagles Continue to Fly High
Raising the Bar
Thanksgiving Football Continues
Hotstovers to honor All-SJ Baseball and new HOF inductees
South Jersey Football Games of the Week
The Phillies make the right move with Aaron Nola
More...