The Phillies make the right move with Aaron Nola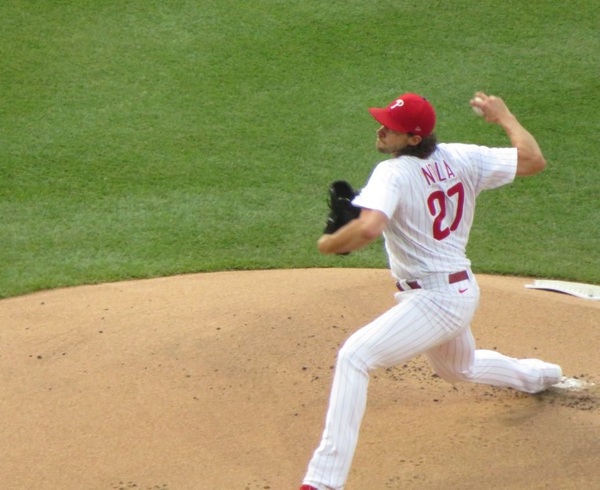 When the Phillies want to sign a player they don't waste any time. Before the winter meetings (Dec. 3-7) the Phillies likely made their biggest offseason move by re-signing Aaron Nola to a seven-year, $172 million deal, according to various published reports.
The Phillies recent pattern has been to sign their players for longer deals, but shorter annual average value.
Nola, who turns 31 in June, will average $24.5 million over the seven years, which is frankly much lower than many had projected.
For a solid No 2 starter, $24.5 million isn't outlandish. In fact, it's a decent deal.
The question is whether Nola remains a solid No. 2 starter.
He is not an overly hard thrower, yet he is among the most durable pitchers in the game and that is his biggest selling point.
In the last five full seasons (not including the 2020 Covid-shortened campaign), Nola has averaged 32.6 starts per year. In that time he has averaged 198.8 innings per year. To put that innings pitched number in perspective, this season only five pitchers threw more than 198 innings and Nola averaged that for five seasons.
Even though Nola isn't known as a flamethrower, he has averaged 222.6 strikeouts over the last five full seasons.
So Nola has shown impressive durability, the ability to strikeout batters and be a key pitcher for a quality playoff team having helped the Phillies reach the World Series in 2022 and the NLCS this past season.
The negative has been recent inconsistency.
Even though he has impressive statistics for the past five years, he has had two subpar seasons in the past three.
In 2021 he had a 4.63 and a 90 ERA+, where 100 is at the league-average level. He also allowed 26 home runs and was 9-9. (Pitching records don't mean much these days to analytics experts, but it is still worth noting).
In fact, his record was just 11-13 in 2022, but he had a strong season, with a 3.25 ERA, a career-high 235 strikeouts in 205 innings and a 123 ERA+. Nola finished fourth in the Cy Young voting that season.
He pitched well in the beginning of the 2022 postseason before faltering late.
Then this past season Nola had a 4.46 ERA, 96 ERA+ and allowed a career-high 32 home runs in 193 2/3 innings.
He pitched well in his first three postseason starts—3-0, 0.96 ERA, 19 strikeouts, zero home runs allowed and a .182 batting average against.
His final start, a 5-1 loss to Arizona in Game 6 of the NLCS, Nola allowed four runs (all earned) in 4 2/3 innings.
Had the Phillies bats not gone silent, maybe they could have bailed him out, but it also wasn't his finest moment.
One of the most important factors of this contract is that the Phillies didn't break the bank to sign Nola and they will need extra to sign Zack Wheeler, who becomes a free agent after next season.
What will this deal look like in the seventh season?
These long-term deals don't usually turn out well at the end.
The Phillies will be asking the same question with Trea Turner, who just completed the first of an 11-year deal. Or Bryce Harper, who has eight more years left on his 13-year contract.
The Phillies are in a win-now mode and will worry about the later year, later. For now, they appeared to make a good deal for both sides, but Nola will have to pitch better than he did this past season or in 2021 to justify it.
Article continues below
---
advertisement


---
Author:
Marc Narducci
Archives
---
Who's Who in Health Care
Crowd Pleaser
A Bight Future Ahead for Glassboro Football
The Big Impact of Small Businesses
Eagles Need to Reset
Feeling Festive
Another dominating season for Delsea football
Mainland's Historic Football Season
A Rooting Interest
Eagles Continue to Fly High
Raising the Bar
Thanksgiving Football Continues
Hotstovers to honor All-SJ Baseball and new HOF inductees
South Jersey Football Games of the Week
Kingsway Field Hockey Finishes Strong
More...