Camden Now Most Dangerous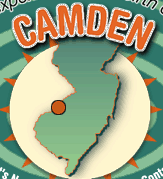 Camden has become the nation's most-dangerous city, but two Ocean County municipalities are among the safest, according to a Kansas company's yearly ranking based on crime statistics.
Camden, which was ranked third last year, took the dubious honor from Detroit, which fell to second in this year's ranking, followed by Atlanta, St. Louis and Gary, Ind.
Meanwhile, Brick Township was rated the second-safest city for the third straight year, behind only Newton, Mass., while Dover Township was ranked tenth.
The other communities in the top five were Amherst, N.Y., which had been ranked as the safest city for the past four years, followed by Mission Viejo, Calif. and Clarkstown, N.Y.
Among large cities (with more than 500,000 people), Philadelphia was the nation's sixth most dangerous city.
And among smaller cities (fewer than 100,000), three of the six most-dangerous cities were from our area: Camden (1st), Trenton (4th) and Reading (6th).
Also, among non-urban areas, State College was the fourth-safest region in the U.S.
The rankings, which were released Monday, are in Morgan Quitno's "City Crime Rankings," an annual reference book of crime statistics to be published next month.
The rankings look at the rate for six crime categories: Murder, rape, robbery, aggravated assault, burglary and auto theft. It compares 350 cities with populations of 75,000 or more that reported crime data to the FBI. Final 2003 statistics, released by the FBI in October, were used to determine the rankings.
Article continues below
---
advertisement


---
Author:
NBC10/AP
Archives
---
A TALE OF THREE WEDDINGS
Timber Creek's Leary heads to Illinois
One of Us
Truer Words Have Been Spoken
A Thriving County
Executive Q&A
A Man of Many Faces
Super Women
Vocal Leader
Seeking Acceptance
The Business of Health Care
Mommy's Gone Viral
Singles: December 13
2017 Men of the Year
The Weekender
More...