Cape May Calendar Girls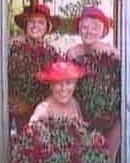 Cape May is a pretty prim and proper place. But a group of mature ladies thought it would also be the perfect spot to show some skin for some very good causes.
"It's what I call naughty but nice," said Judy Lord, the calendar's photographer.
"I'm covered properly," explained Audrey Conant. "We're not as old as the Victorian town."
"I guess we raised a few eyebrows," said Joan Schaeffner.
The images in the Beach Bums 2005 calendar are making some big waves.
"You see ladies that look bare. We actually had bathing suits on but we had spotters to make sure nothing was showing," explained Schaeffner.
Inspired by the movie "Calendar Girls," a film about older women who "drop everything" to raise money for charity, the grandmothers of Cape May's Red Hat Social Club decided they, too, could be pinups for a good cause in their own locally-photographed calendar.
Their ages didn't bother them at all.
"We're not dead yet," Conant said.
"It just shows you people our age are still having fun and we did have a real hoot with this," Lord said.
One of those fun times was when the cops came to the beach during the shooting of the March spread.
"They thought there were three nude women on the beach, in the car with a dog, which was pretty funny," Lord said.
The calendars cost $15. All the profits go to four charities that were chosen by club members who have grandchildren with serious health problems, including Nancy Beale's grandson who has Down syndrome. In addition to Down syndrome, money will be donated to Juvenile Diabetes, ARC (formerly known as the Association of Retarded Citizens) and United Cerebral Palsy.
"I'm just overwhelmed. We're overwhelmed with the response we've had from the community and friends," Beale said.
In fact, close to 1,000 calendars have been sold since they went on sale in November. Nothing has been decided yet, but the ladies said they have already gotten lots of requests for a 2006 calendar.
If you want to order a calendar, call the Nature Center of Cape May at (609) 898-8848.
Article continues below
---
advertisement


---
Author:
Copyright 2004 by NBC10.com. All rights reserved. This material may not be published, broadcast, rewritten or redistributed.
Archives
---
A TALE OF THREE WEDDINGS
Timber Creek's Leary heads to Illinois
One of Us
Truer Words Have Been Spoken
A Thriving County
Executive Q&A
A Man of Many Faces
Super Women
Vocal Leader
Seeking Acceptance
The Business of Health Care
Mommy's Gone Viral
Singles: December 13
2017 Men of the Year
The Weekender
More...